Houy explains why Pitt is it
New 2017 Pitt commit Gabe Houy caught up with Panther-Lair.com to explain why Pitt was the right fit for him. The hometown commit from Upper St. Clair adds an intriguing offensive tackle prospect to the class.
Gabe Houy committed to Pitt on Monday evening, becoming the 12th commitment in the Panthers 2017 recruiting class and adding some more local flavor to Pat Narduzzi's program. The Upper St. Clair (Pa.) offensive tackle was always rumored to wrap things up in the first week of August prior to his senior year and he did exactly that, choosing to stay at home with Pitt over opportunities from Maryland, Louisville, Illinois, Wake Forest, and others.
"Pitt has always felt like the right choice for me," Houy explained. "The coaches and staff were always communicating with me, saying how I am a top priority for them. It's a great school and university as well. At the end of the day, it just felt like home."
Houy is now Pitt's second offensive line commit of the class, joining New Jersey native and offensive guard/center Owen Drexel as the Big Uglies for Pitt in 2017. It's likely that the Panthers will continue adding to this haul with another tackle and another interior offensive lineman, but Houy will give them a strong basis in their recruiting efforts at the tackle spot.
"I feel I'll fit in as a left tackle in their scheme, possibly a right tackle, but for sure an offensive tackle either way. I think I'll bring size and athleticism along the offensive line to the Pitt program," Houy said.
Panther-Lair.com subscribers can read more about what Houy will bring to Pitt in this film breakdown and evaluation.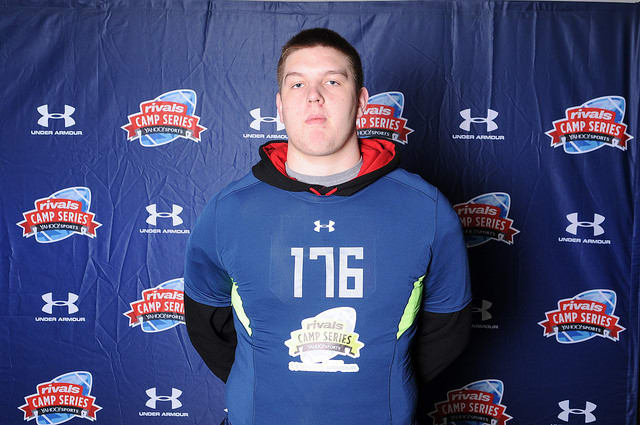 With Houy's expected role as an offensive tackle, his relationship with his future position coach and their ability to work together will be critical for his development as a college football player. Houy is starting out on a high note in his recruitment and cited his future position coach as the Pitt staff member he had the closest relationship with.

"I think I am pretty tight with every coach on Pitt's staff, but mostly coach John Peterson," Houy said, referring to the Panthers offensive line coach and his primary recruiter. "He tells me about my importance to Pitt's program and how he believes in my abilities as a player. I have a do have a good relationship with each and every coach though."
More than just a familiarity level with Pitt and its coaching staff, Houy's recruitment was brought to a close by an appreciation for the opportunity to stay in his native city and play in front of loved ones. The draw for many Pittsburgh-area kids to Pitt is strong and Houy was not immune to that.
"I think committing to play for Pitt is a tremendous opportunity for me stay at home, continue my athletic and academic career for my hometown team, and play in front of family and friends," Houy said.
Houy's commitment places Pitt back in the top 50 of the Rivals.com team recruiting rankings and within spitting distance of conference foes like Boston College, Syracuse, Virginia, and Virginia Tech, as well as rival West Virginia. In addition to its ranked at number 50, Pitt is tied for 35th in average star rating among all recruiting classes with a perfectly even 3.0.