Three-pointers: Key takeaways from Pitt's win over William & Mary
What stood out in Pitt's 80-64 win over William & Mary on Friday night? Here's a look at three key takeaways.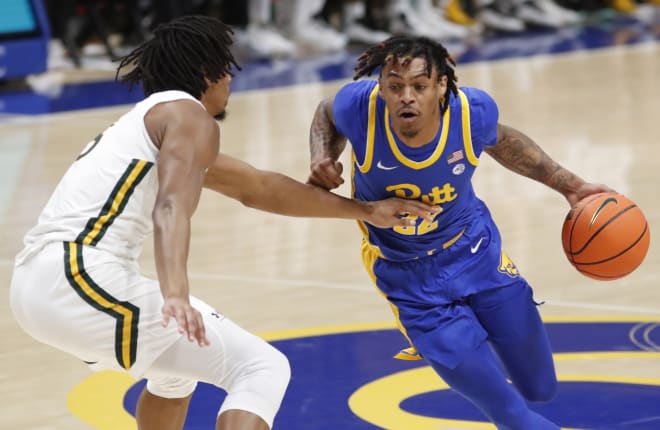 Doing the same thing again
The obvious storyline from Friday night's win over William & Mary was roughly the same as the obvious storyline from Tuesday night's win over Fairleigh Dickinson.
Okay, the storyline from the FDU game was Pitt shooting 17-for-17 from inside the arc in the second half. That was the big storyline. The Panthers didn't have a perfect half against W&M, but there was some real overlap between the two games.
Primarily, it was how the two games were each a tale of two halves. In the first half against FDU and the first half against W&M, Pitt struggled defensively, keeping a mid-major team far closer than it needed to be. In the FDU game, that meant a seven-point lead at halftime; on Friday night, that meant trailing the Tribe by four.
The upside is that Pitt rounded into form in the second half of those games, shooting really well and building offense from good defense. The downside is that the Panthers really can't afford to take the wait-20-minutes approach in the next three games, when they'll be facing Northwestern, N.C. State and Vanderbilt on the road between Monday and next Wednesday. Nor, for that matter, can they afford to play that way when the remaining 19 games of the ACC schedule start on Dec. 20 at Syracuse.
If Pitt can play a full 40 minutes like it has in the final 20 minutes again FDU and W&M, the Panthers just might be a good team. But if they keep doing this 20-on/20-off gimmick, it's going to catch up with them.
A chaos agent
I can't find a good definition for "chaos agent" that fits what I'm thinking. Urban Dictionary says it's someone who purposefully causes chaos, and that's not how I would describe Nike Sibande.
Rather, he's someone who thrives in chaos.
Of the six field goals he made Friday night, I would be hard-pressed to claim that any of them came in the natural flow of the offense (or whatever passes for a natural flow in Pitt's offense). It all seems to come either from transition or from that period of chaos that follows the initial shot: offensive rebounds, loose balls, guys heaving the ball to save it from going out of bounds.
Look for those situations, and you're likely to find Sibande, who scored 12 of his 15 points on Friday night in the second half. He also had 11 in the second half of the Alabama State game, and he was a key piece in both of those victories.
The question now is whether Jeff Capel will move Sibande into the starting lineup. Greg Elliott is struggling - he shot 1-of-7 from the floor against W&M - and Sibande is outplaying him; will Capel replace Elliott with Sibande in the starting lineup? Or will he continue bringing Sibande off the bench as the sixth man?
It might ultimately be a moot point. Sibande played 28 minutes on Friday night, while Elliott played just 22. Either way, Sibande's play this season has been a real boost and a fitting conclusion to several tumultuous seasons for the former Miami (Oh.) transfer.
More steps for Hugley
So much of this season is going to depend on John Hugley's development. He has already shown himself to be a strong scorer and a pretty good rebounder. But teams will continue to pay extra attention to him until it becomes less optimal to do so.
In the second half on Friday night, it became less optimal for W&M to do so. The Tribe double-teamed Hugley quite a bit, but he started seeing the court and making passes out of the double teams. First, he slipped a pass to Blake Hinson, who scored a layup to cut W&M's lead to one. Then, when Pitt finally took the lead for good, Hugley played a crucial part. Jamarius Burton hit a three to put the Panthers ahead 46-45; then, Hugley made a free throw, assisted on a layup by Sibande and a three-pointer by Nelly Cummings before hitting two more free throws and draining a three-point shot that pushed Pitt's lead to 11.
Hugley finished with 16 points and seven rebounds, but he also had four assists, which will be a valuable stat for him going forward.
The plan for Pitt hoops this season was to get enough shooters and scorers on the roster that the Panthers could make opponents pay for focusing too much on Hugley. The knee injury he suffered in September set back the process of getting into that flow, but as he has gotten more comfortable on the court and has seen his minutes increase - particularly the minutes he plays with Burton, Hinson, Sibande and Cummings - the plan seems to be coming together.