The Panther-Lair.com 3-2-1 Column: Oklahoma State
Here's this week's edition of the Panther-Lair.com 3-2-1 Column, with three things we know, two questions we have and one prediction.
THREE THINGS WE KNOW
The offense has more problems than just the quarterback
When an offense struggles, it's usually the quarterback. And when the quarterback in question has thrown for 278 yards, one touchdown and two interceptions in two games - one a loss, one a near-loss in overtime against an FCS team - then it's definitely the quarterback.
Except, it's not always the quarterback. Or, put a better way, it's not only the quarterback.
Yes, Max Browne has struggled for Pitt this season. There are questions about his decision-making, his accuracy at times, his ability to get rid of the ball quickly and his mobility - legitimate questions that lend credence to the notion that the coaches should at least consider the backup quarterback.
Of course, it doesn't help the situation from a public-perception angle when the backup comes in and leads a 75-yard drive that puts the team in the end zone for the first time.
But to put all the blame - or even most of it - on Browne potentially ignores the blame that should be placed all over the offense. And to turn to Ben DiNucci without investing considerable effort in fixing some of the issues would probably only create more issues.
The reality right now for Pitt's offense is that nothing is in sync. The quarterback isn't in sync with his receivers. The offensive linemen aren't in sync with each other. The running backs aren't in sync with their blitz pickup assignments. Everything is disjointed and jerky, with about as much rhythm as a middle school concert band plowing through "Wouldn't it be nice?"
Wouldn't it be nice if Browne avoided sailing a few passes at Penn State? It sure would. It would also be nice if he had reliable protection up front - not all five of Penn State's sacks can be put on Browne's immobility (DiNucci's mobility didn't keep him from getting sacked twice). And it would be nice if Browne's intended receivers didn't drop a half-dozen catchable passes in State College.
Naturally, everything this season will be compared to last season, and so far, everything in 2017 stands in stark contrast to 2016; a year ago, Pitt's offense was a well-oiled machine that succeeded not just on Matt Canada's play-calling and game-planning, but on the precision with which the players executed.
That hasn't happened this season - not yet, at least. There is enough talent on Pitt's offense that reaching that level of execution should be in reach. If it happens, though, it won't just be a result of improvement from Max Browne; it's going to take improvement from every player on the field (and the guys wearing headsets, too).
This is the big test for the secondary
Sometimes the obvious gets stated, and this is certainly one of those times. But just because it's obvious doesn't make it any less relevant.
The challenge this week, with No. 8 Oklahoma State coming to town, is containing - or at least slowing down - the Cowboys' high-powered offense. Mike Gundy's crew is one of the best in the nation, averaging 572.5 yards per game (No. 10 nationally) and 51.5 points per game (No. 9) in blowout wins over Tulsa and South Alabama.
And the Cowboys are doing it in a lot of ways. The passing game is there, of course, with 650 yards through the air in two games. But the rushing attack has been strong, too: Oklahoma State is averaging 247.5 yards per game on the ground this season.
Pat Narduzzi will always be worried about the run defense and he spoke highly of Cowboys' back Justice Hill this week, but if anything is keeping him up at night, it's the tandem of Mason Rudolph and James Washington. Narduzzi was probably more dismayed at the decisions of Rudolph and Washington to return to Oklahoma State this season than any coach in the country. And that includes coaches in the Big 12. After all, the Cowboys' dynamic duo did things to Pitt that they didn't do to anyone else on their 2016 schedule.
Washington, an explosive 6'1" 205-pound senior, set career highs in the game against Pitt last season, catching nine passes for 296 yards. And Rudolph hit a high-water mark with 540 passing yards that day, too.
Needless to say, September 17, 2016, was not a banner day for the Pitt secondary, and in a season of exceptional performances by opposing quarterbacks/receivers, that game in Stillwater stands as one of the best (or worst, from a Pitt perspective).
2017 has been interesting for Pitt's defensive backs, though. Youngstown State found some success throwing to its running backs and tight ends, but the Penguins' receivers were largely a non-factor. It's one thing to do that against an FCS team, but this past weekend in State College, the storyline continued: running back Saquon Barkley scored on a 46-yard pass and tight end Mike Gesicki scored a pair of touchdowns from inside the 10, but the Nittany Lions' receivers were pretty much held in check.
In fact, outside of a 23-yard pass to DaeSean Hamilton in the fourth quarter that was either an amazing catch or an incompletion that should have been reviewed, Penn State's crew of receivers didn't really do much. And that's a pretty talented crew: Hamilton caught three passes for 74 yards against Akron, Juwan Johnson had 84 yards on four receptions and DeAndre Thompkins averaged 16 yards per reception last season.
Against Pitt, Hamilton had 45 yards on three catches, Thompkins caught one pass for 12 yards and Johnson had four yards on one catch.
Through two games, no opposing wide receiver has caught more than four passes, recorded more than 55 receiving yards or scored a touchdown against Pitt. On Saturday, the secondary will face its biggest challenge yet - and probably the biggest challenge of the season - but so far, so good.
Probably won't see a stat line like the Penn State game again anytime soon
This was a curiosity more than anything else, but consider some of the numbers from Pitt's loss to Penn State:
The Panthers outgained the Lions 342-312. They outrushed PSU 155-148. They out-passed PSU 187-164. They punted one fewer time. And they out-possessed Penn State by a whopping 17 minutes (16:40, but we'll round up).
And they lost.
That's hard to do. You need to reach a special level of errors and mistakes to lose a game when you have a 17-minute advantage in time of possession, just like you need to be constantly shooting yourself in the foot to go into halftime having possessed the ball for 13 minutes more than your opponent and be trailing 14-3.
Obviously there were some key stats that worked against Pitt. Three turnovers (two of which were relevant and one of which led to points for Penn State). Six penalties (including some drive-killers). 5-of-17 on third down. Plus the huge difference in field position - Penn State's average starting field position was about 20 yards better than Pitt's, and the Lions had a hidden-yard advantage of about 216 over Pitt from field position.
But still, a lot of things were pointed in Pitt's favor. A lot of the talk before Saturday's game was how Penn State would probably be able to score at will and that Pitt's best chance would be to keep Trace McSorley and Saquon Barkley and the rest on the sidelines as much as possible.
That happened. But the plan only works if you can capitalize on your own offensive drives, and Pitt failed to do that.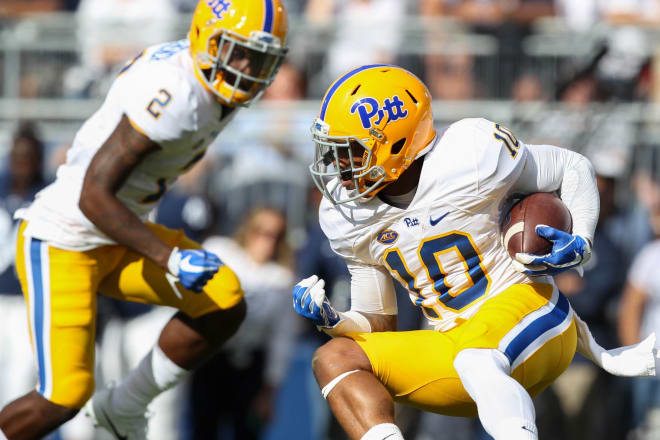 TWO QUESTIONS
Can the defensive line finally get some production?
Before the season started, we pondered a simple question:
Who should lead the team in tackles for loss?
If Pitt's defense is working to perfection, if everybody is executing their assignments and things go the way they're supposed to go, who should be making the plays?
The answers were mixed, but history points to the guys up front. It's been nearly 10 years since anyone other than a defensive lineman led Pitt in tackles for loss - Scott McKillop was the last non-lineman to do it when he had 17.5 - so the odds favored an end or a tackle at the top of that list.
Through two games this season, though, it's redshirt junior Seun Idowu leading Pitt with 3.0 tackles for loss, and redshirt sophomore Saleem Brightwell is behind him with 2.0.
Both are linebackers.
That doesn't necessarily mean Idowu and Brightwell have been lighting the world on fire (they've been okay; Brightwell is learning on the job and Idowu has been one of Pitt's most solid players this season). But it does reflect on the defensive linemen.
Nine players have gotten significant snaps up front this season, but the group has only produced 3.5 tackles for loss. Two of those were sacks - Amir Watts had one against Youngstown State and Dewayne Hendrix had one at Penn State - which means that, on 50 opponent rushing attempts, Pitt's defensive linemen have recorded just 1.5 tackles for loss.
By comparison, Brightwell, Idowu and starting Money linebacker Elijah Zeise have 6.5 combined tackles for loss.
Getting sacks and tackles for loss isn't the be-all/end-all; last year in Stillwater, Pitt sacked Mason Rudolph three times and he still threw for 540 yards, and the next week at North Carolina, Mitch Trubisky threw for 453 yards despite getting sacked four times.
But, as noted above, the secondary is going to need all the help it can get on Saturday at Heinz Field, so it would be good to get some pressure from Hendrix and Watts and Kam Carter (one tackle this season, which went for a loss) and Rashad Weaver (two tackles this season, with an assist on one that went for a loss) and Allen Edwards (one tackle this season, which didn't go for a loss) and Keyshon Camp (three tackles this season, none for loss) and Shane Roy (two tackles this season, none for loss) and James Folston Jr. (two tackles this season, none for loss) and Rashad Wheeler (no tackles this season).
It's been said more than a few times, but this defensive line will likely show considerable improvement as the season progresses. Pitt just needs that improvement to speed up a bit.
When will Quadree Henderson break out?
Henderson, Pitt's junior All-American, was expected to have a big season this year. Bigger than last season. He was supposed to take what he did in 2016, with all the success on special teams (five touchdowns) and running the ball (four touchdowns) and add the element of the passing game.
All the talk this offseason has been about making Henderson into more of a weapon, getting him the ball as a slot receiver and letting him make plays on catch-and-runs and down the field.
But that hasn't happened. In fact, Henderson has been remarkably unproductive in all phases this season. He's second on the team in rushing with 72 yards through two games and is averaging 6.5 yards per rushing attempt, but all of that -and more - came from the Youngstown State game; at Penn State, he carried the ball twice for minus-5 yards.
In the passing game, he's well down the list, with three catches for 12 yards. And on special teams, he has made little impact. He's averaging 20.8 yards per kickoff return - No. 61 in the nation - and has a net gain of zero yards on three punt returns; he returned one for 13 yards and lost 13 on two others;.
(Pitt actually ranks No. 16 nationally and No. 2 in the nation in punt returns as a team, but that's all on the back of Jazzee Stocker's 66-yard return of a blocked pooch punt against Youngstown State.)
After the Penn State game, Pat Narduzzi said Pitt needs to get Henderson healthy, which could explain his lack of productivity and his overall lack of usage that day. He had just four touches on offense - a net gain of zero yards - and played less than half as many offensive snaps as sophomore Maurice Ffrench, who often replaced him in the slot.
Henderson still has his talent, but if he needs rest to operate at the highest level, then Pitt needs to give it to him.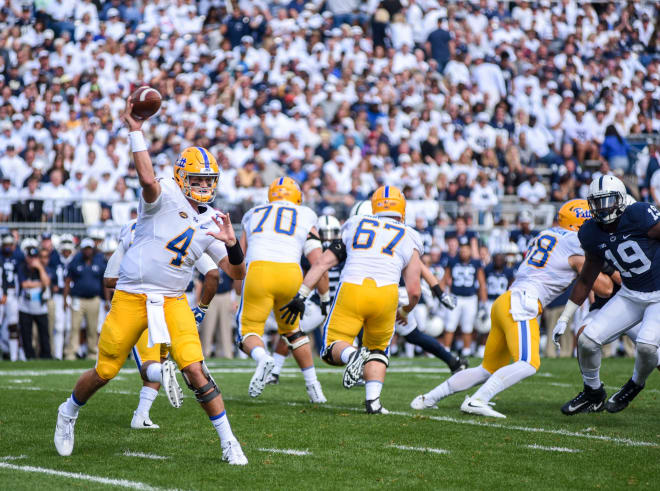 ONE PREDICTION
There will be boos - but Max Browne will find the end zone
The booing is inevitable on Saturday, and it will probably happen early in the game.
If Max Browne throws an errant pass on Pitt's first drive, he will be booed. If he checks down to a running back on third-and-long early in the game and the play gains less yardage than needed, he will be booed. If Browne throws an interception before he throws a touchdown pass, he will be booed.
That's what happens with most fan bases that have perceived the quarterback to be the problem, and the Pitt fan base is no different; there's historical precedent for it (see also: Stull, Bill).
If Browne has a bad pass before he makes a few good ones, he's going to hear it from the fans. But here's the rub:
This is the game when Browne makes a few of those good throws, too.
In fact, we're predicting that this is the game when Browne and the offense will iron out enough kinks to score multiple passing touchdowns in a game for the first time all season. We're saying Browne hooks up with Jester Weah and one of the tight ends for his first two-touchdown game since he threw for two scores against Utah State as USC's quarterback last September.
Why the confidence in Browne and his receiving targets? Partially, there's a belief that this offense has some pretty talented players; as noted above, those players just haven't been in sync yet. But there's also, with the benefit of hindsight and the passing of time, a little bit of confidence to take from the game at Penn State. Those six drops we mentioned earlier? Some of those came on pretty nice throws from Browne - big-time throws, in some cases, like the third-and-22 pass to tight end Chris Clark.
This week, a few more of those passes will connect, and that will result in at least a couple touchdowns for Pitt. The Panthers may or may not win on Saturday - that will probably depend on the defense - but Browne will come out of the game with more touchdowns than interceptions on his season stat line.