The Panther-Lair.com 3-2-1 Column: Virginia week
Every week in the Panther-Lair.com 3-2-1 Column, we look at three things we know, two questions we have and one prediction.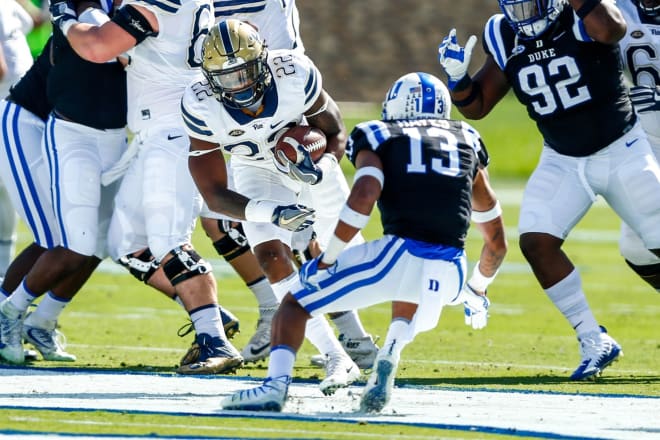 THREE THINGS WE KNOW
Let's talk about Darrin Hall
There have been plenty of words written about Darrin Hall in the aftermath of his 254-yard/three-touchdown game at Duke, a win-it-by-yourself performance if ever there was one. But the more I look at what he did in Durham, the more impressed I am by it on a lot of levels.
Consider his career. Those 254 yards in one game were more than he had in all of 2016 and only three yards less than he gained in 2015 (a 257-yard season that was boosted by 103 yards in a single game). The Duke game increased his career rushing total by more than 48%, and his three touchdowns doubled his career numbers in that statistic.
So on a personal level, Hall went far above and beyond anything he had ever done before. But Saturday wasn't just improving on what had been a lackluster career to this point; it truly was one of the great individual performances in Pitt history. You probably know that Hall's 254 yards rank No. 10 on Pitt's all-time single-game rushing list, tied with Craig Heyward who rushed for that same total against Miami in 1986.
But Heyward needed 39 carries to get his 254, and here's where Hall starts separating himself. The last 200-yard game by a Pitt player was Qadree Ollison's 207-yard showing against Youngstown State in 2015; those yards came on just 16 carries, but if the filter is set for FBS competition, the numbers get a little more eye-opening.
The last time a Pitt player went for 200-plus against an FBS opponent was James Conner in 2014. Conner did it a few times that year, rushing for 220 yards and four touchdowns at North Carolina, 263 yards and three touchdowns against Duke and 214 yards and one score at Boston College. All three of those came on 30-plus carries, though: Conner carried the ball 36 times at Boston College, 38 times against Duke and 30 times at UNC.
Of Conner's four 200-yard games, only one came on less than 30 carries: he ran for 229 yards and one score on 26 attempts against Bowling Green in the 2013 bowl game in Detroit.
Dion Lewis had one 200-yard game in his Pitt career; that was a 42-carry, 261-yard, four-touchdown performance at Cincinnati in 2010. Ray Graham hit the 200-yard mark three times, all in 2011: 201 yards and three touchdowns against Buffalo, 226 yards and two scores against South Florida and 277 yards and three touchdowns against FIU that still stands as the second-highest single-game rushing total in Pitt history. None of those games were against what are now considered Power Five conference teams, but to Graham's credit, he didn't need 30 carries to get any of those totals.
LeSean McCoy never had a 200-yard game at Pitt. LaRod Stephens-Howling had one when he went for 26 carries for 221 yards and a touchdown at Syracuse in 2006; that game was the first 200-yard game by a Pitt rusher in six years, dating back to Kevan Barlow in 2000 when he had 209 yards and a touchdown on 25 carries against Boston College and a masterful 272 and four scores on 33 runs against West Virginia.
So yeah, Hall's day was right up there with some of the best in recent Pitt history. And what really stood out were the long runs. Hall broke a 79-yard touchdown run and a 92-yard touchdown run; you already know that the 92-yard run is the longest in Pitt history, but did you know that Conner, McCoy, Heyward and Tony Dorsett never had an 80-yard run? Lewis and Curvin Richards had one each. Curtis Martin had two. There have been 20 runs of 80 yards or more in Pitt history; 11 of them came before 1960. Hall has two of the nine that have happened since then and two of the four that have happened since 2000.
It seems like the praise, accolades and statistical wonder about Hall's day could go on and on, but we'll cut it off here by saying two things:
1. He was really good at Duke.
2. Can he be really good again when he faces Virginia this week?
The official two-deep for the week, which is a remarkably unreliable narrator for being something that is written, lists Hall and Ollison as co-starters, but that's silly and Pat Narduzzi acknowledged on Monday that Hall is the top back. He'll get the lion's share of carries again and deservedly so, but can he keep the success going? Maybe another 200-yard game is a bit much to ask, but an effective rushing attack should be a reasonable goal, and let's be honest: Pitt hasn't done that very much this season, if at all.
Virginia's rush defense is decent but not great, a middle-of-the-pack unit in the ACC but not nearly as impressive statistically as Duke's was prior to last week's game. There has been talk about how the coaches and players retooled the rushing attack heading into the Duke game and how that resulted in Hall's big game. But if the ground game doesn't have a strong finish through the final four games of the season, not only will the offense struggle, but Hall's great showing at Duke will lose some luster. It will be a mere blip on the radar, a fluke, an outlier performance in a disappointing season.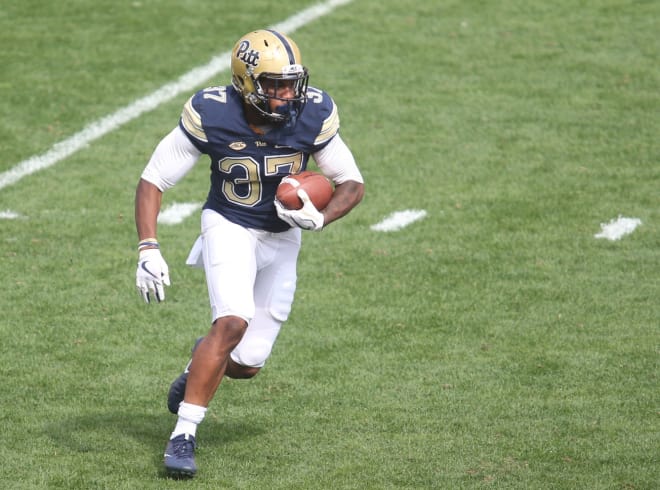 Let's talk about Qadree Ollison
Hall earned the starting job at running back with his performance at Duke, and barring a major implosion, he should be the man for the final four games.
But Qadree Ollison deserves some ink, too (or whatever the online equivalent of "ink" is; pixels? Zero's and one's? I don't know; I'm just a message board moderator).
Ollison entered the season expecting to be the lead running back. James Conner was gone to the NFL, and Ollison had experience filling a Conner void in the past, having filled in for Conner in 2015 and rushing for 1,121 yards and 11 touchdowns. When Conner returned in 2016, Ollison took a back seat and carried the ball just 33 times - a far cry from the 212 attempts he had the previous season.
But without Conner, Ollison was the elder statesman of the group, the most experienced back on the team and, most presumed, the likely starter. And for the first two games, that was his role: starting running back.
Then Hall started the Oklahoma State game and sophomore Chawntez Moss out-touched by Hall and Ollison in that one. Ollison started at Georgia Tech the next week but did more damage in the passing game (5 catches for 44 yards and 1 touchdown) than he did in the run game (7 carries for 11 yards). Moss started against Rice and had 16 touches while Ollison had seven. Ollison got another start at Syracuse, but Jordan Whitehead had more carries than anyone that day. And against N.C. State, Hall started and carried the ball nine times, while Whitehead had eight carries; Ollison had just two.
That led into this past weekend. Hall started in Durham, marking the fourth time in eight games that Ollison, who was looking to be The Guy this season, didn't start. Hall broke out in a big way and Ollison carried the ball just three times, the sixth game in a row that he has seen single-digit rush attempts.
But it's not like Ollison didn't play at Duke. On the contrary, he played quite a bit. Unofficially, he was on the field for 39 offensive snaps; that's just over half the total offensive plays, which doesn't seem like much, but it's a pretty solid percentage for a backup running back.
For most of those plays, though, Ollison was taking on a different role. Rather than lining up in the backfield, he was closer to the line of scrimmage, playing as an H-back in the position that was supposed to be manned by George Aston this season. With Aston sidelined for virtually the entire year so far, the coaches have mostly used redshirt senior tight end Matt Flanagan in that spot, but against N.C. State they started getting Ollison time there, and at Duke, he played the majority of his snaps in that role (plus one snap as a classic I-formation fullback).
Think about that: you're Qadree Ollison. You come into 2017 thinking this is your year. This is your chance to show that 2015 wasn't a fluke season with stats propped up by a 207-yard game against Youngstown State. This is when you're going to show everyone that you're good enough to be an every-down workhorse back in the ACC.
And by Week Eight, you're not only not starting, you're not even playing tailback half the time.
That can't be easy to stomach. And it's not all Ollison was dealing with.
On Friday, the day before the Duke game, Ollison posted on his Instagram account that he and his family had buried his older brother, who passed away unexpectedly the previous week. Ollison attended the funeral in his hometown of Niagara Falls on Friday and then flew to meet the team in Durham.
Let all of that sink in.
On the field and off it, the fall of 2017 has been tough for Qadree Ollison. Yet, to a man, no one at Pitt, not coaches or players, has given any indication that Ollison has done anything other than be a team player. He didn't have to play that H-back role at Duke. He didn't have to accept that. He could have told the coaches he was a tailback - period. But he didn't. He took on the new role and embraced it because it's what was best for the team.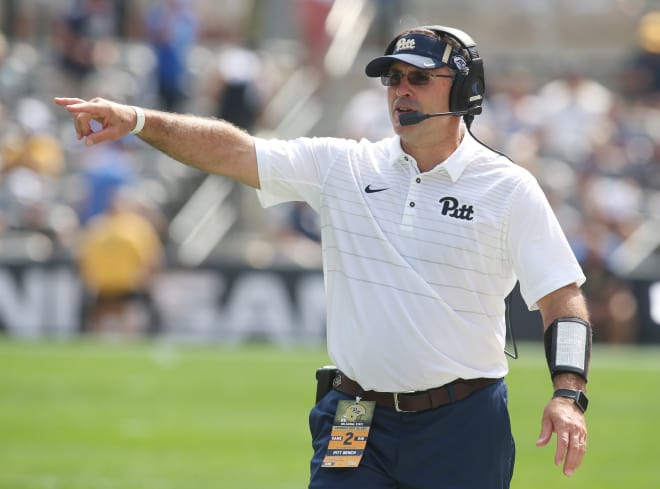 Let's talk about the second half
Pat Narduzzi has called the third quarter Pitt's "nemesis," and that's a villain the Panthers have yet to vanquish.
It's almost laughable how unproductive Pitt has been in the third quarter of games this season. But calling it laughable is being kind; Pitt has been downright bad in the third quarter, displaying a level of futility that is virtually without equal.
Start with the overall numbers: Pitt has scored 20 points in the third quarter all season. Eight games, 20 points. Opponents have scored 69, with at least one touchdown in the third quarter of every game this year; Pitt has scored touchdowns in the third quarter of just two games this season.
Syracuse quarterback Eric Dungey has rushed for five touchdowns in the third quarter of games this fall - three more than Pitt has as a team. Georgia Tech quarterback TaQuon Marshall and N.C. State running back Nyheim Hines have two third-quarter touchdowns each - the same as Pitt.
And the Panthers aren't just failing to reach the end zone; they're not moving the ball at all. The Duke game was by far Pitt's best showing in the third quarter, with 136 yards of offense - but that was boosted by Darrin Hall's 92-yard touchdown run that saved the quarter from being another bagel. Even with that game in the numbers, Pitt is still averaging just 61.5 yards gained per game in the third quarter this season.
The Panthers had just 38 yards in the third quarter against Youngstown State. 20 at Georgia Tech. 32 against Rice. 47 against N.C. State. Pitt's averaging less than 30 rushing yards per game in the third quarter, and without the Duke game - Hall's run gave the Panthers 119 rushing yards in the third quarter of that one - Pitt is averaging just 16.7 rushing yards per game in those 15 minutes after halftime.
Not even enough for two first downs.
So yeah, the third quarter is a nemesis for Pitt. But we're not going to stop there, because the fourth quarter hasn't been much better. The Panthers are getting outscored in the final frame 57-46 - a margin that's a little closer to even, but they still only have five touchdowns in the fourth quarter this season.
Let's play that team vs. individual game again. You know Lamar Jackson from Louisville? He's got six touchdowns in the fourth quarter this season. Jaylen Samuels from N.C. State has four - one less than Pitt.
The Panthers have rushed for more than 30 yards in the fourth quarter just three times this season; part of that is probably a product of playing from behind so much, but Pitt was decidedly ahead against Rice and had net zero yards on the ground in the fourth quarter (although the Panthers did throw for 127 in that final frame). Pitt also had 28 yards rushing against Youngstown State in the fourth quarter, minus-8 at Georgia Tech, 24 against Oklahoma State and four against N.C. State.
Put it all together, and here's what you get: on average, Pitt has rushed for 50.1 yards and thrown for 104.4 yards in the second half of games in 2017. On the season, the Panthers are averaging 370.5 yards per game total, so the first half has been a little better. If the first half matched the second half and Pitt averaged 309 yards per game, the Panthers would rank No. 120 nationally (as it stands, they rank No. 92).
So as we count Pitt's issues in 2017, let's not leave the offensive nose dives after halftime out of the equation.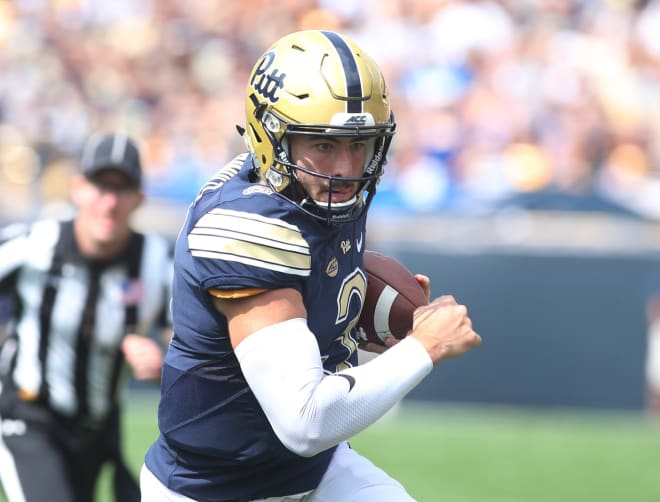 TWO QUESTIONS
What will the quarterbacks look like this week?
Pitt would probably like to get good enough play out of the quarterbacks to not have to ask this question every week, but when the most recent game saw the offense complete just eight passes, it's hard to not wonder about it.
Barring a complete - and unexpected, and probably unlikely - turnaround from the passing game, Pat Narduzzi's not going to be able to dodge questions about the quarterback situation. Ben DiNucci made three big plays late in the fourth quarter at Duke - some he can take credit for, some he got some help on but all three came from his arm and go on his stat line - but he can't go through another first quarter with no completed passes, he can't go through another first half with just three completions and he can't finish a game with an 8-of-18 line. It's just not good enough.
But two factors can make it just barely good enough, though: 1. Pitt needs to run the ball well - at least as well on a consistency basis as it did at Duke (a couple of those long runs wouldn't hurt). And 2. DiNucci can't turn the ball over. That was probably the one thing that kept him in the game in Durham: he didn't have any turnovers. Maybe some of those passes could have been picked off, but they weren't, so DiNucci stayed in.
With a tight game and an effective rushing attack, Narduzzi opted for what he viewed as the "safer" option, and that was DiNucci.
Coaches take that view. Fans don't. Fans are looking for addition: How can things get better? Coaches - in a lot of situations - are looking to avoid subtraction: How can we make sure things don't get worse?
That's not always Narduzzi's approach, and he may well take a different tact this week if DiNucci is ineffective again. But last week, he opted to stick with the upperclassman who wasn't committing turnovers, and it worked. Pitt won.
I'm guessing there will be a game in the near future, though, where just managing the game and not turning the ball over won't be enough, where Pitt needs more than just ball security from its quarterback; it needs plays to be made. Maybe it will be this week. If Virginia can contain Pitt's rushing attack and DiNucci struggles, maybe this will be the week when freshman Kenny Pickett gets another shot.
I don't know what course the QB situation will take on Saturday. But I'm almost positive that we won't be done talking about it.
Is improvement happening up front?
This feels like another evergreen topic - even dating back to training camp and beyond. The defensive line was supposed to start slow but improve as the season went on, with a bunch of players who were short on experience but long on potential growing into their roles and making an increasing impact by midseason.
Midseason is past, and the line still isn't making an impact.
Numbers don't tell the whole story when trying to understand how a defensive line affects the passing game. But the stats that do paint some of the picture are pretty damning.
No defensive lineman has more than one sack, and only three have reached that level of accomplishment this season - Dewayne Hendrix, Rashad Weaver and Amir Watts, while Patrick Jones has a half-sack. Cornerback Avonte Maddox, field linebacker Oluwaseun Idowu and backup linebacker Elias Reynolds each has more sacks than any defensive lineman.
Weaver, Watts and Hendrix are tied with linebacker Elijah Zeise for third in the team in tackles for loss; they each have three. All told, the defensive line has produced 13.5 tackles for loss and 3.5 sacks.
There's really no need to look at other ACC teams or Ejuan Price's production last year or any other comparable metric: those numbers are awful. And the sample size keeps getting bigger; at eight games into the season, the question shifts from "When will the DL get better?" to simply "Will the DL get better?"
This season, at least, it's tough to say with any certainty. There's still plenty of potential, particularly among the interior linemen. But it hasn't materialized as production in 2017, and time's running out for that particular much-needed development.
ONE PREDICTION
Another move up the Coastal ladder
Last week in this space, I opted to pivot from making specific and slightly random predictions to a classic call on the game. I predicted Pitt would beat Duke, and that one turned out to be right, so let's do it again.
I think Pitt will beat Virginia.
I know Pitt can beat Virginia. The Cavaliers are similar to Duke in that they don't have a great win on the resume. Duke's only ACC win was over North Carolina; Virginia's only conference victories are over Duke and UNC. The Cavaliers currently occupy an odd spot between the clear top tier of the Coastal (Miami, Virginia Tech, Georgia Tech) and the clear bottom (Duke, UNC and Pitt).
So this game is a chance for Virginia to either keep itself close to that top tier or fall back closer to - or straight into - the bottom tier. And for Pitt, it's a chance to keep moving to the top of the bottom tier or even into the middle tier (look, I know this is overly-analyzing the tiers of the Coastal, but neither Pitt nor Virginia is winning the division, so the best we can do at this point in the season is break it down into tiers).
Last week, the key storyline to me was how Pitt would do against an offense that was far less intimidating than the previous Power Five teams the Panthers had faced - and lost to - this season. This week, it's similar; Virginia's offense isn't great, and the Cavaliers are averaging less than 20 points per game in ACC contests this season.
The difference this week is that Virginia's offensive strength is the passing attack, whereas Duke had its success in previous weeks on the ground. The Cavaliers are actually pretty decent running the ball, and they went away from that element in their 41-10 loss to Boston College last week. But the biggest threat from Bronco Mendenhall's group appears to be through the air, and that's largely where the game will be decided:
Can Pitt contain Virginia's passing attack with quarterback Kurt Benkert? He looked good in the first half against Pitt last season until Jordan Whitehead grabbed a pick-six late in the second quarter; after that, Benkert wasn't very impressive. Down Avonte Maddox, can Pitt's secondary keep him from getting on too much of a roll?
Granted, Virginia's defense is pretty good, with some talented playmakers at all three levels. But like the Duke game last week, I'm not going into this one expecting much from Pitt's offense. Of course, if Darrin Hall can get rolling and maybe bust off one or two of those long runs again, the equation shifts strongly in Pitt's favor.
Don't get too burnt by the pass, establish a running game and avoid turnovers at all costs, and Pitt can win this game. I think the Panthers will do enough of those things to squeak through with another victory. The part about the turnovers concerns me - I thought Pitt was living on the edge in that regard last week, with some near-turnovers that could have changed the game significantly - but I'll lean toward the home team staying clean for one more week and getting ACC win No. 2.