The Panther-Lair.com 3-2-1 Column: Coaching search, spring camp and more
In the Panther-Lair.com 3-2-1 Column, we look at three things we know, two questions we have and one prediction. Here's what we're thinking about this week.
THREE THINGS WE KNOW
The most important thing is the rebuild
I've been asked a lot this week about what "kind" of coach Pitt should hire.
Should it be the young up-and-comer who has had a lot of success in a mid-major conference?
Should it be the experienced veteran who has been around the block a few times?
Should it be a head coach?
Should it be an assistant coach?
Should it be someone with Pitt ties?
Should it be someone with ACC ties?
My answer to all of those questions, uttered as enthusiastically as possible, has been, "Sure." Any of those attributes would be good; I think an affirmative answer to any of those questions could be backed up with sound reason and logic.
Pitt does need an up-and-comer who can bring energy back to the program. Or a veteran coach who knows how to right this ship. Head coaching experience is huge, but assistant coaches who have spent years under really effective head coaches can make that transition smoothly. Pitt ties are valuable for understanding the unique challenges this school faces. And it would sure help to have someone who can recruit in the ACC.
Any and all of those things sound good to me. But there's one thing that's most important, the single biggest factor that has to be leading this search:
Pitt's next head coach has to have a plan for rebuilding the program.
Maybe that's obvious, but I'm not too sure. Someone suggested to me this week that Pitt has to be careful about hiring a coach who would use the program as a stepping stone. The next coach, it was said, should be someone Pitt can count on having around for the long term, not someone who would bail for a "bigger job" in the next four years.
On that point, I disagree. I don't think that concern of a "stepping-stone coach" should even cross Heather Lyke's mind as she goes through this search. If Pitt's next coach wins a couple ACC games next year, makes the NIT in Year Two, has three straight years in the NCAA Tournament and then leaves for another school, I think that's a pretty good scenario for Pitt.
Sure, you would like someone to stick around a long time, but the most important element in this whole endeavor is rebuilding Pitt Basketball. Get a coach who can take this program back to the NCAA Tournament a couple times before leaving, and the next coaching search will be a lot different than this one. The next coaching search will hinge on finding someone to maintain and progress the program, not rebuild it.
I feel the same way about the potential of Pitt hiring a "retread," which I take to mean a coach who is north of 50 years old and has been in coaching for awhile. I don't think hiring a coach who fits those descriptors is a terrible idea, provided he has shown he can rebuild a program.
Pitt does need a boost of energy and positive momentum, but that will come from turning the program around more than it will come from the next coach's age.
This one is all about the rebuild and finding someone who can do it. Whether that means someone who has already done it or simply someone who seems like they can do it is up to Lyke, but that's the No. 1 priority right now.
There's no rush
There's inevitably going to be personnel fallout from Pitt's decision to fire Kevin Stallings. Anytime there's a coaching change, players and recruits decide to pursue their fortunes elsewhere.
As such, it wasn't much of a surprise when ESPN's Jeff Goodman reported that freshman guard Parker Stewart had put in for a release to transfer. That kind of thing is bound to happen, and there will inevitably be at least a few more instances of that happening in the coming weeks and months.
But here's the thing: there's no rush for Stewart or Marcus Carr or any other current player to make that formal at this point.
Pitt's spring semester ends on April 28. No matter what happens, Stewart and the rest are in school until then. Even if Pitt granted a release today, nobody's going anywhere until the end of April. They aren't going to start classes or participate in workouts at a new school before then.
Recruits are a different story. JUCO guard Danya Kingsby was pretty quick to request a release from the Letter of Intent he signed with Pitt last fall, tweeting out his plans to do so one day after Stallings was formally fired. I can understand moving quickly if you're a recruit, particularly one who, like Kingsby, is planning to go to college this summer. Most other schools have filled their scholarship allotments and the ones that still have space don't have much of it.
It's a scramble right now for 2018 recruits who are still uncommitted. Unless you're one of the top guys - there are 12 uncommitted prospects in the Rivals150 - the options are quite limited, and a three-star JUCO guard like Kingsby is going to have an even narrower list of possibilities.
So I can understand jumping into it as quickly as possible if you're Kingsby, who has to be thinking that he could potentially miss an opportunity while he waits for A) Pitt to hire a new coach, and B) that new coach to decide whether he wants to keep Kingsby in the class.
Of course, there are space considerations for the transfers as well. A prospective school that might be considering Stewart as a transfer only has so much space, and just like Kingsby, he could see his potential spot filled by another transfer while he waits to see who Pitt hires. But I would contend that there's a little more upside in patience on the part of the current players than there is for recruits.
If a current player transfers, he has to sit out a year (at least under the current transfer rules; whether that's fair or not is another debate). That's a significant penalty and one that would, for me at least, make staying at my current school appealing enough that I would wait and see who the next coach is. Assuming Stewart likes Pittsburgh and being in this area - if he doesn't, that's another story - then it's probably best to be patient with the situation and see if the new coach is a good fit.
All of this being said, the new coach will most certainly be hired before the end of the semester, and assuming Stewart doesn't finalize his transfer before the hire is made, then there will be plenty of time for the new coach to state his case (if he wants to keep Stewart on the roster).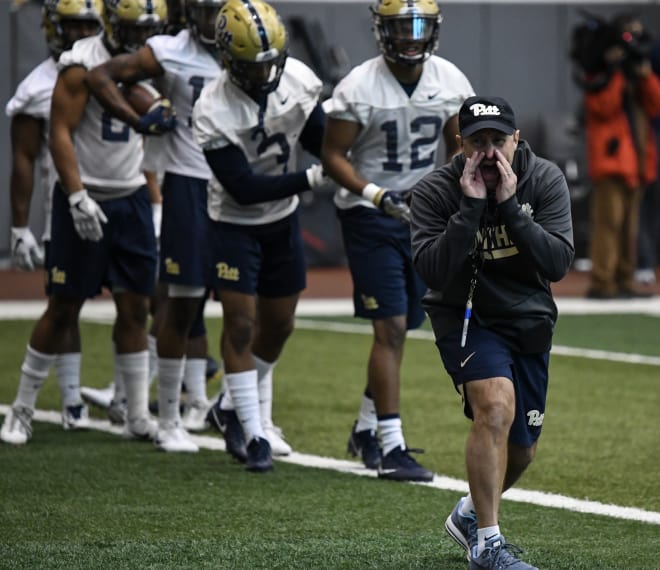 The more things change, etc. etc
On the football side, there wasn't a change at head coach this offseason, but there were plenty of others, as we all know.
Three more members of Pat Narduzzi's original staff are gone, replaced by four new hires (the NCAA added an extra assistant coaching spot this offseason). This is the third consecutive offseason that has seen Narduzzi change members of his staff; he replaced one coach after 2015, two after 2016 and now three after 2017.
The most notable change this offseason was the move at defensive coordinator. Gone is Josh Conklin, the former FIU defensive coordinator who was hired as part of Narduzzi's first staff at Pitt. Conklin, a young coach who came to Pitt to grow under Narduzzi, is now the head coach at Wofford; replacing him is Randy Bates, the long-time linebackers coach at Northwestern.
So what's the transaction here? Narduzzi swapped a young coach for an older one, but Conklin has more years of experience as a defensive coordinator than Bates does (in addition to his three years at Pitt, Conklin was the DC at FIU for two years; Bates has just one year as a DC on his resume), so age isn't too significant.
But there's a question of how the defense will change. Conklin ran a version of Narduzzi's defense when he was at FIU, and he came to Pitt with the express purpose of continuing in that vein. That was the crux of the hire: Narduzzi wanted Conklin to run his defense and Conklin wanted to grow as a play-caller under Narduzzi.
How does Bates fit in then? He's older than Conklin (Bates will turn 58 this summer; Conklin is still 16 months away from 40) and is closing in on 40 years of coaching. He's not a young up-and-coming coach who wants to grow and develop under Narduzzi.
But that doesn't mean Bates is at Pitt to reinvent the defense. Because just like Conklin was running Narduzzi's defense, so too will Pitt's new coordinator be operating in a system that was designed more than a few years ago.
Bates will have a fair amount of autonomy, of course, and he'll be responsible for game-planning and play-calling. He'll probably add some tweaks here and there as well; assistant head coach and defensive line coach Charlie Partridge said Bates is "an intelligent guy. He's bringing some things schematically that are going to be very good for us."
But when it comes down to it, Pitt's defense will be the Pat Narduzzi Defense, operating on the same principles that were used at Pitt for the last three years and at Michigan State for years before that.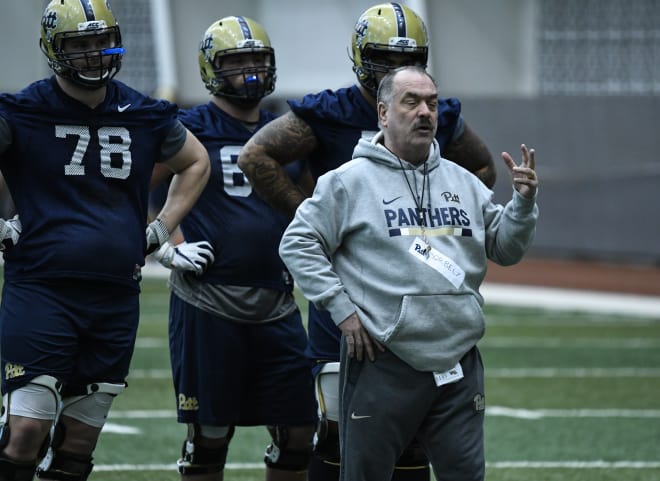 TWO QUESTIONS
How much impact can a coach have?
Among the coaching moves this offseason was the dismissal of John Peterson as offensive line coach. To replace Peterson, Narduzzi turned to veteran assistant Dave Borbely, a long-time coach with more than 30 years of experience.
From the start, it seemed like Borbely's experience was the main attraction for Narduzzi, and he confirmed as much this week. From Tuesday's post-practice press briefing:
You said development; was that the number one thing you looked for when you were making this hire?
Narduzzi: "Yeah. Coach Borbs is a really good fundamental football coach. It's different than what we were doing before and I think our guys needed that. We've got a young offensive line and I'm happy and I think our kids are happy with what we're getting so far."
Redshirt senior Alex Bookser echoed that thought when we spoke to him.
"He just brings an expertise - the fundamentals and the technique and his coaching style is top of the line. Coach Narduzzi did a really good job finding a new coach and I can't say enough about him."
The reasoning makes sense. I can't speak to Borbely's track record or resume specifically, but in general, it seems to me that the offensive line coach, perhaps more than any other assistant, has development as his chief goal. Every coach at every position has to develop his players; that's part of the job. But the offensive line is a little different, it seems.
Offensive linemen, by nature, take some time to develop. Short of the top of the top, most offensive linemen have to grow and develop, both physically and mentally. We've seen young offensive linemen get throw into the fire plenty of times over the years at Pitt due to a lack of depth, and the results are often not pretty.
(Dorian Johnson lining up as a freshman at left tackle against Georgia Tech's Jeremiah Attaochu - who now plays for the Los Angeles Chargers - comes to mind; it was brutal.)
Because the learning curve can be steep for offensive linemen, having a line coach who can hone in on and develop the fundamentals and technique is crucial. It's become apparent that Narduzzi didn't think Peterson was doing a good enough job in that regard, so he went looking for someone who could improve.
His answer was Borbely.
Again, I can't speak to the specific successes of Borbely's resume, but he has definitely been around a long time, and there's something to be said for a coach with that kind of experience: he's seen every type of linemen with every type of developmental needs come through, and he's got some familiarity - you would hope - with how to address those needs and give the player a chance to succeed.
So the big question now is, what can Borbely do for Pitt's offensive linemen? There are a lot of them on this roster; the Panthers are projected to have 16 scholarship linemen this season, of which six are freshmen or redshirt freshmen and 10 have yet to play a meaningful snap in a college game.
If the lack of development among the younger linemen was the reason Pitt brought in a JUCO and a grad transfer this offseason - if the coaches felt like the younger linemen hadn't developed enough to step into the three open starting jobs with confidence - it was also likely the reason Narduzzi changed line coaches. By that logic, Borbely was brought in to develop these players.
Now, will the fruits of that development and coaching be seen this season? Maybe, maybe not. But, in truth, the real test of Borbely's coaching won't be the way he helps Bookser and Mike Herndon and Stefano Millin; it will be in the development of guys like Bryce Hargrove and Jerry Drake, Gabe Houy and Owen Drexel, Jake Kradel and Blake Zubovic, among others.
Those guys are the key players for Pitt's offensive line, and they're the ones Borbely has to coach up and get ready for contributing roles. And to that end, we won't really have an evaluation on his performance as a coach for a few years.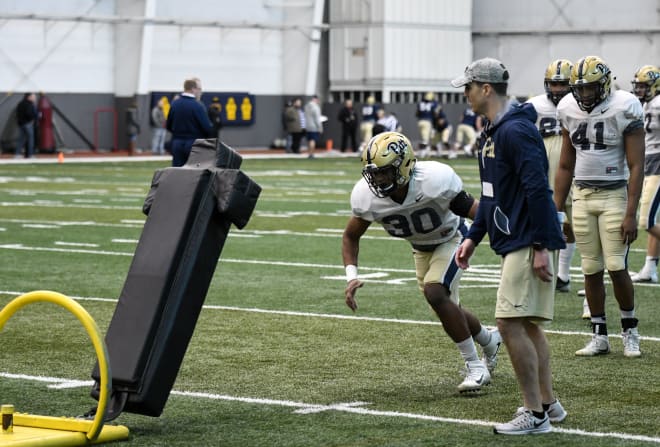 Is this the best linebacker group in years?
I had a nice talk with Oluwaseun Idowu this week for the podcast. He was an obvious interview subject, for a number of reasons.
For starters, he was Pitt's leading tackler last season and enters 2018 as one of the defensive leaders. On top of that, he's just a good interview: smart and a good communicator. So I knew he'd be a good player to tap for input on the linebackers, the defense and more.
Sure enough, Idowu had a lot to say. I'm not going to retype the whole interview here - like I said, you should listen to it for yourself - but this quote stuck out. I asked Idowu whether he thinks this is the deepest and most talented collection of linebackers he has seen since he came to Pitt four years ago.
"I think this is probably one of the best groups that will be at this school, to be honest, to speak very confidently about the group. We're a deep room with a ton of knowledge. Almost everybody in there that has played and is eligible to play will play."
Those are strong words and there's certainly a lot of confidence in those words. I didn't press Idowu on what timeframe he's talking about; is he talking about being the best linebacker group to ever play at Pitt? I don't know my Pitt history well enough to compare, but like I said, those are strong words, nonetheless.
So let's look at recent history. Here were the primary starting linebackers for the last few seasons:
2017 - Saleem Brightwell, Elijah Zeise, Oluwaseun Idowu
2016 - Matt Galambos, Mike Caprara, Oluwaseun Idowu
2015 - Matt Galambos, Mike Caprara/Bam Bradley, Nicholas Grigsby
2014 - Matt Galambos, Anthony Gonzalez, Todd Thomas
2013 - Shane Gordon, Anthony Gonzalez, Todd Thomas
2012 - Shane Gordon, Todd Thomas, Eric Williams
2011 - Max Gruder, Tristan Roberts, Greg Williams, Todd Thomas
2010 - Max Gruder, Tristan Roberts, Greg Williams
2009 - Adam Gunn, Max Gruder, Greg Williams
2008 - Scott McKillop, Adam Gunn, Austin Ransom
2007 - Scott McKillop, Adam Gunn, Shane Murray
2006 - H.B. Blades, Clint Session, Tommie Campbell
2005 - H.B. Blades, JJ Horne, Derron Thomas
So that's 13 years of Pitt linebackers (it becomes trickier to find starting lineups prior to that, but it seems like that's a good sample size).
Let's see - what sticks out from those lineups? From a pure talent standpoint, the 2006 group is pretty impressive, as all three guys played in the NFL. And really, two of the three were good in their time at Pitt, too; there were just complicating factors that made led that defense to struggle.
Any other combinations stand out? The McKillop trios were good - largely because they had McKillop in them (that's not a knock on Adam Gunn or Shane Murray or Austin Ransom; just that Scott McKillop was that good).
Overall, when you look at the last 13 years of Pitt football, it's hard to point to any one season outside of the three-year stretch from 2006-08 and say linebacker was a position of strength.
So…can it be a strength this year? Well, there are a lot of boxes that get checked, in my opinion. There's experience: Idowu, Brightwell and Zeise made 35 of 36 possible starts last season, and in 2016, Idowu and Brightwell combined to start 14 games, so that's 49 combined starts over the last two years.
Then there's the question of talent. Idowu and his teammates would be the first to tell you that they didn't play very well early in the 2017 season (the Youngstown State game was not pretty, nor was the Oklahoma State game, where much of the Cowboys' success in the passing game came at the expense of the linebackers). But they would also say that they improved considerably by the end of the season, an opinion which is shared by just about everyone. I would also suggest there's a fair amount of athleticism and speed in the group.
And there's depth. Idowu, Brightwell and Zeise are back as returning starters. Quintin Wirginis played in 38 games over his first three seasons. And Elias Reynolds and Chase Pine both seemed to make a splash in their limited opportunities last season. They may not be ready for starting roles yet, but if those two are your fifth and sixth linebackers, I think you're in good shape.
To recap, then, there's experience, talent and depth. I realize some may take issue with the talent part of that triangle, but I would say if we're comparing this year's group to those other years I listed above - again, aside from 2006-08 - I think 2018 has more experience than some of the more talented previous lineups and more talent than some of the more experienced lineups.
So I think there's something to Idowu's claim. Is it going to be the best set of linebackers Pitt has ever had? Probably not. But they can be pretty good and should be one of the better groups we've seen in quite some time.
ONE PREDICTION
The offensive line is going to be a work in progress
Going back to the offensive line for a minute…
It doesn't take much to predict that the line is going to be a work in progress for the foreseeable future.
This isn't just about inexperience or uncertainty about player abilities. This isn't just about the coaches not knowing what they have or Dave Borbely figuring out who his players are and what they can do.
The offensive line is going to be a work in progress because there are question marks not just about talent but about the best positional fit.
Take, for instance, one of the more interesting developments in the first week of spring camp. Redshirt senior Alex Bookser, who has started at right guard for the last two seasons, has been lining up at right tackle. Obviously Pitt has a need at right tackle - three players who lined up at tackle in 2017 left the team this offseason - but Bookser seemed like an odd choice, given that he had so much experience at guard.
But that's the way it's going this year, and that process might not end anytime soon. Borbely inherited something close to a blank slate with just two returning starters, and with Bookser at tackle, he already moved one of those returning starters to a different spot. And Borbely also has a few players who could line up at guard or tackle, so that further complicates things (or, put another way, it enhances the situation because it gives Borbely more options).
Plus, there's Stefano Millin coming in the summer. He should walk in and start at left tackle; that would bump redshirt freshman Jerry Drake down to the second team. Unless he's been so good on the first team this spring that the coaches slide him to right tackle. Which would move Bookser inside to guard. Which would drop JUCO transfer Chase Brown to the second team. Unless he's too good to hold back and they want him at left guard.
Or maybe Millin goes in at left tackle, Drake goes to the second team and Brown and Bookser flip guard and tackle. Or Mike Herndon stays on the first team at right guard. Or maybe he moves to left guard. Or maybe Bryce Hargrove stays at left guard.
The only thing I know for sure is that I'm not making the two-deep on the offensive line. Beyond that, I think anything is possible.