The 3-2-1 Column: Wirginis, big plays, Notre Dame and more
Personnel moves, the mystique of Notre Dame, big plays and more; that's what we're thinking about in this week's Panther-Lair.com 3-2-1 Column.
THREE THINGS WE KNOW
Wirginis is a loss File that headline under the "No kidding" department, but this was the biggest news of the week and I didn't feel like getting cute.
It's a pretty significant loss for Pitt to have Quintin Wirginis on the sidelines for the rest of the season. Wirginis suffered a "non-contact" knee injury during practice this week and had surgery on Wednesday, ending his redshirt senior season and, by extension, his college career.
That's a real shame for Wirginis, who's a nice kid with a story we all know: three-year reserve who was finally ready to step into the starting lineup when a season-ending injury killed his senior year, leading to a redshirt last season that set him up as a fifth-year senior/first-year starter in 2018.
Then his season on the big stage ends after six games.
Of course, it's not all bad luck for Wirginis. After all, there was the three-game suspension he was serving when he suffered that season-ending injury last year. But he seemed to have straightened things out in the interim and approached 2018 with a renewed focus.
And while there were moments when his relative inexperience showed, he was, all in all, pretty good during the six games he played this season. He was arguably Pitt's best defender - although Rashad Weaver and Dane Jackson could make a claim for that title - but inarguably the Panthers' leader on defense and one of the team's leaders.
As such, losing Wirginis is a blow on and off the field. He was a team captain and the leading tackler. He was responsible for getting the defense lined up (which more or less worked) and his loss will be felt throughout the defense and likely the team as a whole.
So what happens now at middle linebacker? There are a few options. Elias Reynolds was Wirginis' backup throughout training camp but entered the season with an injury, so Chase Pine moved into that role for the first two games and played 27 snaps. Reynolds got on the field against Georgia Tech (13 snaps) and North Carolina (17) before seeing 40 total snaps against the tempo offenses of Central Florida and Syracuse. He played a career-high 27 snaps against UCF, partially because the coaches rotated on a series-by-series basis but also because the staff more or less went to the bench for large portions of the second half.
In terms of production, neither Reynolds nor Pine has a lot to point to this season. They have 13 tackles over 116 snaps between the two of them, and while that's a tackle-per-snaps rate that's close to what Wirginis was producing, it's hard to say either of the redshirt sophomores has shown much this season.
There's also Saleem Brightwell. He was the starting middle linebacker in every game last season and recorded 690 snaps there, finishing second on the team in tackles with 73 while grabbing five tackles for loss, one sack, one interception and one forced fumble. So he's got experience at middle linebacker, even though all 163 snaps he has played this season have been at Money linebacker - the position he played for two seasons before moving to the middle in 2017.
Brightwell would be another option if the coaches don't feel great about Reynolds or Pine. There will certainly be a rotation - a middle linebacker other than Wirginis has played more than a dozen snaps in every game this season - but who takes the reigns as the No. 1 probably depends on how they play. For what it's worth, Pat Narduzzi said on Thursday that the coaches don't intend to move Brightwell, but it's definitely an option they'll have to keep in mind.
There's going to be a drop-off; it's just a question of how severe the drop-off is and how long it takes for the new starter at middle linebacker to improve.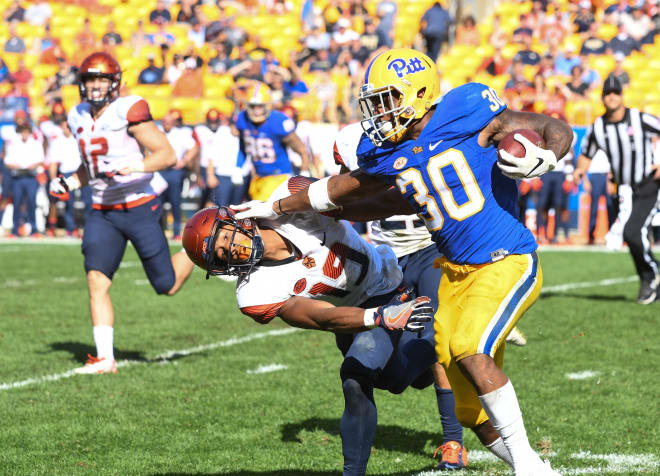 No, they're not going to be able to do that every week
Pitt did the smartest thing in football last Saturday in the overtime win against Syracuse at Heinz Field:
The Panthers found something that worked and stuck with it.
It seems like a simple concept, right? If you're doing something well, keep doing it. Bonus points if you also stop doing the things you're not doing well. And that's what Pitt did: with the running game working and the passing game struggling, the coaches went with the run and pounded Syracuse into submission.
Brilliant.
Of course, that's not going to work every week. It might not even work in another week all season. Attempting just two passes in the fourth quarter is unlikely to be a successful game plan in college football these days unless you're Georgia Tech or Navy (although Navy threw the ball four times in the fourth quarter of its loss to Air Force last weekend, but that game was a 35-7 blowout).
But we know Pitt is going to need to get more out of its passing game over the final six games of the season. Kenny Pickett needs to read defenses and see his open receivers better, and the Panthers' pass protection schemes have to work more effectively than they have. It's simple and obvious football.
That doesn't mean Pitt should go away from the run; on the contrary, it would seem that they are more likely to lose by abandoning the run than they are by running too much. Even when Notre Dame makes it rough and slows the running game - which will probably happen; the Irish are pretty stout against the run - Pitt needs to keep pounding to get something to crack.
That's part of the team's identity. But the Panthers also have to do something to correct the other part of their identity: that is to say, the inability to pass.
Notre Dame is going to make life difficult for all aspects of Pitt's offense because this is a pretty good defense. But if the Panthers are going to have a chance, they're going to have to make some plays in the passing game. Even the Pat Bostick-led offense in 2008 connected on at least a couple passes to get a big win in South Bend; this weekend's game could come down to whether Kenny Pickett can make "at least a couple passes" if this year's Pitt team is going to get its own big win in South Bend.
Notre Dame is a special place
I remember the first time I went to South Bend.
It was 2008, the first year I really travelled with the team since I started covering Pitt. I had covered games at West Virginia, of course, since that was an easy trip, but in 2008, I really went on the road. I went to Syracuse and experienced the Carrier Dome in late September and then headed to Tampa for a game against a top-10 South Florida team the next week. And two weeks later, I made the drive to Annapolis to see Pitt face Navy.
Those were all interesting trips, and it was nice to see what games were like outside of Heinz Field: the atmosphere around the stadium, the organization of the press box, the pregame media meal, the postgame press conference setup. All the important things.
Then, after Pitt came home from that Navy game at 5-1 and promptly got blown out by Rutgers, I followed the team west six hours to South Bend. And almost instantly upon getting out of my car, I understood.
I understood what all the hoopla was about. I understood why people talk about the "hallowed grounds" of Notre Dame Stadium. I understood why Notre Dame people seemed to have a certain arrogance, a certain conceit.
If I spent my life watching my favorite team wear those golden helmets playing in that stadium, I'd probably have a bit of conceit, too. They get it honest, is what I'm trying to say.
It's a cool place. There's no question about it. You drive to State College and you're in State College; being in Beaver Stadium doesn't change that. But when you walk into Notre Dame Stadium, you're not in South Bend anymore; you're in college football history.
That's the best part about watching a game at Notre Dame. For the players, the best part about going to Notre Dame is that it's a chance to be part of college football history.
"Legends are made in games like this," Dave Wannstedt said after that 2008 game, which produced a few legendary performances. That was the four-overtime game, one of LeSean McCoy's finest performances - 169 yards and a touchdown on 32 carries - and a perfect 5-of-5 from kicker Conor Lee, including four field goals after regulation.
And, of course, a legend was born four years before that game when Tyler Palko dropped five touchdown passes (and a legendary postgame remark) in an upset win for the 2004 Panthers.
Notre Dame is a special place - and it's an opportunity to do something special.
TWO QUESTIONS WE HAVE
How does the Sear departure impact the tight end position?
The injury to Quintin Wirginis wasn't the only personnel news for Pitt this week; the Panthers will also be moving forward this season without sophomore Tyler Sear, who took leave from the team midweek. His return is undecided at this point, and while the odds seem to point toward his career at Pitt being over for good, there's always a chance things change.
For whatever it's worth, I'm not sure that Sear's departure is entirely his decision, but that's something of a moot point; the impact on the here and now is that Pitt is down a tight end.
Or should that say "another tight end," since Sear's departure comes after Charles Reeves was dismissed from the team this summer and Chris Clark left the team in the spring. That's three tight ends off the roster in a matter of about six months plus a tight end recruit who decommitted (and if we want to extend our time period to a year, we could add another tight end recruit from the last class who decommitted), so inevitably the question jumps out:
What's going on with Pitt and tight ends?
For awhile, there was a "Spinal Tap drummer" element to tight ends. Pitt signed two in 2013 - Tony Harper and Devon Edwards - and they never did much in their careers. 2014's tight end signee was Brian O'Neill, who is getting paid to play offensive tackle. Nobody signed in 2015 or 2016 unless you count Clark, who transferred prior to the 2016 season. And in 2017, Pitt signed three tight ends: Sear, Reeves and Grant Carrigan. You know which one of those three is still on the active roster.
Other than that, Pitt's tight end roster has only grown with a couple grad transfers - Matt Flanagan for last season, Will Gragg for this year and next year - and giving a scholarship to converted linebacker/defensive end Jim Medure this offseason.
For whatever reason, this coaching staff has struggled with tight ends (at least since these coaches arrived in 2015). And that phrase - "for whatever reason" - is a relevant one, since not all of those situations are the same.
Clark left for personal reasons, for example, but Reeves was flat-out dismissed after an offseason that apparently had some issues. Sear's departure may not be quite the walkout it has been portrayed to be; it's probably somewhere in the middle of leaving and being dismissed.
Matt Alaimo, the 2018 recruit who decommitted, did so more through a mutual parting of ways than an out-and-out decommitment. Travis Koontz, Pitt's 2019 JUCO tight end commit, did decommit straightaway after seeing the lack of usage Pitt's tight ends were getting on the field this season.
And that's the heart of any discussion about Sear's departure or anything else regarding Pitt's tight ends:
There's not much happening there on the field. Whether that's a conscious decision by offensive coordinator Shawn Watson to ignore the tight ends or a product of on-field decision-making by Kenny Pickett probably isn't a simple this-or-that; it's a little bit of both. Sear played 208 snaps in six games this season and was run-blocking on 138 of them while running only 47 pass routes. That's not a lot of action in the passing game, and that part is probably on Watson.
But of those 47 routes, he was targeted just five times; that's more on Pickett, I would say, since he hasn't done a great job of seeing the field.
Ultimately, I think Tyler Sear has the ability to be a good tight end, but it's hard to get too worked up about a tight end coming off the roster when that position has contributed little to the offense thus far (for whatever reason). The tight ends have been missing from the offense, to be sure, but guess what? So has most of the passing game, and while I like the idea of tight ends as safety valves, Pickett needs to get good at getting the ball to the receivers.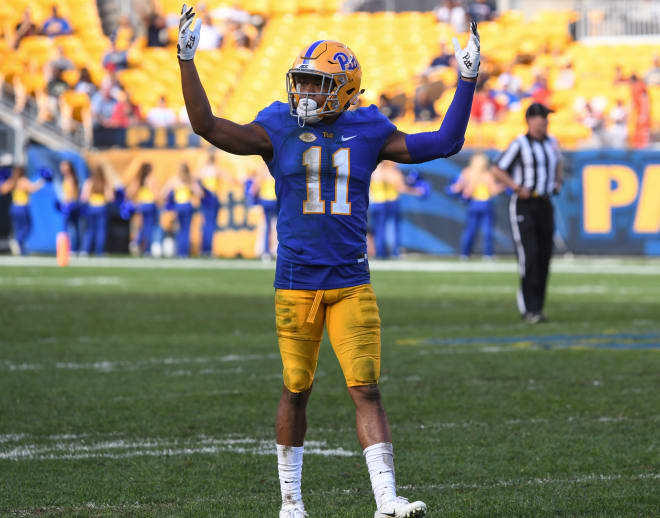 Can Pitt really live and die by the big play?
I didn't expect to come out of the Syracuse game thinking of Pitt as a team that relies on big plays, simply because Pitt hadn't been a team that really produced much in the way of big plays this season (or last year, really, outside of Darrin Hall at Duke).
But then the Panthers upset Syracuse at Heinz Field largely on the strength of a handful of big plays.
Think about it: Pitt scored touchdowns on a 69-yard run, a 68-yard pass and a fumble recovery by the defense. One other touchdown came on a five-play, 75-yard drive. And the fourth came on the short field of overtime.
Pitt was explosive on Saturday, and that's all well and good: it's better to have big plays than to not have them. But that's not how Pitt can make a living, so to speak. This is a team - or, at the very least, an offense - that has to rely on sustained drives built on time of possession and manageable down-and-distance situations.
That's probably part of the reason people have been hesitant to crown Pitt's offense after it scored 37 against Syracuse: those big plays aren't going to come on a consistent-enough basis to rely on (well, that and the lack of a passing game).
The same goes for the defense: can Pitt expect to get three turnovers every game? They should try to get three turnovers every game, but is that really something to count on? Probably not.
So, going forward, Pitt obviously needs to keep trying for those big plays - get the extra block to spring a long run, take an extra swipe at the ball to force a fumble - while also focusing on building the sustainable and predictable parts of the attack: establishing the run and hitting play-action on offense, stopping the run and making the quarterback uncomfortable on defense.
Pitt hasn't done enough of any of that this season, and that's a big part of why the team is 3-3. Big plays were enough to beat Syracuse, but going 3-3 or better over the second half of the season is going to require establishing the baseline identity of the team as the coaches want it to be.
Big plays will come and go; you need something to sustain your offense and defense when the big plays aren't happening.
ONE PREDICTION
The jet sweeps will hit
I can't in good faith predict a win here. I just can't. Notre Dame is very good in a lot of areas that will create difficult matchups for Pitt.
Syracuse had a really good defensive line and controlled the line of scrimmage when Pitt tried to pass last week; Notre Dame has a better defensive line that is not only good against the pass but also against the run, so I struggle to find areas where Pitt is going to have success moving the ball. Perhaps the Panthers can hit on a big play or two on the off chance that Notre Dame makes a mistake, but that might be the extent of it; it's hard to envision the offense putting together many extended drives.
However, our friend Bryan Driskell at Blue & Gold Illustrated told us this week that the Irish have shown some vulnerabilities in defending perimeter runs. Pitt doesn't tend to send the running backs outside the tackles all that much, but the jet sweeps…well, they might just hit on a few of those this week.
It's not that Pitt doesn't have the players to run those sweeps. Maurice Ffrench, Shocky Jacques-Louis and Rafael Araujo-Lopes are all fast enough to make explosive plays in the open field. It's just about execution and timing, catching Notre Dame in the right defense, making the right blocks and cutting up-field at the right time.
Quadree Henderson was really good about seeing the seam and hitting it. Ffrench, Jacques-Louis and Araujo-Lopes are still getting a feel for it, although Jacques-Louis did have a really nice run against Penn State, so we'll say again that he should have the ball in his hands more often.
And Pitt doesn't have to run the traditional jet sweeps they've used in the last three seasons. Running a sweep out of the Wildcat formation - which they have done once - is a good option to consider; there's always a receiver in motion, so as long as they have practiced it enough to get the timing right, I would have Ollison or Hall hand the ball off a few times. The Wildcat worked well against Syracuse and Notre Dame will be ready for it; that means it's time to add some wrinkles, and trying to get to the edge might be Pitt's best chance of loosening up this Irish defense.