The 3-2-1 Column: Tourney time, spring camp and more
In this week's 3-2-1 Column, we're getting ready for Pitt-Iowa State, talking about spring football and a lot more.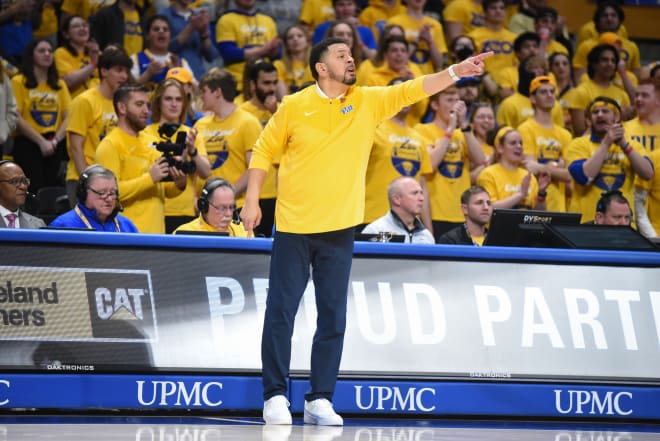 Chris Jans was wrong
By my math, there were roughly 51 hours - give or take a few minutes - between Sunday's announcement of the NCAA Tournament bracket on Sunday night and the tipoff of Pitt's First Four matchup with Mississippi State on Tuesday night.
That's not a ton of time to prepare a full scouting report, and so we'll forgive Bulldogs head coach Chris Jans if he didn't go deep on all 33 games the Panthers played heading into Tuesday night. Even if you take out the commercials from the game film, you're probably looking at something approaching the equivalent of breaking down one game per hour from the time of the announcement until tipoff - and that's without sleep or practice time or press conferences or anything else.
So Jans probably didn't have time to look at all of them. But somewhere along the way, I have to think he put on the tape of at least some portion of Pitt's wins over Syracuse and North Carolina in December or Virginia, Wake Forest and Miami in January or North Carolina in February.
I have to believe those games were on his radar; not only did they represent some of the better competition Pitt faced this season, but they also gave some valuable insight on the Panthers - insight that would have served Jans well as he prepared his team for the First Four game.
"Pitt is going to break."
That was the word from Jans coming out of halftime, according to TruTV sideline reporter Jon Rothstein. It seems Jans shared that message with his team in the locker room, and while it was likely just a coach's motivational tactics to get his players to keep fighting through a tough, challenging game, it seems fairly misguided.
Because if Jans had drawn on the experience of watching those six games I mentioned, he would have seen Pitt emerge victorious six times in one-possession games. Six times, the game went down to the wire, and six times, the Panthers made big plays to win it.
They did it in different ways, but that's something we'll talk about later. The point here is, they did it.
And if Jans was expecting Pitt to "break," well, he didn't exactly know the 2022-23 Pitt basketball team.
This team has been facing adversity from the jump, so when the adversity meter went up a notch on Tuesday with Federiko Federiko having to stay on the bench due to a knee injury and Jamarius Burton spending lots of time next to him with foul trouble, it wasn't anything new.
It was just more adversity to overcome.
Now, this is not to say the Panthers have been perfect. They blew some should-have-won games against Florida State and Notre Dame, which ultimately put them in Dayton. They couldn't pull off a comeback in a one-possession loss at Miami in the regular-season finale. And they got blown out for three consecutive halves by Duke, including the last time we saw them on the court.
They've gotten beat - sometimes badly - but they never really broke, not in the way Jans was promising his players.
The one(s) you want at the end
Let's talk about Jamarius Burton, shall we?
He made the game-winner on Tuesday night, of course, and if you've watched Pitt this season - and I think it's safe to assume that anyone reading this has watched Pitt this season - then you've seen Burton do that a few times.
Maybe more than a few.
He's been Pitt's leading scorer (or shared the scoring lead) in 12 games this season; that's the second most on the team behind Blake Hinson, who has done it 15 times.
But he has also made some big-time plays in the clutch. He was part of a free-throw brigade that saw Pitt make six in a row from the stripe in the final minute to beat Virginia in January. He personally put an end to four consecutive Miami possessions to get the Panthers past the Hurricanes at the Petersen Events Center.
He made the game-winning free throws in Pitt's win at North Carolina on Feb. 1. And he hit the pull-up jumper to knock Mississippi State out of the postseason on Tuesday night.
That's a lot of clutch plays.
But here's what's wild:
Burton's not the only guy who has made those plays.
I looked at the seven one-possession games Pitt has won this season. Tossing out the Wake Forest win, when the Panthers didn't really do much after taking a five-point lead with 3:44 left and making just one basket the rest of the way, the six remaining one-possession games saw a whole litany of Pitt players step up.
The win at Syracuse comes to mind. Hinson won that one with a steal in the final 30 seconds and a point from the line to set the final score.
The home game against Carolina saw Hinson hit two free throws in the final 30 seconds before Nike Sibande accentuated it with a layup.
The Virginia game had both teams tied at 60 with a minute to play before Federiko Federiko scored and Sibande, Burton and Nelly Cummings each made two free throws to ice it.
In the Miami game, Federiko turned an offensive rebound into a dunk, Hinson hit a three and Cummings landed a pull-up jumper after back-to-back Burton defensive rebounds, Hinson followed a Burton steal with a put-back layup of his own and then Burton closed the game with another steal.
Throw in Guillermo Diaz Graham's block in the Mississippi State game, and you've got six different players who made game-winning plays late in one-possession games this season.
So while Burton's been a big part of the success in those close games, it's not just him. It's not just one guy. It's Burton, but it's also Hinson and Cummings and Sibande and Federiko and, most recently, Diaz Graham.
That's part of what makes this team so dangerous: there's legitimately something like a half-dozen players who can step up and make the big play.
Picking Pitt in March
For all of the "first time in seven years" memories we've shared this season, I think one of the most fun happened this week:
Making bracket picks with Pitt in the field.
Remember what that was like?
It's been a long time since you had to decide what to do with the Panthers. After all, you watched them all season. You saw their best and their worst, their highs and their lows, the times when they played well enough to beat anybody and the times when they looked like they had more weaknesses than strengths.
But in March, when it's time to start picking Pitt against other teams that you haven't seen nearly as much of…well, that's when it gets interesting.
Who among us didn't put Pitt in the Final Four at least once or twice between 2001 and 2010? I know I did it once or twice. Maybe more. Sometimes it made sense (2008-09 comes to mind) and sometimes it didn't.
There's a real push-and-pull, a balancing of what you know from watching the team all season long with the reality that you're probably too close to the situation to evaluate it objectively.
We haven't experienced that in a long time around here.
I was reminded of this on Monday night. For years now, I've participated in a March Madness fantasy basketball game. Me and a dozen or so others gather on the day after Selection Sunday and draft teams of eight players each. It's a basic fantasy basketball competition: you try to get the guys who will accumulate the most points over the course of the NCAA Tournament.
Nothing fancy about it; just a fun activity for a little cash, something to put a little more stakes into the Tournament. It's a good time.
Naturally, most of the guys who participate are Pitt fans (save for the one WVU fan; I'm not sure who invited him). So when Pitt was getting into the Tournament with regularity, it was always fun to see who would crack first. Who would be the first person to take a Pitt player? Sometimes it was a good pick. Sometimes it was rather silly. And sometimes it was a last-round selection just for the fun of it.
For the last six years, there haven't been any Pitt players to draft. But on Monday, the option was there once again, and sure enough, some Panthers were selected. We had 14 people drafting over eight rounds, and Blake Hinson was taken with the second pick of the fourth round. Jamarius Burton went a few picks later in that round. And then, as the Pitt fans truly leaned into the fun of it, Nike Sibande was selected with the second pick of the eighth round - the same guy who took Hinson also took Sibande, so he's banking on a Pitt run - and Nelly Cummings went one pick later.
To those guys' credit, Cummings scored 15, Hinson scored 12 and Sibande had 11 in Tuesday's game and those points count, so they weren't terrible picks as far as getting a head start on the scoring.
But even if Pitt gets bounced by Iowa State and those guys don't get any more points for their picks and my bracket gets busted a little more than it already has, it's still a heck of a lot of fun to have Pitt as an option in things like this again.
TWO QUESTIONS
Is the second time a charm?
While Pitt hoops has been living that postseason life, the Pitt football team has been back in action for the first time since the postseason.
Pat Narduzzi's Panthers opened spring camp 2023 this week with a pair of practices in the South Side. Every year, I have a few different reactions to spring camp.
One, and I'll be completely honest here, is that it doesn't mean a whole lot. We've seen plenty of spring camp heroes do nothing when the actual season arrived. And ultimately, it's 15 practices sitting roughly six months ahead of the real football games; what happens now doesn't always have a real connection to what will happen then.
On the other hand, and this is the side I lean to more often than not, it's football. It may not be games and it may not be relevant to the season, but it's football. It's football practices and football drills and football observations and football interviews and Football Talk.
We have some football to talk about, and that's always a good thing (especially when it overlaps with an NCAA Tournament run; it's overload at that point, which I fully and willingly submit to).
This year, I think the thing I'm most interested in with Pitt's spring camp is the offense.
More specifically, I'm interested in how it's different for the players and coaches as they work in Frank Cignetti's offense for the second year.
Let's be honest: the first year wasn't so hot. The run game was good. It set records. It won games.
But the passing game wasn't good. It cost them games. And the offense as a whole shares the bulk of the blame for the crucial, season-changing losses to Georgia Tech and Louisville. Win those two games - and they were both winnable - and the season looks considerably different.
That's on the offense.
So the big question this year will be, how is the offense going to improve?
The quarterback is a big part of that and we'll see how things work out there. But I don't think we can discount the significance of Pitt's players having experience with the offensive system.
I don't mean to say that the struggles last season were all growing pains. Some were, some weren't. But I do think that a year of experience in learning the offense and a year of experience for Cignetti and company in knowing the players should go a long way in making some improvements.
So that's been my big topic for the first week of spring camp. I asked Matt Goncalves and Jake Kradel about it on Tuesday, and I asked Cignetti himself about it on Thursday.
They all said the same thing: it's night-and-day this year with the knowledge of the offense. Cignetti said Thursday that the coaches have installed 60% of the offense so far; last year after two practices, it was probably around 15%.
That seems significant to me, and I wonder how it will carry over to the season. I wonder how the players knowing Cignetti and Cignetti knowing the players will impact the product on the field. It certainly doesn't hurt that Phil Jurkovec is coming into the offense with a working knowledge of it. That should ease this year's transition to a new quarterback.
But getting this offense on the same page - and making sure it's the right page to be on - is going to be essential to putting together a successful season. And that work is being done right now in the South Side.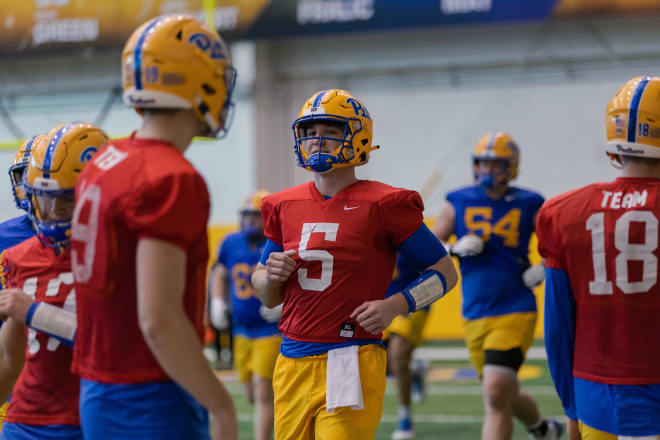 What's the impact of Hugley's decision?
Back to hoops, and to be honest, it's not necessarily something I really even want to discuss. I want to talk about the hoops team and its chances against Iowa State and everything the Panthers have accomplished this season. But John Hugley's announcement on Tuesday that he's officially transferring from Pitt was newsworthy enough that we need to give it a little bit of column space here today.
I'll say first off that the timing stunk. I see no reason why Hugley had to make his announcement the morning of Pitt's first NCAA Tournament game in seven years, and while I don't want to make assumptions about other people's motivations, it's tough not to look at it and feel some elements of cynicism.
Pitt is hours away from the biggest game in seven years, and the player who was expected to be a central piece of the turnaround announces that he's leaving the program?
What's that all about?
But I digress.
Whatever reaction the timing of Hugley's announcement might have generated, there's a discussion to be had about the impact of his departure. I will say that I am not in the camp that believes Pitt is better without him or that he doesn't fit with what the Panthers want to do.
In fact, I would go so far as to suggest that he could have made a positive impact in a game like, say, Miami, where the Hurricanes dominated the boards and won with 25 second-chance points.
You can't convince me that Hugley doesn't grab at least a few defensive rebounds in there, which could have been the difference in the game.
But I digress again.
It's impossible to say what Pitt would have done this season with Hugley or how the Panthers' season might have been different if he had participated. The emergence of Federiko Federiko has been one of the best storylines in a season filled with good storylines, and the development of Guillermo and Jorge Diaz Graham wasn't far behind.
I feel safe in assuming that neither one of those storylines plays out the same way with Hugley getting starts and minutes. Federiko was always going to get minutes as Hugley's backup, so he still could have emerged as a surprising contributor, but it wouldn't have been to the same extent that it was.
Then again, in Hugley's final game at Pitt, he came off the bench to score two points and collect five rebounds in 10 minutes in a December win over Sacred Heart. In that same game, Federiko started, played 28 minutes and put up a double-double with 17 points and 14 rebounds.
Hugley never played another minute for the Panthers again.
Did Hugley leave Pitt because he was playing behind Federiko? I find that hard to believe. Coincidences occur and correlation doesn't always prove causation. But the timing is interesting. I'll say that much.
Either way, Pitt is moving on. Pitt already moved on. The Panthers have played - and won - with Federiko and Diaz Graham handling the five. It hasn't always been ideal and there have certainly been mismatches along the way. But everyone who has watched Federiko and the twins battle through this season has to have come away with the same conclusion:
They were committed, 100% and without question, to the team, and they would do anything they could to help the team win.
They'll carry that mindset and that spirit into next season, when they'll be even better prepared, both physically and mentally. The experience those three have gotten this season is invaluable, and I think it will pay off considerably next year.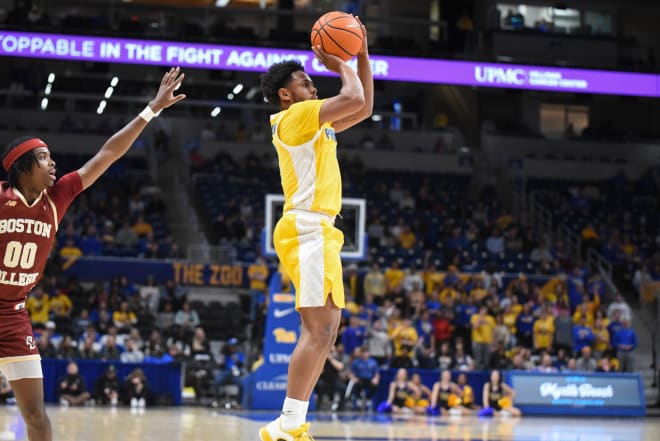 ONE PREDICTION
Pitt wins
Simple as that:
My prediction is that Pitt will win today. Pitt will beat Iowa State. It might be by one and it might be by 21, but Pitt will win.
Okay, it probably won't be by 21, but you get the point.
Now, I don't think it will be easy. Much like Mississippi State, the Cyclones are tough defensively. Ken Pomeroy has them No. 8 in adjusted defensive efficiency. That's pretty good.
But Mississippi State was No. 6, and Pitt was able to shoot 38.9% from the field and 47.4% from three while committing just seven turnovers.
Northwestern is No. 18 in Pomeroy's defensive efficiency rating. Pitt shot 48.1% from the floor and 63.6% from three, committed 10 turnovers and hung 87 on the Wildcats on the road in that one.
Virginia is No. 26 on Pomeroy's list. Pitt's performance in the win over the Cavaliers? 42.6% from the floor, 31.8% from three and eight turnovers.
And the Panthers beat North Carolina twice this season, averaging 70.5 points per game, shooting better than 45% from the field in both games and committing 18 total turnovers (eight in the game in Pittsburgh; 10 in Chapel Hill).
It wasn't all wins against Pomeroy's top defenses. VCU is No. 17 on the list, and Pitt lost that game but still shot 42.1% from the floor; instead, the Panthers were undone by three-point shooting (5/22, or 22.7%) and turnovers (they committed 18).
And Duke is No. 15. Not much went right for Pitt against the Blue Devils, but there's one key difference. In addition to being No. 24 on the defensive end, Pomeroy has Duke at No. 41 in adjusted offensive efficiency.
The Blue Devils have a great defense, but they're pretty good on offense, too.
Northwestern isn't. North Carolina isn't. Virginia isn't.
Mississippi State isn't.
Iowa State isn't.
While Duke ranks No. 41 in Pomeroy's offensive efficiency, none of Pitt's other opponents who rank in the top 50 on defense have a top-50 offense.
And this brings me to my point:
When facing the best defenses on the schedule - Virginia, Northwestern, North Carolina, Mississippi State - the Panthers have cracked them. It might be like the Virginia game where it took a half or more to get there, but eventually Pitt got there. The offense won the day.
The biggest exception came in the two Duke games, when the Panthers faced an offense that was close to being their equal.
Iowa State is not Pitt's equal on offense.
Iowa State might be able to slow Pitt's offense, but like Mississippi State, I don't think the Cyclones can score enough to make it count.
Of course, there are some traps the Panthers can fall into. They're going to get out-rebounded; I think we all know that to be true. So they need to step up the defensive intensity on Iowa State's extended possessions (via offensive rebounds) and they need to get back in transition defense to make sure that Iowa State's defensive rebounds don't turn into fast-break buckets.
The Cyclones aren't great on offense, so don't make it easy for them.
Similarly, turnovers have to be avoided at all costs. Pitt's starting five on Tuesday night combined for three total turnovers, with Nelly Cummings and Blake Hinson putting up zeros in that category.
I highly recommend the Panthers do that again.
And then they have to fire from three. In Iowa State's three wins over Baylor this season, the Bears - who are pretty similar to Pitt as a three-point shooting team - shot 36.7% from beyond the arc. But Baylor's numbers got progressively better over the course of those three losses. In the first game against Iowa State, the Bears shot 5-of-22 from three; in the second game, they hit 10-of-28; and in their Big 12 Tournament loss to the Cyclones, they made 14-of-29 (48.3%).
Pitt needs to do that. The Panthers have the firepower to make it happen, and Jeff Capel needs to get a good feel for what Baylor did in that last game or two.
I think Pitt will protect the basketball and make three's, and that should be enough to get the win.
I'm calling for the Panthers to play on Sunday.