The 3-2-1 Column: Risk-takers, fixers, the spring game and more
In this week's Panther-Lair.com 3-2-1 Column, we're thinking about the end of spring camp and looking ahead to Saturday's Blue-Gold Game.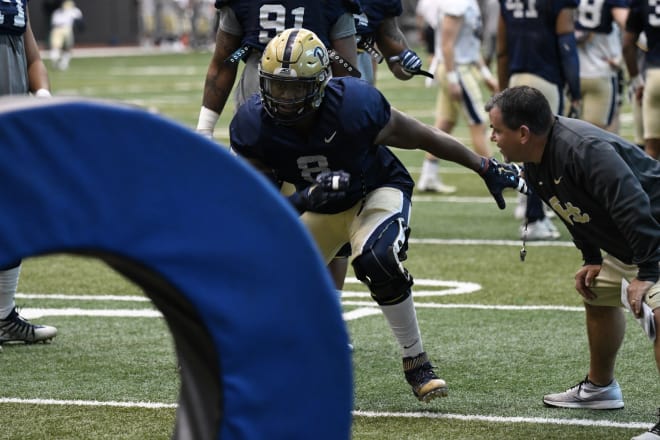 THREE THINGS WE KNOW
The risk-takers
An interesting theme that emerged from Pitt's final week or so of spring practices was that of risk. More specifically, the theme that was discussed was taking risks. And even more specifically than that, it was the defensive line taking risks.
Now, there are a lot of angles to that (and we'll get to some of them in a minute). But on the broadest level, it's about Pitt's defense in 2018 being more of an attacking defense, and that philosophical approach hinges, at least in part, on taking risks.
Consider this quote from defensive coordinator Randy Bates:
"I think that we talk less about missing tackles and talk more - we don't grade the guys on missed tackles; a lot of people do. We grade them on making plays and tackles for loss and going and taking a shot. And it's been a process, because it's a little different. But my mentality is, if you go take a shot, you'll make the play, and if you don't, that's what the other 10 guys are for. That's probably where it's a little bit different: from an attacking standpoint, I'm not going to grade those guys down for being aggressive. I'm really going to grade them down for not being aggressive."
There's a lot in that quote. A whole lot, and if the coaches really do hold with that philosophy, it sure does seem like it could have a considerable influence on how the players approach the game.
That said, it's not a complete overhaul of how the players have been coached in the last four years. One of Pat Narduzzi's most basic approaches, behind the schemes and the coverages and the pressure packages, underneath the cover-four and the press-man and the Delta, lying below all of that has been a simple directive:
Go make plays.
Pat Narduzzi doesn't hate pass interference penalties. He hates when referees call pass interference (or when they don't call it on the offense), but he doesn't hate when his players incur those penalties. He wants his cornerbacks and safeties to be physical and aggressive. He wants them to make contact with the receiver on every route. He wants them to fight for the ball on every pass.
He wants them to take risks because he wants them to make plays.
Sometimes those risks are going to draw a flag; he's okay with that, provided the defensive back was trying to make a play. It probably infuriated him when he arrived and corners like Avonte Maddox and Lafayette Pitts had the speed to run down the field with any receiver but gave those receivers free release off the line and failed to compete for the ball when it was in the air.
Narduzzi and Renaldo Hill spent three years trying to train Maddox in how to be their kind of corner, and he finally got it in his senior season. It's not easy to teach someone that it's okay to take risks. And it's not easy training a player to understand when to take risks.
But it seems like this year's defense has a pretty solid combination of the key factors that go into playing that way: talented players with experience who know the defense and have a grasp on how to take risks in the system. And they have coaches who are encouraging them to do so.
The fixers
The topic of risk-taking first came up publicly last week when defensive line coach Charlie Partridge mentioned it regarding redshirt sophomore end Rashad Weaver:
"You know, Weaver is playing at an extremely high level; he's got everybody's attention. He's playing smart, he's playing fast, he's making - he's taking risks and calculated ones, though, so he knows how to cover it if something were to happen."
Partridge said that Weaver - who has been one of the standouts this spring, by all accounts - knows how to cover for his risks, but there's more to it than that. It's not just about the defensive ends taking risks and recovering if things go wrong; it's about the linemen taking risks because the guys behind them give them the protection to do so.
"That's what we've been working on this spring: taking risks," Dewayne Hendrix said this week. "Because the linebackers are going to fix the risks that you take, so it's going to create more plays in the backfield with us taking those risks, so that's how we're doing it."
And that's a big part of this approach in 2018: the linebackers. The position hasn't really been a strength of the defense in a long time (maybe since the days of Scott McKillop and HB Blades?) but the expectations are high and rising for that group this year.
I wrote about this before. In a previous 3-2-1 Column I asked if the linebackers could actually be the strength of the defense this season, but I think there's a bigger forest involved with those trees. This isn't just about how Quintin Wirginis and Elijah Zeise and Seun Idowu and Saleem Brightwell and the rest play as an independent group cleaning up plays that get past the line.
This is about a veteran group of players in the middle of the defense whose experience allows them to react to what they see in front of them and fill in where they need to fill in - to fix the issues that arise from the defensive line taking risks in the interest of making plays.
Okay, this is probably basic football: all 11 players have to be working in sync to make for an effective defense, and that's especially true of the front seven. But here's where it gets interesting - and potentially successful - for Pitt: the experience of the linebackers should give them better instincts for seeing where they need to fill in - where they need to fix - thus allowing the defensive line to take more risks.
If the linebackers didn't have the trust of the coaches, the defensive line might have to be pulled back a bit, perhaps play with a little less aggressiveness and not to get work in the "attack-style defense" that junior tackle Amir Watts told us he is enjoying this spring.
The linemen are older and more experienced now, too, so they're getting mature enough to understand how to take those risks. But having this group of linebackers behind them makes it all work.
"Experience" is a word Pitt fans have come to loathe - or, more relevantly, they've come to loathe the attention and favor various coaching staffs have paid to experience. But I think that this season has the potential to be a good demonstration of just why coaches value experience.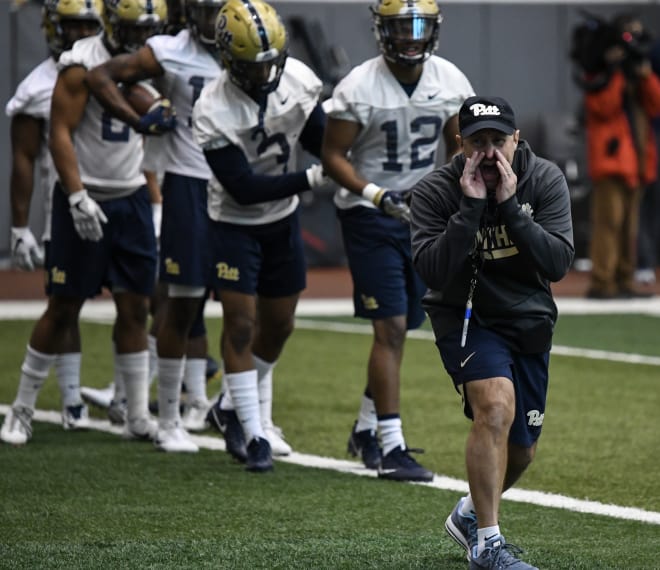 The newcomers
While this approach on defense will probably stem largely from the experience factor, there's also going to naturally be some attachment to Bates. And if the defense does play better in 2018 (as it should), he's going to get a lot of credit for it (as he should).
Like I mentioned above, to some extent, this philosophy of taking risks to make plays isn't exactly new; Narduzzi has embraced it since he arrived. But the head coach has been very positive about the direction of the defense under Bates this spring.
On Thursday, Narduzzi talked about what it's been like working with Bates, and he was, as expected, positive.
"It's been awesome. It really is. It's refreshing and, again, we had a great relationship in the past with Josh Conklin, but it's just different. It's almost a freshness. Conklin did a great job but Bates is just a different guy. I think our kids have enjoyed it; you can talk to them more about that. But just as a football guy, he's very similar to who I am, he cares about the details and it's been a great marriage so far."
That's about what you would expect from Narduzzi or any head coach who has a recently-hired coordinator on staff. He said more on the topic later when I asked him about the way the defensive line and the linebackers work in concert.
"Really, Coach Bates has brought that. I can't be in the defensive meeting all the time, so Coach Bates has the same philosophy as I do, as far as how to - again, former linebacker coach, I think that helps. You know, Coach Conklin was a DB guy more than a linebacker guy, so it's like, when I'm not there, the same things are getting emphasized and I think that's really where you hear about the D-line and the linebackers and even the safeties fixing the linebackers. I think they all work together."
That quote is a little more curious to me, particularly since Narduzzi brought up Conklin kind of out of nowhere. And we've seen other praise for the four new coaches this spring, comments that seemed to go beyond the typical words of encouragement that you see from head coaches.
Like earlier this week, when Narduzzi said he thought the offensive line was ahead of where it was last year in its pass protection.
Ahead of where it was last year at this time? Narduzzi was asked.
"No. Last year during the season."
That's a heck of a comment, considering last year's offensive line featured four guys who are auditioning for the NFL right now, at least two of which will probably be on NFL rosters this summer. To say that the current line is ahead right now of where that line was during the season is…telling. And I don't think it's a comment on the players as much as it's a comment on the coaching.
Pat Narduzzi has doubled-down on his hiring of Dave Borbely as offensive line coach, Randy Bates as defensive coordinator and Archie Collins and Cory Sanders in the secondary. That's not a bad thing; a head coach should support and praise his assistants.
But it does seem that those comments often - maybe just occasionally - come across as comparisons. "Dave Borbely is doing a good job" tends to carry with it the addendum of "better than last year," either as an implied or direct statement. The same goes for comments about Randy Bates.
Narduzzi genuinely seems to believe he upgraded his staff this offseason. I don't entirely disagree; or, at the very least, I don't see much drop-off overall. The ultimate judgment will be rendered by how the team performs in the fall, of course, but it seems like the impact of the new guys was a point of emphasis this spring.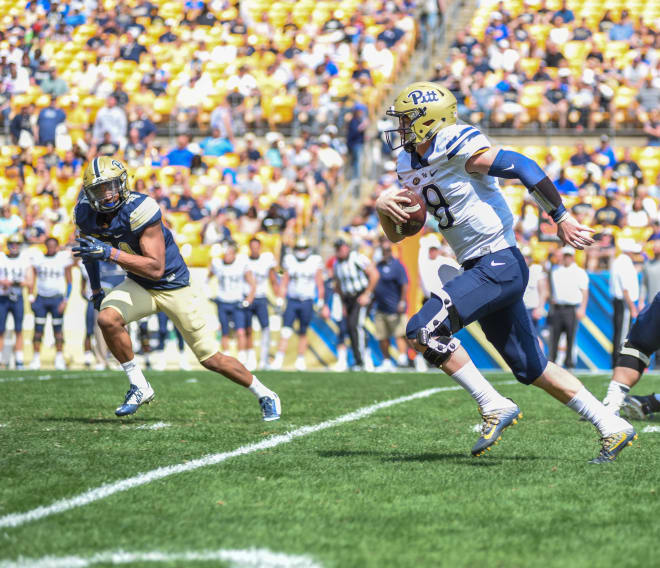 TWO QUESTIONS
What will make everyone feel good in the spring game?
So what's the best possible outcome of the Blue-Gold Game? Certainly, as the coaches would say, having every player walk out of Heinz Field Saturday afternoon with perfect or near-perfect health is the top priority.
After that, there are probably a few things that fans would like to see. A nice showing from Kenny Pickett would be at the top of that list; he has been the inspiration for much of this offseason's enthusiasm, and whatever optimism exists does so largely because of his performance against Miami.
Carrying that performance over in a live setting with fans in attendance would be a nice boost into the summer.
In terms of finding answers for questions, the offensive line has a lot of the latter but only some of the former, and I doubt many questions will get answered on Saturday since the line has been cut in half, with first-teamers split between the Blue and Gold. Continuity is valuable for an offensive line, and the format of the Blue-Gold Game means that continuity will be interrupted.
That said, a solid running game would be good to see. More important, though, will be the receivers. That position is a huge question mark, and having one - or two or three or four - players get downfield to make plays in the passing game could create a lot of optimism.
Defensively, I think most people would like to see the playmakers at all three levels of the defense step up and make plays. We heard all spring about guys like Dewayne Hendrix and Rashad Weaver and Quintin Wirginis and Paris Ford and the rest; now let's see what they can actually do.
There's a balance somewhere in there between the defense making plays without the offense looking too bad and the offense making plays without the defense looking too bad. Maybe Kenny Pickett makes a perfect throw on a crisp, sharp route by Taysir Mack but Paris Ford makes an unbelievable play to break up the pass. Or Damar Hamlin comes across the field with a great angle but Darrin Hall busts a pretty spin move to break a big run.
Plays like that, where one side gets the better of the other, but both sides did something right. Play clean and stay healthy.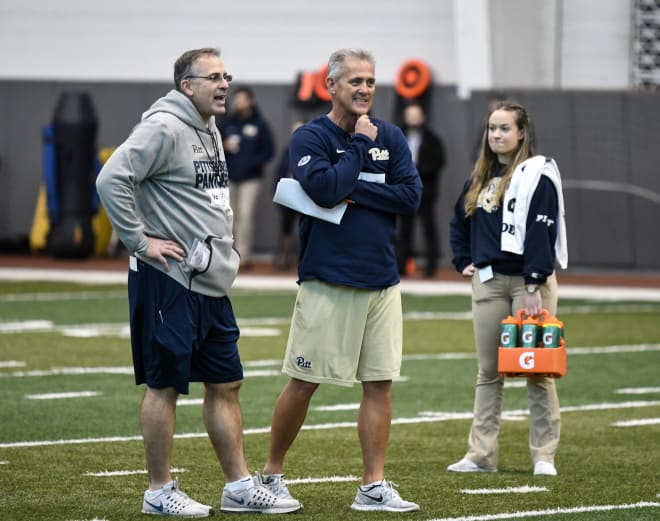 Were there any surprises this spring?
To be honest, not really. This was, by everything I could see, a relatively quiet spring.
There were injuries, of course; there always are. And eight players won't be participating in the spring game as a result: Qadree Ollison, Aaron Mathews, Shocky Jacques-Louis and Dontavius Butler-Jenkins on offense, Seun Idowu, Chase Pine, Keyshon Camp and Peyton Deri on defense. That's pretty normal; a number of those guys were limited for the entire camp, but none of them seem to be at risk for a long-term injury absence.
Aside from injuries, I don't think there were too many big shocks this spring. There weren't any notable position moves aside from a couple swaps on the offensive line. And it didn't seem like the depth chart changed all that much over the course of five weeks.
The players who were expected to stand out - Kenny Pickett, for example - did exactly that.
On Thursday, Pat Narduzzi was asked what he had learned about his team, and the question really left him without much of an answer.
"What have we learned? You know, nothing I didn't know. I can't say I learned anything. I just learned how they work together and I think we're a more mature team. We've got a bigger senior group. I think we've got great leadership right now. It seems like Bookser has really emerged as a leader. Will he be a captain? I don't know. Our kids vote for captains. But Alex Bookser has really grown up a lot from where he was three years ago when I got here to where he is today; he's just a different guy on and off the field.
"We've got a team that's together, you know? They enjoy being with each other. They enjoy working hard. They take coaching and I think that's all you can ask for."
So Narduzzi really didn't learn anything new about his team this spring; rather, the last 14 practices seem to have more or less enforced what he already thought. And really, that's probably how it should be. This is Year Four for Narduzzi. He recruited all but 13 of the scholarship players on the roster, and even that baker's dozen has been around Narduzzi since he got to Pitt.
He knows these players. He has coached them for four years. There really shouldn't be any surprises at this point.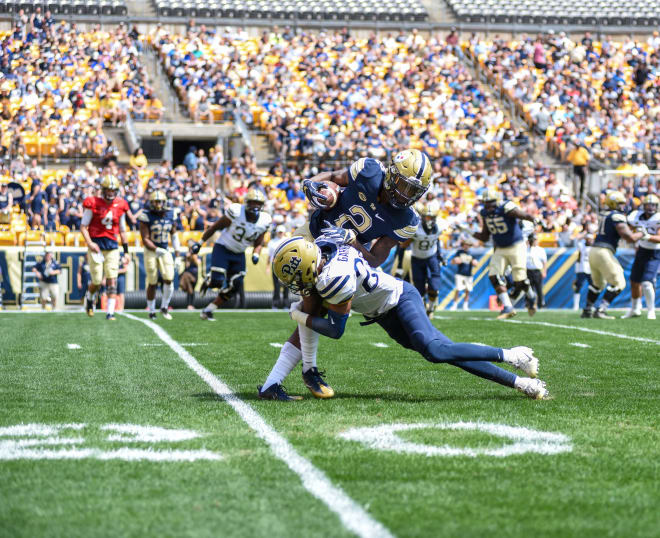 ONE PREDICTION
Some things that will come out of the Blue-Gold Game
There's more than one prediction in here, so we'll hit a variety of Blue-Gold Game topics this week.
THE ED CONWAY AWARD - You know this one: it's presented annually to the most improved players on offense and defense. The carryover success rates of the Conway winners vary from year to year; we've seen some Conway winners have big seasons and others have made very little impact.
Last year's winners were Jaryd Jones-Smith and Elijah Zeise; Jones-Smith was in and out of the starting lineup, while Zeise was a mainstay in the defense and showed considerable improvement from Game One to Game Twelve.
The year before, Jester Weah and Shakir Soto won the award. That one turned out okay; Weah caught 10 touchdown passes - the most by a Pitt receiver in more than 10 years - while Soto made a successful move from defensive end to tackle.
This year, I think there are a few candidates. On offense, I think Connor Dintino has to be the clubhouse favorite. He's a redshirt senior who didn't play much in his first four seasons but had a good spring and has apparently played himself into a spot on the first team. Plus, he's a "team guy," and the coaches seem to like his attitude and work ethic. He's my pick.
On defense, it's a little tougher. There are a lot of returning starters back, and they don't usually get the Conway. Paris Ford could be an option - he got a lot of praise this spring - but I don't think he quite fits the bill. He has played very well on defense, but he also was excelling on the scout team last season, so this isn't exactly out of nowhere.
I'm going to go with Quintin Wirginis. He's another fifth-year senior and an experienced player, but he's not a returning starter. The coaches had high expectations for him stepping in at middle linebacker, but he still had to prove he could do the job after missing all of 2017 due to a combination of suspension and injury. Randy Bates even mentioned that Wirginis "shook off the rust," so there seems to be some improvement there
So those are my predictions for the 2018 Ed Conway Award winners: Connor Dintino and Quintin Wirginis.
TOUCHDOWNS - You never know who will emerge from a spring game as the big statistical performer. Last year was the Quadree Henderson show; he had two rushing attempts for 84 yards and a touchdown and also caught five passes for 53 yards, pretty much guaranteeing victory for anyone who drafted him in our Blue-Gold Game fantasy challenge but also putting up better numbers than he had in any game during the season (that's not a joke; Henderson never had more than 77 rushing yards in a game last year, and he never caught more than three passes for 36 yards).
Thomas MacVittie also scored a rushing touchdown in that game, as did walk-on running back Shawn Wood. And Max Browne threw a touchdown pass to Tre Tipton (interestingly, none of those four players scored an offensive touchdown during the season). If this year only sees four touchdowns scored, who's the most likely to get them?
The most likely guess would be a running back like Darrin Hall, Todd Sibley or AJ Davis. Or, if you see the passing game taking off, perhaps Araujo-Lopes could score again or any one of the other receivers could do it.
I'm going to go with Charles Reeves. He's gotten a good amount of praise this spring as a weapon who can stretch the field, particularly in a two-minute offense, and with Kenny Pickett as his quarterback (plus what should be a favorable matchup against some young outside linebackers on the Blue Team), I think Reeves will get a chance to score on Saturday.
WHO WILL WIN - These two teams look pretty evenly-matched on paper. Pickett is obviously an advantage for the Gold Team, but the coaches have spoken highly of Ricky Town. Pickett does have Taysir Mack to throw to, in addition to Maurice Ffrench, Ruben Flowers and Reeves; that's a good combination of weapons. And while Pickett will have to throw against Dane Jackson and Paris Ford, he's got Dewayne Hendrix, Elijah Zeise and Saleem Brightwell on his team's defense (plus Jason Pinnock, Damarri Mathis, Damar Hamlin and Phil Campbell).
Plus, the Gold Team has three offensive line starters, which is an advantage, so I'm going with that squad.