The 3-2-1 Column: Recruiting, program momentum, Pro Day and more
In today's 3-2-1 Column, we're thinking about the momentum, recruiting, Pro Day, offense and a lot more.
THREE THINGS WE KNOW
Recruiting and momentum
There's a first time for everything, and right now is definitely a first.
While I don't have the numbers handy, I can say with about 99% certainty that Pitt has never had 10 commitments before the end of March in the 17 or 18 years that I've been doing this.
I mean, there are only two other teams in the country that have double-digit commitments right now, so it's safe to say this is something of a rarity. But it sure is interesting.
Pitt's recruiting kicked into overdrive this month, with six recruits committing in the last two weeks. Included in the list of March commitments are two in-state offensive linemen, a defensive end from Florida, a defensive tackle from Ohio, a defensive back from Ohio and a tight end from Nebraska, of all places.
Now the class of 10 includes four defensive linemen (two ends and two tackles), two offensive linemen and one each at running back, receiver, tight end and safety, and as of Friday morning, that class ranks No. 8 in the nation.
We all know the caveat there: the team recruiting rankings are a cumulative measure, and quantity can inflate a team's ranking. For instance, Pitt is one spot ahead of Clemson; the Tigers only have six commitments, but five of them are four-star prospects. Similarly, Alabama is currently ranked No. 11 with just four commitments, but three of those four are four-star prospects and the other commit is a five-star.
So Pitt's top-10 ranking will inevitably fall as other teams add more commitments. But what's far more interesting than the ranking, if you ask me, is the momentum.
Because the Panthers have some serious momentum on the recruiting trail right now.
A year or two ago, Pitt might have been in good shape with guys like Adham Abouraya or Tayshawn Banks or Zachary Crothers at this point in the recruiting cycle. But those recruits might have held off on committing, opting to see other schools and waiting until June for official visits before making a decision.
This year, there doesn't seem to be quite as much hesitation. This year, there's less of a "wait and see" approach for recruits when they consider Pitt. This year, recruits are jumping on board early because they want to be part of what they see in the Panthers.
And what they see is a program that has won 20 games in the last two seasons, a program that followed its ACC Championship with a 9-4 season that featured a five-game winning streak to end the year, a program that won a prominent bowl game against a brand-name Power Five opponent, a program that has been piling up individual accolades from the Biletnikoff Award and Heisman Trophy consideration to unanimous All-America honors, a program that seems to be on the verge of having back-to-back first-round Draft picks.
A program that has stability. A program that has sustained success. A program that appears to be in the upper tier of its conference.
A program that has momentum on and off the field. And that momentum is translating to recruiting.
We'll see where this class ends up and we'll see which recruits ultimately sign in December. That will tell the full story. For now, it's tough to deny that the sum total progress of the last two years is paying off on the recruiting trail.
In a lot of ways, recruiting is a barometer for the perception of a program. And Pitt's seems to be pointing in the right direction.
Pro Day
Pitt had some good days early in the week with future Panthers, but the program had a pretty good day at midweek with some former Panthers, too.
It was Pro Day in the South Side, with 14 Pitt players working out for representatives from all 32 NFL teams in the indoor facility. And by all accounts, the day was a pretty big success.
Israel Abanikanda was one of the big standouts, running really fast and jumping really high to add some impressive measureables to go with his production and film. SirVocea Dennis moved himself up some draft boards with a similarly impressive testing session. And Jared Wayne put himself on the radar with a 41.5" vertical and a strong workout.
Add build-on-the-Combine performances from Calijah Kancey and Brandon Hill, and you've got a successful day for the group as it prepares for the NFL.
Now I think Pitt could be looking at getting as many as a half-dozen - or more - players drafted this year. Kancey is a no-brainer and has a chance to give the Panthers first-round picks in back-to-back years for the first time since Darrelle Revis in 2007 and Jeff Otah in 2008. Abanikanda is a sure thing, too, and I'm fairly confident about Habakkuk Baldonado, Carter Warren and Brandon Hill. Throw in Dennis, Wayne, Erick Hallett and Marcus Minor, and I don't think it's tough to see Pitt getting six Draft picks, which would be the second time in three years that the Panthers would reach that number.
Beyond the individual success of those players, the bigger picture ties into what we talked about with recruiting:
Program momentum.
Pitt's just got a lot of it right now. The team is winning, the coaches are staying, the players are excelling, the recruiting is heating up and the NFL prospects are opening eyes. It's pretty much hitting all the right notes, and while I'll admit to possibly getting caught up in the moment, it sure feels like the program is where you would want it to be at this particular point in time.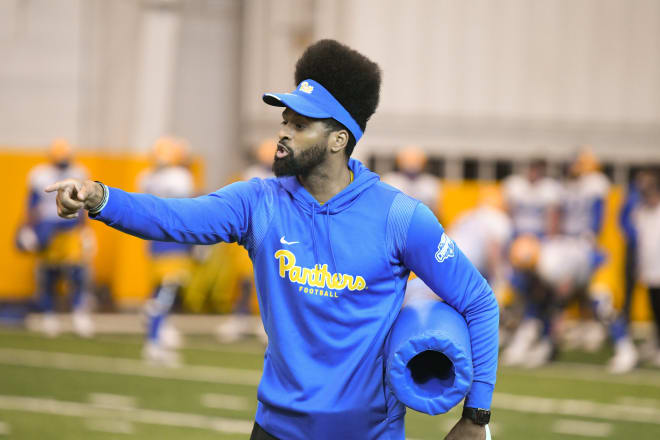 A need for improvement
I wrote about Pitt's offense a bit this week and ended up disproving one of my own theories.
Kind of.
Since the end of the season, I've sort of operated on the general notion that Pitt's offense was the biggest problem for the Panthers last season. And I still think that's true. Pitt's offense was the culprit in the losses to Georgia Tech and Louisville, and I think we can all agree that those two games, in particular, changed the course of the season.
Win those two very winnable games and you go 10-2 in the regular season and earn yourself a trip back to Charlotte for a chance to repeat as ACC champs.
We've been over this before.
But tucked inside that general assertion about the offense being to blame is the thought that the offense was bad. Sometimes, it was. But the overall production numbers for the offense actually aren't as bad as I thought.
Pitt scored 43 offensive touchdowns in 13 games last season, an average of 3.3 offensive touchdowns per game. In the eight seasons of Pat Narduzzi Football at Pitt, that average ranks third.
The 2021 team averaged five offensive touchdowns per game (they scored 70 in 14 games). And the 2016 team averaged 4.9.
It's a pretty big drop-off from there to the 2022 team and its average of 3.3 touchdowns per game; be that as it may, last year's offense scored more touchdowns per game than the offenses of 2015, 2017, 2018, 2019 or 2020.
That's probably as much an indictment of those five teams as it is an endorsement of last year's production. After all, 3.3 offensive touchdowns per game rounds out to about 23.2 points per game, give or take a few for two-point conversions and missed extra points. You're not going to win many games scoring 23 points on offense, and while last year's Pitt team benefited from six non-offensive touchdowns, that's not exactly something you can count on.
Fun fact: M.J. Devonshire scored more touchdowns than all but three of Pitt's offensive players.
Maybe that's not such a fun fact, but I digress.
I guess the devil is always in the details, because while I happen to think that average of 3.3 offensive touchdowns per game isn't very good, the reality was even worse. Pitt scored three or fewer offensive touchdowns in six games last season. In the five-game stretch from Louisville to Duke, the Panthers had 10 offensive touchdowns. And they produced six passing touchdowns in the final eight games.
Six-touchdown outbursts against Virginia Tech and Miami, as well as a five-touchdown game against Rhode Island, accounted for 39.5% of Pitt's offensive touchdowns, and helped boost the season scoring numbers.
So I guess what I'm saying is, Pitt needs to score more touchdowns this season.
TWO QUESTIONS WE HAVE
Will the offense be better in Cignetti's second year?
Score more touchdowns, you say?
Okay, let's try to figure that one out.
Look, one of the biggest problems last year, as anyone could see, was the quarterback. That's not entirely a knock on Kedon Slovis; I still think he's a good quarterback, but it's clear that there was a disconnect between the player and the system. Whether that's on the player or the coach is a conversation for another day, but for now, we can talk about the rest of the offense.
(Don't worry; we'll talk about the quarterback in a minute.)
This was one of my big themes in the first week or two of training camp:
How much does it help being in this offensive system for a second year?
To a man, and it's not necessarily surprising, the answer from players and coaches was, to put it simply, a lot.
Being in the second year of the system helps a lot.
Again, that's not surprising. Everybody speaks highly of everything in spring camp. It's all going well, it's all pointing in the right direction and it's all going to be much better than it was before. That's standard.
But I have to think there's some truth to this one. Pitt has a lot of veteran players on offense - guys who played prominent roles last season, giving them a whole lot of experience operating this offensive system. Similarly, Frank Cignetti has a whole lot of experience calling plays for these players.
I don't think either one of those things is unimportant. There's value in familiarity, in having a knowledge of what a coach likes to call and what a player likes to execute.
Pitt's offense did get better at the end of the season. Kind of. The Panthers still only scored 15 touchdowns in the final five games, with nine of those coming in the last two. But they did put up six passing touchdowns in those five games, which was nearly half of the season's production. And they went off for more than 900 yards in the Miami game and the Sun Bowl. That's pretty strong work for an offense that didn't always put up numbers.
So maybe that's a positive sign. Maybe the players and Cignetti started gelling in the final month of the season. And maybe that cohesion can carry over to this season.
It makes sense. They had to spend a whole lot of last spring learning the offense, which can take time. Now the learning part is cut in half - or more - which allows more time for refining, for developing, for getting the details down, which should lead to a better product on the field.
It all seems logical. An offense that returns a lot of players should improve in Year Two with the offensive coordinator.
It happened in Mark Whipple's second season. Pitt scored just 28 offensive touchdowns in 13 games in 2019, Whipple's first year with the Panthers. The next year, Pitt put up 34 offensive touchdowns in just 11 games. The average of 3.1 touchdowns per game in 2020 isn't great, but it was an improvement of almost one whole touchdown per game over what Pitt did in 2019.
If Pitt's offense can improve by one whole touchdown in Year Two of Cignetti, then the Panthers just might make a little noise in 2023.
Will it be the Good Phil or the Bad Phil?
Phil Jurkovec's career has been a mixed bag.
In his three seasons at Boston College, the former Pine-Richland standout went from pretty good (2020) to incomplete (2021) to not so hot (2022) and finished with 35 touchdowns and 17 interceptions on a sub-60% completion rate. After throwing just five interceptions in his first 12 games with the Eagles, Jurkvoec had 12 picks in his final 12.
That's not great. Last season he had more games with at least one interception (five) than he had games with multiple touchdown passes (three).
Again, not great. And the risk Pitt is running with putting Jurkovec as the top quarterback on the depth chart is similar to the risk the coaches took with Kedon Slovis last year:
The risk that the most recent results, which are undeniably poor, can be avoided in the coming season. The risk that the player might not return to his more successful days of yore.
Because just like with Slovis, you're operating on the hope of that return with Jurkovec.
Jurkovec had some clunkers last season (aided, as they were, by some poor offensive line play). He completed 56% of his passes with three touchdowns and two interceptions in a loss to Rutgers. He went 15-of-28 for 135 yards, one touchdown and one pick in a loss at Virginia Tech. He completed just 19 of his 40 attempts against Clemson. And in his final game at Boston College, a loss at Connecticut, he went 12-of-19 for 155 yards, no touchdowns and two interceptions.
His best game was when the Eagles beat Louisville on Oct. 1. That day, Jurkovec completed a sparkling 85.7% of his 21 attempts for 304 yards, three touchdowns and one interception. He also topped 300 yards in a win over Maine.
Those were the only two games the Eagles won with Jurkovec as the starting quarterback last season.
That all stands in contrast with Jurkovec's first year at Boston College, when he completed 61% of his passes, averaged 255.8 yards per game and threw 17 touchdowns and five interceptions in 10 games. He even rushed for three touchdowns.
That was the Good Phil. Last season was the Bad Phil.
Which one will Pitt get?
Pitt certainly got the Good Phil in the team's most recent scrimmage. Jurkovec was really, really good last Saturday, with more touchdown passes than miscues from what I've been told by multiple people.
And it's not irrelevant to consider the offensive line. Boston College's line wasn't very good last season, leading to Jurkovec being under pressure on 43.3% of his drop-backs. Slovis, by contrast, was under pressure on less than 36% of his drop-backs at Pitt in 2022. That will help.
Working with Cignetti should be a power-up as well. The two seemed to work well together in 2020, and they'll look to recapture some of that magic this year.
Ultimately, it will come down to Jurkovec's decision-making and ability to stay healthy. Pitt's line should protect him and Cignetti should call plays that work for him. He just has to execute.
If he does, Pitt should be pretty good.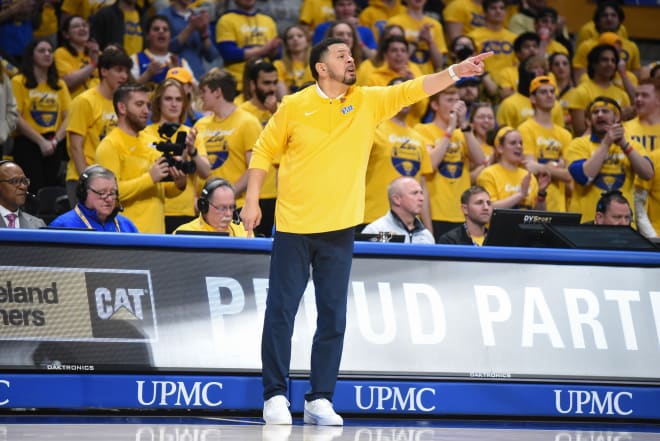 ONE PREDICTION
Pitt will keep (almost) everyone
Let's finish the column with some hoops talk.
The focus, of course, is on who Jeff Capel will bring in from the transfer portal to fill out the Pitt basketball roster heading into the 2023-24 season. There are literally thousands of options, and the coaching staff has seemingly reached out to hundreds of them.
But there are two questions at this time of year:
Who's coming?
Who's going?
We'll find out the answer to the first question over the next month or two. But I think we might know the answer to the second one already.
The answer is…pretty much no one.
That's not entirely true. John Hugley is gone. The former Best Player on the Team is in the portal looking for a new home that might end up being in the ACC, which I, for one, would very much welcome.
But beyond Hugley, I am getting the distinct impression that Pitt might not lose anyone else to the transfer portal.
Let's consider the options:
You never say never, but Federiko Federiko and Guillermo and Jorge Diaz Graham seem like absolute locks to return. Blake Hinson is pretty much locked in, too.
Those four are pretty easy. And while I'll admit to having had my own questions about Dior Johnson over the last few weeks, everything I've heard - from a few different places - seems to indicate that he is set to be on this team next season.
I don't expect Will Jeffress to leave either. That's six returning players, leaving just one in question:
Nate Santos.
I don't think anyone would fault Santos for entering the transfer portal, should he choose to do so. He was clearly not in the rotation last year, playing in 29 games but playing in just two of the team's final seven contests.
If Santos decided to look for a better situation elsewhere, it would make complete sense and be entirely in line with the course of things in college sports. The fact that he hasn't done so yet seems to speak to his comfort level with the Pitt program, coaches and players.
As a matter of fact, I think the entire situation with Pitt's roster this offseason speaks to the culture. We talked so much about it during the season, how the culture was a big factor in the team's success and the cohesiveness of the roster, and I think we all have wondered how that would carry over into the offseason and next season.
If the lack of transfers is any indication, it sure looks like there is going to be some carryover, which certainly bodes well for next season.
In the meantime, the returning players plus the three incoming freshmen combine to account for 10 scholarship spots, which means Capel and company are looking at three possible additions from the portal.