The 3-2-1 Column: Attrition, the offense and more
In this week's Panther-Lair.com 3-2-1 Column, we're thinking about attrition, the hoops roster, the offense and more.
THREE THINGS WE KNOW
There has been a lot of attrition
The football team had another roster move this week when Ruben Flowers announced he will be leaving the program. Flowers, a redshirt sophomore receiver from Lima, Ohio, departs two years after joining the team as a four-star recruit in the class of 2016 - Pat Narduzzi's first full recruiting class.
With Flowers' departure, eight of the recruits who signed with Pitt in 2016 are no longer on the roster. Some, like Zack Williams, George Hill and Zack Gilbert, never made it in the first place, so that's a little different, but that total number - eight - is a lot in a 24-man class that ranked No. 29 nationally.
Now one-third of those players are not on the roster. Of the other 16, most are on the two-deep and a handful are starters entering their third years in the program. But losing that much from a key class is probably less than ideal.
Flowers isn't just one of eight to depart from the 2016 class, though. He's also one of 14 to leave the program since the end of the 2017 season.
14.
Ruben Flowers. Tony Pilato. Jalen Williams. Chris Clark. Thomas MacVittie. Ben DiNucci. Henry Miller. Kaezon Pugh. Kam Carter. Malik Henderson. Chawntez Moss. Quadree Henderson. Brian O'Neil. Jordan Whitehead.
That's a lot. That's 16.5% of the 2017 roster and 18.9% of the players who had eligibility remaining at the end of last season. But never mind percentages; on face value alone, 14 is a lot.
Now, not all of those 14 were disgruntled transfers. Three of those 14 (Quadree Henderson, Brian O'Neil and Jordan Whitehead) left early for the NFL and one (Chawntez Moss) was dismissed from the team. But the other 10 left of their own volition for another college, and that's still a big number.
There are probably a lot of reasons for the attrition, and each individual situation is different. But it's hard to look at that number - just the number alone, without any context - and not spare at least a moment or two to wonder why so many players left the program this offseason.
Some players get squeezed out
Of course, we can probably guess why a few of those guys left Pitt since the end of the 2017 season. In fact, of the 10 who decided to transfer, Chris Clark was the only one who was likely to have a starting job in 2018; beyond that, there were probable two-deep spots for Ruben Flowers, Ben DiNucci and Jalen Williams. The rest were likely to fall outside the first and second teams.
And that's usually the biggest reason for a transfer: a player doesn't think he's going to see much playing time or get a prominent role on offense or defense. I'm just guessing here, but I think that was probably why most, if not all, of those 10 transfers decided to leave.
In a way, it seems to follow as a natural progression from the last few years of recruiting. Pat Narduzzi signed 63 players in the classes of 2015, 2016 and 2017; with 44 two-deep spots on offense and defense, there wasn't room for all 63 of those guys - especially when you add in the holdovers from the 23-man class of 2014 (of which there were 11 before Jalen Williams decided to transfer).
As you sign bigger classes - Narduzzi signed 24 in 2016 and the same number in 2017 - and a head coach rebuilds the roster as he wants it, some players are going to get squeezed out. And the coaches don't need to have a conversation about it. The numbers solve themselves; that's what we always say when apparent scholarship crunches pop up around Signing Day, and it's true. Players can look at their own situations and realize whether it's going to happen for them.
More often than not, I think the players who are transferring bring it up to the coaches, not the other way around.
For a fourth-year player who finds himself out of the two-deep in spring ball, the light at the end of the tunnel isn't another season on the scout team; it's a chance to go somewhere else for a fresh start and, ideally, a chance to play.
Those 10 players who transferred this offseason are looking for that opportunity, and maybe that's just a natural step in the progression of a program. I suspect the coaches would prefer to not lose double-digit players every offseason, though.
The hoops roster is mostly settled
Jeff Capel had two additions this week. Or, rather, he had one addition and one non-subtraction.
The former was New Mexico State guard Sidy N'Dir, who will join Pitt as a graduate transfer. The other is Kene Chukwuka, who announced this week that he won't be transferring to Pitt. Chukwuka was the last to make a decision of the nine players who requested a release to transfer in the wake of Kevin Stallings' firing, and now that he is settled, Capel's roster is more or less settled.
Sure, Capel does still have two scholarships to work with for the 2018-19 season, and he's got a couple options for those spots. He could get another grad transfer or two; those are good no-risk propositions, one-year investments to help in the current season and then open a spot back up for the future.
Capel could also look at "regular" transfers - underclassmen looking to transfer and sit out a year before playing. That's not a bad option, but Capel would need to be convinced that the player he takes as a regular transfer is better than a recruit he could possibly land in the 2019 class, because if the transfer isn't better than the potential 2019 recruit, then it's not worth tying up a scholarship spot.
Capel's third option is to try to get a 2019 recruit to reclassify to 2018 like he did with Trey McGowens and Xavier Johnson. There are probably a couple options still out there for this route if Capel is so inclined.
The upside to all of this is that Capel isn't being forced to bring in more help. He would like more help, to be sure, but as it stands right now, the current 11-man roster gives the first-year head coach a few options when it comes to a lineup and a rotation, and he can probably go anywhere from eight to 10-deep, depending on how he wants to play. Barring a significant addition in the post, Pitt will probably be a smaller, guard-oriented team this season (Capel, a former guard, is likely content to make that work).
N'Dir's addition gives Capel a second defensive guard to go with Khameron Davis. Neither of those players will likely produce much offensively, but both can handle tough defensive assignments. Pair one of them with McGowens or Johnson at the point and Malik Ellison or Jared Wilson-Frame at small forward, and you've got a small lineup with some offensive punch and a defensive stopper. Or Capel can go McGowens/Ellison/Wilson-Frame for more offense. Or he can use Wilson-Frame as a small four.
With those six players - McGowens, Johnson, Ellison, Davis, N'Dir and Wilson-Frame - Capel has a lot of potential lineup configurations he can use based on matchups and what he wants to accomplish in a given game or on a given possession.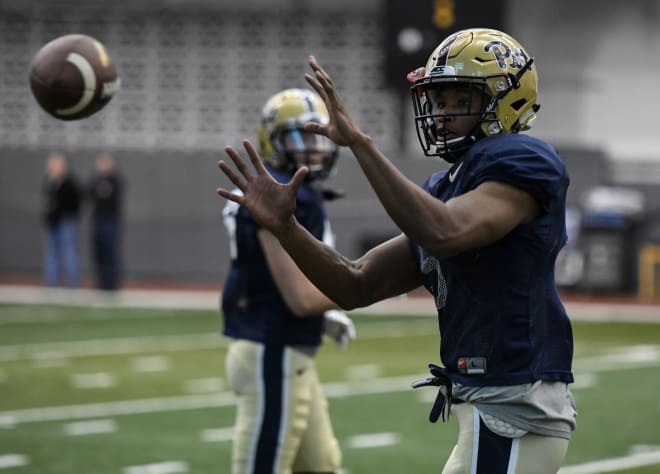 TWO QUESTIONS
Is wide receiver the biggest question mark?
Back to football.
Ruben Flowers' departure certainly affects the numbers at receiver, but he isn't taking a lot of career production with him to wherever he's going. In one active season - he redshirted in 2016 - Flowers played in six games. He had one pass thrown to him at Penn State and two against Oklahoma State, and he didn't catch any of them.
His transfer does cut into the numbers, though, and removes some size from a roster that needs it. But even with Flowers in town, the expectations were low for the receiving corps. The group lost Jester Weah and Quadree Henderson to the NFL this offseason and returned a collection of players with 105 career catches and three career receiving touchdowns.
That's not a lot. And where once there was a perception of high potential for Maurice Ffrench and Tre Tipton and Aaron Mathews, those players have been around long enough that their ceilings are feared to be in sight.
Beyond that, Pitt is probably going to be looking for step-up contributions from players who haven't played yet: redshirt freshmen Dontavius Butler-Jenkins, Michael Smith and Darian Street and true freshmen Shocky Jacques-Louis and Cameron O'Neil.
So to answer the original question…yes, wide receiver probably is the biggest question mark. The offensive line has holes, to be sure, but it also has a number of upperclassmen who might not have many career starts, but they're physically developed and they have experience in the offense.
The receivers seem to be one big unknown. And I can't really deny that they're the biggest unknown.
I am still bullish on some of them, though. I think Maurice Ffrench can be a playmaker. I think Aaron Mathews' size can be a weapon. I think Tre Tipton can be a No. 1 receiver if he can stay healthy (Max Browne told me last week he thinks Tipton will surprise people). And I'm still high on Michael Smith's potential. Plus, a lot of people around Pitt have high expectations for Shocky Jacques-Louis.
But it's all hypothetical at this point. It's all projections and guessing and wondering if anyone will really emerge. And, as such, it is the biggest question mark.
Is the offense going to be worse than it was a year ago?
A lot of the expectations for Pitt football in 2018 seem to be based on this dual-premise:
1. The defense should be good.
2. The offense should be bad.
That's about what it boils down to, in something of a flip from two years ago when the offense was considered to be great (although it had significant flaws that are overlooked in hindsight) and the defense was decidedly not great (there's no revising that one: the defense struggled).
But as it relates to this season, I have to wonder: is the offense really going to be that bad? Or, put another way - a more relevant way - is the offense going to be worse than it was a year ago? Because last season, Pitt's offense was not good. The Panthers ranked No. 101 nationally and No. 13 in the ACC in scoring offense, No. 97 nationally and No. 12 in the ACC in total offense, and 85 or lower national and 11 or lower in the ACC in third down conversions, passing offense and rushing offense.
The offense was bad - ineffective and unable to force its will outside of the wins over Rice, Duke and Virginia. But will this year's offense be worse? I would say that the quarterback position is upgraded, the offensive line is downgraded and the tight ends and running backs are more or less the same (the tight ends lost two players from last season, but the production from that position kind of negates those losses).
The receivers are an interesting quandary, as mentioned above. Jester Weah, for all of the inconsistencies - either his own or those created by the QB situation - still finished in the top 10 in the ACC in receiving yards and yards per catch, and opposing defenses probably had to show at least a little respect for the possibility of a deep pass to him (although the QB situation - again - negated that, to some extent).
So the receivers lost Weah (and Quadree Henderson, but his contributions to the passing game were negligible), and that void will need to be filled. But the rest of the supporting cast returns, along with a host of players who haven't gotten on the field yet.
I'm not saying the receivers will be better this year or all of those players will take a sudden and giant leap forward. But the bar has been set low by last year's performance, and improvement at quarterback could make a difference.
Of course, the quarterback has to be protected, and if Kenny Pickett is running for his life all the time, things could get hairy. But while I don't think Pitt's offense in 2018 will lead the ACC - Louisville averaged a conference-best 38.1 points per game in 2017 - I also don't think it will be significantly less productive than the unit was a year ago.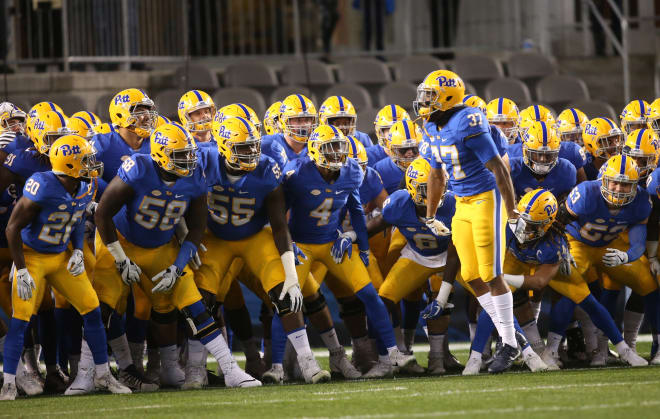 ONE PREDICTION
The over will hit
The sports betting website BetDSI.com this week released over/under win totals for the ACC, and that site doesn't think too highly of Pitt's chances in 2018. The Panthers' number is 5.5, which puts them next-to-last in the ACC Coastal Division and third-to-last in the conference overall.
The only teams behind Pitt are Virginia (over/under of 5) and Syracuse (4.5).
That's pretty harsh. But is it merited?
I can kind of see where the sports book is coming from. Pitt was 5-7 last year and lost three seniors from the offensive line (four if you include Brandon Hodges). Three players left early for the NFL, and while there is optimism about Kenny Pickett and the Panthers' defense, neither one of those entities has been proven over the course of a full season.
Plus, the schedule is challenging, to say the least. ESPN's post-spring top 25 included five Pitt opponents. All five of them were in the top 20 and four were in the top 15, including Miami at No. 9. Preseason top 25's are conversation-fodder and nothing more; we all realize that. But it does speak to the difficulty of Pitt's schedule - or, at the very least, the perception of difficulty in Pitt's schedule.
Still, I can't help but think 5.5 is a bit low. Last year, Pitt had chronic instability at the quarterback position - even when the same guy started multiple games in a row - plus offensive line issues, a non-existent running game for nine out of 12 weeks and a defense that took half a season to find itself.
And yet those Panthers went 5-7 with a fumble at the goal line and a slowdown inside the 5 basically being the difference between that losing record and a 7-win regular season.
Yes, that's hypothetical, and we all know what happens when you put should-have, would-have and could-have in one hand and you-know-what in the other…
But again, that team had a number of issues and wasn't far from beating an over/under of 5.5 (interestingly, the number for the 2017 team was 6.5). The schedule is definitely daunting this season, but if you compare to last season, Penn State is Penn State, Notre Dame replaces Oklahoma State, Wake Forest replaces N.C. State and UCF replaces Rice.
That last one is a huge upgrade in difficulty, of course, but the other three are effectively trade-offs. So the schedule is more challenging than it was in 2017, but only really by one game. Wake Forest and N.C. State are probably an even trade. Notre Dame may or may not torture Pitt like Oklahoma State did, but that game is on the road and is going to be tough.
That leaves the seven perennial opponents: Miami, Virginia Tech, Virginia, Duke, Georgia Tech, North Carolina and Syracuse. Pitt went 3-4 against that group last year; I think that number turns in Pitt's favor in 2018. The Panthers were, as alluded to above, two plays inside the 5 away from beating VT and UNC last year, and I think they'll get back to their winning ways against Syracuse at home.
If Pitt beats Syracuse, Duke, Virginia and two of three against VT, UNC and GT, that's five wins. Add a win over Albany in the season opener and you're at six and the over has hit. If Pitt can get a game against Penn State, Notre Dame, UCF, Wake Forest or Miami, then you're in house money on the over.
Hypothetical? Yes. Probably the biggest stretch in there is getting two of three against VT, UNC and GT, which Pitt hasn't done since 2015. So those are the key games (in addition to, you know, taking care of business against Syracuse, Duke and Virginia). Get past VT, GT and/or UNC and six wins should be the minimum.