The 3-2-1 Column: 3 thoughts, 2 questions & 1 prediction in the off week
Pitt's off this week, and we're thinking about the one that got away, the continuing existence of holes, changes to the offense and a lot more.
THREE THINGS WE KNOW
That damn North Carolina game
Maybe this could go in the prediction section of this week's column, but I'm putting it here because I think this is something I know:
I expect to hear that phrase a lot over the next month and a half.
That damn North Carolina game
With the way the final five games of the schedule are set up, with the way the teams in the Coastal are playing and with the trend Pitt seems to be on, I have a strong feeling we're all going to be looking back in anger, or at least a little regret, and reflecting woefully on what might have been if not for that damn North Carolina game.
Seriously. It's not the Penn State game. It's not the Central Florida game. It's not the Notre Dame game. Take a poll of 100 Pitt fans before the season, and a plurality will likely tell you Pitt goes 0-3 in that stretch, with 1-2 a close second. It was always going to be tough to beat those teams, given what they had coming back and what Pitt had coming back. No matter how much confidence you had in Pitt from the Miami game, the reality was, the Panthers weren't quite there yet.
So they were going to struggle against those three teams. We knew they would struggle and quite possibly lose. That was baked into the preseason expectations, and when people talked about how tough Pitt's schedule looked, those were the games they were talking about: vs. Penn State, at Central Florida, at Notre Dame.
They weren't talking about that damn North Carolina game. History aside, that shouldn't have been one of the circle-it-in-trepidation games for the Panthers in 2018. That shouldn't have been a dicey proposition. That shouldn't have been the one that got away.
Yes, UNC has been a curse game for Pitt over the last five years. And yes, that game was on the road. But the Tar Heels were bad last year and look even worse this year. They came into the game against Pitt with zero wins, most recently having been blown out by East Carolina.
They were bad. They still are bad. And they should have lost to Pitt. The Panthers controlled the first half and had a touchdown lead at halftime. The how and why of that game have been recounted enough; we don't need to do it again here. All that matters is the result, and the result is that Pitt lost.
Now, as the Panthers move into the final five games with a 3-4 overall record but a 2-1 mark in the ACC, there's a lot on the table. Bowl eligibility is the first goal; Pitt needs three wins in the final five to get there. But the Coastal Division seems to be up for grabs, especially after Miami lost to Virginia over the weekend. It's not inconceivable, however unlikely it may be, that Pitt could keep its name in the race when the final opponents are Duke, Virginia, Virginia Tech, Wake Forest and Miami.
That's not a murderers' row of teams, and none of them looks unbeatable right now.
Is Pitt going to run the table? Is Pitt going to win the Coastal? Is Pitt going to make a bowl game? The word "probably" - sometimes connected with "not" - shows up in the answer to all of those questions. But the outcome of each of those scenarios is directly impacted by what happened on September 22:
That damn North Carolina game.
If Pitt falls out of the Coastal race or misses the postseason for the second consecutive year, it will be that game - not Penn State, not UCF, not even the near-miss at Notre Dame - that we point to. It will be that game that bears the brunt of the criticism. It will be that game that is ultimately to blame.
That damn North Carolina game.
There are still holes in the defense
So, I was as impressed as anyone about Pitt's defense at Notre Dame. I really was. The Panthers held the Irish below their season averages in scoring and rushing, giving up just 19 points against an offense that had averaged 46.3 points per game over the previous three contests.
Those previous three games were the ones that ND quarterback Ian Book had started, and he seemed to ignite an offensive outburst. He threw for 874 yards, eight touchdowns and one interception in that stretch, but against Pitt he was held to 264 yards, two scores and two picks.
It was an impressive outing and, ideally, one that Pitt can build on for the final five games.
But…
I'm not entirely sold. Pitt did a good job against Book in the first half. He completed 13-of-18 passes for 106 yards and either scrambled or was sacked on about a third of his drop-backs. Book seemed confused by what he was seeing from Pitt's defense. Maybe he had spent the week preparing for the nickel package the Panthers used against Central Florida and Syracuse; that package was used on just a couple plays against Notre Dame, and maybe the extended time Pitt spent in the base defense had Book off-balance.
Plus, he didn't really seem to have a feel for beating the Delta package in the first half. Pitt used that personnel - three linemen, three linebackers, two corners and three safeties - on seven plays in the first half and Book dropped back to pass every time. But he only actually attempted two passes; two were completed for a total of 11 yards (one gained a first down, one didn't) while he also scrambled four times and was sacked once on a blitz by Dennis Briggs that he never saw coming.
So far, so good. Pitt was making Book uncomfortable and it had translated into a 7-6 halftime lead for the Panthers. In the second half, though, things changed. Book was nearly perfect after halftime, completing 13-of-14 for 158 yards and two touchdowns. His only blemish was an interception on the first drive of the third quarter, but he recovered from that error and completed 10 consecutive passes to finish the game, including a pair of scoring throws.
All of a sudden, Pitt wasn't making Book quite as uncomfortable. All of a sudden, Book was using play-action to manipulate Pitt's linebackers and get a free passing lane in the middle of the field. All of a sudden, those talented receivers and tight ends from Notre Dame were running with a head of steam between the hashes.
All of a sudden, Pitt's defense wasn't looking so hot anymore.
All of a sudden, there was a counterpoint to the success of the first half.
All of a sudden, the concerns we've had all season came back.
Now, maybe there are valuable lesson and takeaways from that game. Josh Hammack's film review articles pointed out how Pitt's defense mixed up its coverages, which caused issues for Book (and reverting to more frequently-seen coverages in the second half likely helped Book). But with that stuff on film, is coverage confusion going to be enough in the future.
Remember, after the off week Pitt gets to host Duke with a pretty smart coach in David Cutcliffe and a veteran quarterback in Daniel Jones. Those guys will probably be ready for the Delta package, the nickel and the ways the Panthers shift coverages.
So can it work again? Can Pitt hold Duke under 30 points (24 is probably a better target and sub-20 would be ideal with the way the Panthers' offense is playing)? That remains to be seen. I'm encouraged by the performance at Notre Dame - the tackling, in particular, was really good and as solid as it has been all season - but there were enough holes in South Bend to make me reserve judgment.
Some things don't add up
I had the same reaction as most of you watching the Steelers-Bengals game last Sunday. With James Conner and Tyler Boyd accounting for four of the six touchdowns in the game - not to mention nearly 200 yards of offense - I couldn't help but draw the Pitt connection.
Pitt guys are scoring all the touchdowns in this game
But, also like many of you, I went the next step and wondered how a Pitt team with Conner and Boyd and Aaron Donald and multiple NFL offensive linemen and an NFL quarterback and more pros went 6-6 in 2013 at Pitt.
I mean, by the names on the roster, that team was loaded. Conner is currently fifth in the NFL in rushing yards, second in rushing touchdowns and eighth among running backs in receptions. Boyd is in the top 15 in receptions, top 20 in receiving yards and top 10 in receiving touchdowns. And Donald is, of course, one of the best overall players in the NFL.
It wasn't just those three, either. That 2013 roster also featured past or current NFL players in quarterback Tom Savage, receiver Devin Street offensive linemen Dorian Johnson, Adam Bisnowaty, TJ Clemmings and Matt Rotheram, defensive lineman Ejuan Price, linebackers Nicholas Grigsby and Bam Bradley cornerbacks K'Waun Williams, Lafayette Pitts and Ryan Lewis and a host of guys who bounced around on practice squads.
A bunch of players from that roster got paid to play football professionally, so how did the team manage a 6-6 record?
Well, for one thing, a bunch of those key guys were young. Conner and Boyd were freshmen, and while that didn't slow Boyd down too much - he set Pitt freshman records for receptions and yardage with 85 catches (also an ACC freshman record) for 1,174 yards - Conner wasn't too consistent in his first year. He dealt with an injury at midseason that limited him to two carries at Virginia Tech (a loss), seven at Navy (another loss) and eight at Georgia Tech (again, a loss).
He also finished the regular season with less than 10 carries in a win over Syracuse and a loss to Miami, so out of 12 regular-season games, Conner had double-digit carries in just five games. He was pretty productive in those five games with 456 yards and seven touchdowns on 82 carries, but even those games weren't consistent; in the Virginia and Notre Dame games, he had a combined total of 62 yards on 25 carries. That sort of reflected his whole season: 799 yards and eight touchdowns, but 623 of those yards and five of those touchdowns came in just four games.
So that was a problem. Also an issue was the offensive line, which was probably the biggest issue on the team. Tom Savage had a legitimate chance to be just the fifth player in Pitt history to throw for 3,000 yards - if he hadn't gotten sacked roughly a million times. Pitt gave up 43 sacks that season, more than all but three teams in the FBS, and Savage, who was never known for his mobility, was particularly brutalized.
There was the Virginia game, when the Cavs had seven sacks, which North Carolina matched later in the season. Virginia Tech topped its in-state rivals a week after the Virginia game with eight sacks. Georgia Tech had five sacks against Pitt. Even Bowling Green had two - plus a hit that knocked Savage out of the game and ended his Pitt career with two quarters remaining in the Little Caesar's Pizza Bowl.
Pitt had six games that season when the opponent recorded at least three sacks: Florida State, Virginia, Virginia Tech, Georgia Tech, North Carolina and Syracuse. Anybody want to guess the results four of those games?
Yep. Losses. Add in the regular-season finale against Miami that showed how much talent separation existed between the two programs at that point and a game at Navy when too many touchdowns instead went for field goals and you have six losses for a team that included three players who are excelling in the NFL this season and a whole bunch more who played in the league.
So yes, that Pitt team had some really talented players. But it also had some serious holes.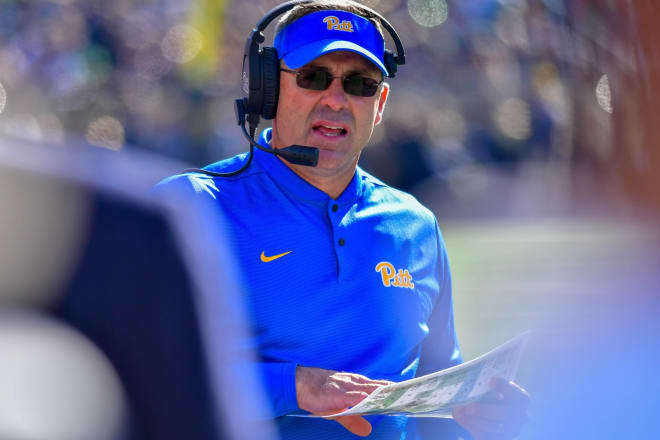 TWO QUESTIONS WE HAVE
Are these really the Year Four goals?
Three more wins. That's the mantra. Three more wins.
Get three more wins out of the final five games and everything will be okay. Not great, but okay. Back to a bowl, and that's an improvement over last season when Pitt didn't, you know, go to a bowl.
So that's the goal. Get three wins and go play in Tampa or Detroit or Shreveport.
That's it. The goal for 2018, Year Four of the Pat Narduzzi era at Pitt, is to win three out of the final five so the Panthers can finish 6-6 and possibly go to a bowl sponsored by Bad Boy Mowers.
Does that seem, I don't know, unfulfilling? Are these really the Year Four goals? By this point, you would think the goals would be a little higher, like a realistic shot at competing for the Coastal title and a spot in the ACC championship game.
But the goals aren't there, for a variety of reasons. The schedule is one, to be sure (see above on that topic). A first-year starter at quarterback is another one. And a few other things we've all discussed at length.
There are ways to explain it, ways to rationalize the shifting of goals from where they should be in Year Four to where they actually are in Year Four. It just seems that the bar should be higher. The roster is almost entirely made up of players Narduzzi and company brought to Pitt; to wit, of 84 scholarship players, 71 were signed by Narduzzi. A good portion of the other 13 are in the starting lineup - all but one or two, depending on whether George Aston starts a given game - but this roster is overwhelmingly Narduzzi's.
After four years, there's a reasonable expectation that a coaching staff will have the players it wants playing an offense and defense that they have learned and internalized over time. And when you have that equation - preferred players + experience in the system - you should get success.
But right now, Pitt is 3-4. Against a tough schedule, sure, but still 3-4 and trying to find a way to make a bowl game. Not get to Charlotte. Not play in an upper-tier bowl. Just trying to find a way to make a bowl game, period.
Now, don't get me wrong. If Pitt rebounds from the 3-4 start and wins three out of five or four out of five, I'll be impressed. I'll probably sing some praises about how a team that looked like it didn't belong on the same field at UCF rallied to beat a bunch of teams that were of equal or greater talent when doing so was absolutely necessary. If and when Pitt gets that sixth win, I'll probably write about how the Panthers had their backs against the wall in a win-or-go-home scenario and persevered.
I'll probably say they battled, they dug deep, they showed some heart and laid the groundwork for the future.
But it will all be based on salvaging a season by going .500 and making a bowl game - any bowl game.
It seems like things should be further along than that. Maybe the bar will be set higher for Year Five.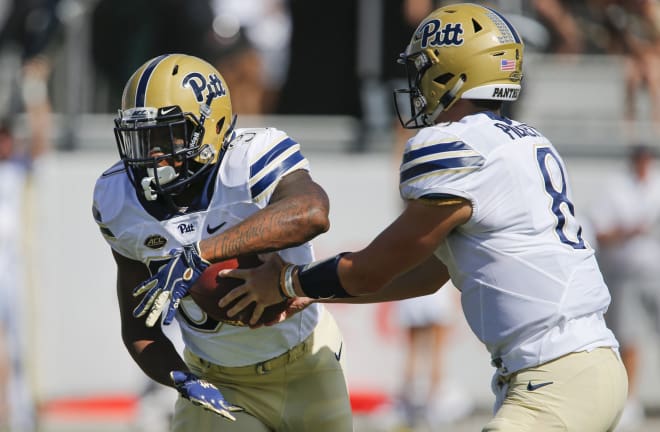 Will there be any drastic changes?
I still remember my shock when, on the night of Thursday, Oct. 16, 2014, Pitt's offense took the field and lined up in…gasp…the shotgun.
With Paul Chryst as the head coach and untitled offensive coordinator, that formation with the quarterback so very far from the center was reserved only for third downs, and even then it seemed to be a grudging decision. Shotgun on first down? To open the game? Did Chryst get replaced by Todd Graham during the off week leading up to that Thursday night game against Virginia Tech at Heinz Field?
Nope. It was Chryst wearing the headset. And if the shotgun formation wasn't surprising enough, what happened next was even more surprising: Chad Voytik, on a designed quarterback run, took off for 11 yards.
Huh?
It happened again on the next play when Voytik ran for three yards. Then he passed to Tyler Boyd for six and James Conner ran a couple yards to move the sticks. The drive didn't get another first down, but we had seen enough to know that, somewhere during those 10 days off between games, Chryst and Joe Rudolph and the offensive staff had gone back to the drawing board.
What they came up with was a scheme that relied less on Voytik's passing ability - he had thrown an interception in five straight games and was averaging 158 passing yards per game - and turned him into a runner, which fit his skill set nicely.
The results were positive: Voytik rushed for a game-high 118 yards on 19 carries and threw a touchdown pass to Boyd (who also threw a pass to Voytik) and Conner rushed for two scores to lead a 21-16 Pitt victory.
The win broke a streak of consecutive losses against Iowa, Arkon and Virginia, with the first two coming at home and all three seeing the Panthers score 20 points or less (the scored just 10 against Akron).
Pitt desperately needed to beat Virginia Tech, and changing the offense was a huge piece of the victory.
Of course, that change in offensive scheme didn't solve all the problems. After breaking a three-game losing streak by beating Virginia Tech, Pitt embarked on another three-game losing streak, getting defeated by fumbling on five consecutive possessions to start one game, by missing a chip-shot field goal at the end of another game and, in the third consecutive loss, by playing North Carolina. Because you know how that goes.
The Panthers rebounded to beat Syracuse at home in a game that no one wanted to watch (announced attendance of 32,549, lower than any game this season) and then the "nothing Golden can stay" team from Miami on the road before going to Houston for the Armed Forces Bowl where…never mind. We can make a U-turn on memory lane.
The point is, Pitt had serious issues on offense heading into that off week prior to playing Virginia Tech and underwent a considerable overhaul.
So, to come back to 2018, I think you can guess the question I'm wondering about:
Is Shawn Watson going to do what Chryst did in 2014? I don't mean to ask whether he'll change to a QB-option offense; I'm thinking more broadly. Will Watson attempt a near-overhaul of the scheme, trying something radically different to give the offense a spark? The unit certainly needs some kind of spark, and while I think the biggest improvements to be made are in the protection scheme and in simply getting the ball to the playmakers, some major tweaks during a weeklong break should probably be considered.
ONE PREDCITION
Pitt will make a bowl
After all the talk in this column, I guess this is where I have to finish:
By predicting that Pitt will win three out of the final five to punch a ticket to Tampa.
If I'm being honest, I'm not entirely sold on the prediction. I mentioned my ongoing concerns about the defense earlier, and I didn't even get into the offense (other than the storytelling about 2014). I guess my logic is that there aren't too many awe-inspiring offenses left on the schedule, or even middling offenses that run the kinds of systems that take advantage of Pitt's defensive scheme. So that should be a good thing for Pitt's defense.
And with the offense…I don't know. I'm inclined to say it will get better simply because I can't imagine it getting worse, but we're at the point now where expectations of improvement are now nothing more than guesses at improvement. Whatever improvement does happen on offense probably won't come in one Giant Leap Forward; rather, it will be like all progress - incremental and not always forward.
With the midway point of the season well in the rearview mirror, it feels like the window for making improvements is closing. Maybe the off week was what Shawn Watson and company needed to fix the issues that had plaguing the offense. But until that actually happens, I'm reserving judgment.
So I'm a bit skeptical of my own prediction here. Winning three out of five would require a fairly consistent performance, possibly including the first set of back-to-back wins since Pitt beat Duke and Virginia in consecutive weeks.
But it's worth mentioning that those two teams - Duke and Virginia - are among the final five opponents this season. Both seem to be quite a bit better now than they were last season, but there is an overall trend with these next five opponents: none of them stands out as being exceptional. There aren't any more Penn State's or Central Florida's or Notre Dame's on the schedule.
It's a winnable schedule, even for a team with flaws because, as you probably know, all of those teams have flaws, too. Some even have flaws that Pitt might be able to take advantage of. On this off week, with Pitt most recently having almost beaten a top-five team on the road, I'm leaning toward the Panthers finding a way to win three out of the final fi