Pitt tries to beat bye week blues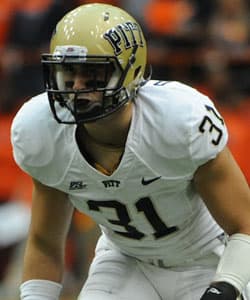 After all, his Panthers haven't always played well after extended breaks since Wannstedt took over in 2005. In fact, Pitt has been downright awful after byes since the 2005 season, posting a 3-8 record in games following a layoff of at least 11 days.
That record includes Pitt's 31-3 thumping at the hands of Miami earlier this season; the Panthers were off for 12 days before that game. Last season, Pitt had two breaks of at least 11 days. The Panthers beat Syracuse 37-10 on November 7th after a 14-day break but lost at West Virginia 19-16 after having 13 days off.
The West Virginia loss ended a six-game winning streak that had vaulted Pitt into the top ten in both major national polls. Now the Panthers are in the midst of a 12-day break between last Saturday's 20-3 win over Louisville and Thursday night's nationally-televised game at Connecticut, and they will enter the game as the top team in the Big East by a considerable margin.
"But, more now than in past years, we realize that this is the time when we have to get better and perfect some of those little things."
That realization will be key for Pitt, because not only do the Panthers have a bad record in games following bye weeks, but in post-bye games when they won the game prior to the bye, their record is 3-6.
Wannstedt thinks that the appeal of the bye week is in the eye of the beholder.
"When you're winning, everybody says they'd like to go week-to-week, and when you're losing, they want the extra days. I think it's all in how you approach it. I think our guys are feeling good about themselves right now, there's a good vibe on our team, and when there's a good vibe, usually people don't mind working; now you take advantage of it."
Of course, every situation is different, even in terms of post-bye performance. Pitt was outclassed by Miami earlier this season. In 2009, the Panthers were probably looking past an inconsequential game at West Virginia to the conference-deciding game against Cincinnati. In 2008, Pitt lost at Cincinnati after two weeks off, but the Bearcats went on to win the Big East. The Panthers' two post-bye losses in 2007 - Navy, at Rutgers - were as much products of Pitt's instability that season as they were products of a bye week hangover. And while the 2006 loss at South Florida (following a two-week break) was fairly inexcusable, 2005's post-bye losses at Louisville and West Virginia were fairly unavoidable.
Nevertheless, if Pitt fails to come out with a win against Connecticut on Thursday and secure a win that would give the Panthers a virtual stranglehold on the conference race, excuses likely won't be acceptable. The Big East has been unimpressive this season and seems to be ripe for Wannstedt to land his first conference crown and BCS automatic bid.
The path to that outcome becomes far more defined on Thursday night, when Pitt will play its second post-bye game of the season.
"I think the good thing about what we do here is that we're not one of those teams on either side of the ball that really gets away from the basics," Wannstedt said. "So we'll keep our focus there and just keep working on fundamentals.
"We'll take advantage of the days practice-wise, but I want the guys to be fresh, too. So we're trying to get some work done but at the same time be smart."