Pitt's new punter commit thrilled to be a Panther
Pitt's new punter commit, 2017 Australian punter Kirk Christodoulou, is thrilled to be a part of the Panthers program and is excited to get to Pitt. He speaks about the transition from Australia to America and more.
Note: All quotes obtained by Chris Peak of Panther-Lair.com
The Pitt Panthers picked up somewhat of an unorthodox commitment on Thursday evening, as Australian punter Kirk Christodoulou elected to join the 2017 recruiting class. Christodoulou came to the United States with an Aussie training program known as Prokick Australia, that has sent dozens of punters to college football programs and the NFL.
"All of this came from joining a program called Prokick Australia run by Nathan Chapman and John Smith. It's a program in Australia that helps develop Australian athletes to be able to punt and kick footballs," Christodoulou explained.
Christodoulou joined Prokick Australia two years ago and following his high school graduation in December of 2015, it has been non-stop, full-time training. The program works every today, and frequently twice a day, to prepare their punters for American football. Prokick took its players on an extensive American tour through schools like Pitt, Penn State, USC, Maryland, and Ohio State and will continue doing so until flying back to Australia on July 24th. So what made Pitt stand out from that pack for Christodoulou?
"It's an amazing place. I was blown away by all the facilities and the city itself is just great. And seeing how they train next to the Steelers is great, too. We have a Prokick Australia student punting for the Pittsburgh Steelers; he's a good mate of mine - Jordan Berry - and he'll be right next door," Christodoulou explained. "He came back and worked out with us and he's a good mate of mine. We all just sort of watched in awe as he chased the dream."
Experiencing Pitt's campus was not Christodoulou's first time in the United States – he'd previously been to Los Angeles and Disneyland – but it was an impressive experience for him. When he received the call from Narduzzi and was asked to make a decision to attend Pitt, it came with no hesitation.
"I talked to Coach Narduzzi on FaceTime yesterday. He goes, 'You know you have a full ride scholarship. Do you want to go to Pitt?' I said, 'Definitely.' No hesitation. I know that Pittsburgh's a great academic school. We're student-athletes so education comes first," Chirstodoulou said. "Being shown around and seeing the academic facilities and looking online at rankings and seeing what Pittsburgh has to offer, that was a major deciding factor.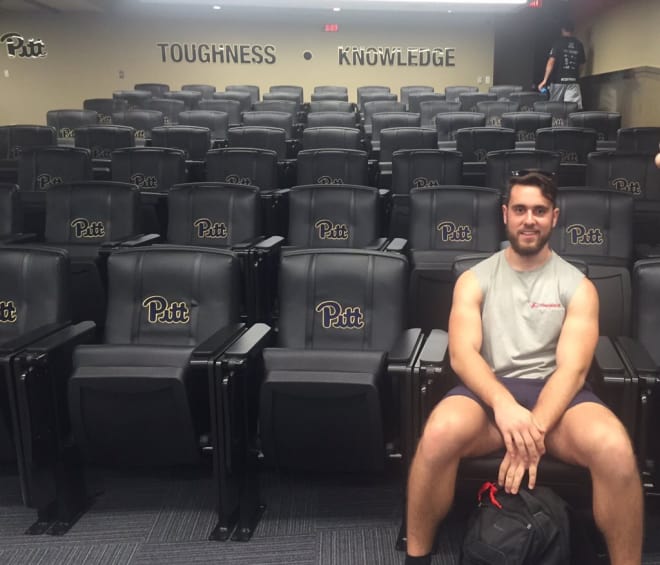 "The football was a bonus on top of that, being able to play in the ACC and play at Heinz Field and have the Pittsburgh Steelers next door - that's a great bonus. But to have my education paid for and to get a degree, that's an opportunity you can't miss."
The transition from the theory of being a college football player to the actual reality of being recruited was a bit nerve-wracking for Christodoulou, but he says that after speaking with the coaches over Skype and touring campus with Pitt coach Andre Powell, his worries have been eased.
"They're all great. To be honest, speaking as an Australian to a foreign coach can be pretty nerve-wracking. But they're all great. They made me feel at home. I was nervous about getting on the phone with a head coach and a special teams coach, because it's a place you really want to go and something you've been working so hard for, but they were great," Christodoulou explained. "They told me they were really excited to have me."
Christodoulou went on to describe the feeling of coming to America as an uncommitted prospect and returning him as a scholarship punter as "surreal" as the reality sunk in. The 6-foot-2, 215-pound punter credits his aforementioned trainers Nathan Chapman and John Smith as being critical in getting him to this point.
"You can always say, 'I want to be a punter and I want to come over to the States, but none of it seems real until you get to this point. It's been a lot of hard work for two years; John and Chappy ran a tough regimen and for it to finally come to fruition is a great feeling," Christodoulou said.
Christodoulou is working to enroll in January at Pitt if they have room with their scholarship numbers, but if not, the plan is to arrive on campus in June of 2017 with the other freshmen.