Pitt lands four-star CB Damar Hamlin
One of western Pennsylvania's best committed to Pitt Monday night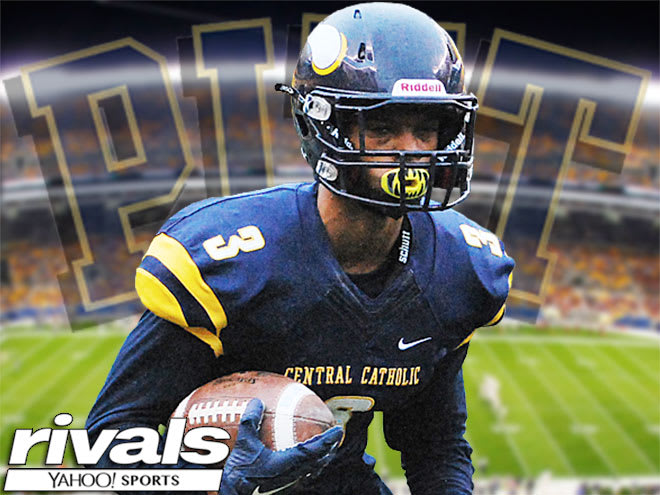 Pitt added a big - and long-awaited - piece to the 2016 recruiting class Monday night when Central Catholic cornerback Damar Hamlin announced his verbal commitment to the Panthers.
Hamlin made his announcement on KDKA-TV in Pittsburgh.
A four-star recruit who ranks as the No. 7 cornerback prospect in the nation and the No. 4 prospect in the state of Pennsylvania, Hamlin picked Pitt over more than 20 scholarship offers, a list that included Auburn, Boston College, Clemson, Duke, Indiana, Kentucky, Maryland, Miami (FL), Michigan, Michigan State, Navy, Nebraska, Notre Dame, Purdue, Stanford, Temple, UCLA, Vanderbilt, Virginia Tech, Wake Forest, West Virginia and Wisconsin.
His final decision came down to three schools: Pitt, Penn State and Ohio State. Hamlin visited each of those schools in January, starting with a trip to Columbus two weeks ago and a visit to State College last weekend.
This past weekend he took his official visit to Pitt, where he was joined by Central Catholic teammate - and fellow Pitt commit - Bricen Garner.
Hamlin was immediately identified as one of Pitt's top targets in Pat Narduzzi's first year as head coach, with his ability and location combining with the fact that he plays a position of need making him a priority for Narduzzi and the coaching staff. For a team that needed an influx of depth and talent in the secondary, having a high-end defensive back prospect playing at Central Catholic was a fortuitous situation - but also a challenge, since Hamlin was a priority for a lot of the top schools that recruit western Pennsylvania.
With Hamlin on board, Pitt now has 22 commitments in the 2016 class; 14 of those 22 are defensive recruits and six of those 14 are defensive back prospects. In addition to Hamlin, Pitt has commitments from cornerbacks Therran Coleman, George Hill and Henry Miller and safeties Phil Campbell and Bricen Garner.