Pitt goes with Nike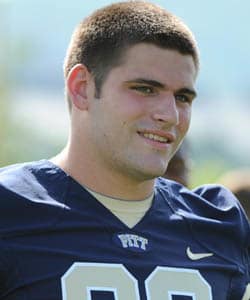 The mustard yellow and script logo may not have made a return, but Pitt's uniforms will look different in 2009 as the Athletic Department announced on Monday that the University has entered into a long-term partnership with Nike.
"We're excited by this; it's a great long-term partnership with a great company," athletic director Steve Pederson said at the football team's Media Day press conference.
"The University of Pittsburgh is an outstanding institution with a rich sports heritage," Nike director of college sports marketing Kit Morris said in a released statement. "Nike is excited to become the official supplier of athletic footwear, apparel and equipment for the Panthers, and we especially look forward to outfitting all of Pitt's student-athletes and coaches from its 19 sports programs."
Naturally, Pitt's players are enthusiastic about the change to Nike, arguably the most well-known supplier of athletic equipment and apparel in the world.
"Our student-athletes are thrilled with this, which is one of the main reasons we made the change," Pederson said.
Still, while the Pitt student-athletes are excited about playing Nike apparel, the football uniforms might fall a little short of the grand changes many fans hoped to see. In particular, the much-desired return to the color scheme and logo of the 1970's did not materialize, although Pederson said that Nike emphasized tradition in the design of the new uniforms
"You'll see slight differences in our football uniforms," Pederson said. "The designers at Nike used the theme "Respect the past; represent the future." And I think that sums it up.
"So we're anxious to get going here under Nike and grateful to them for their support of our program."