Pitt gets a back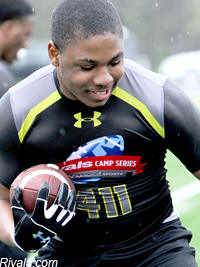 Ollison, 6'1" 226, picked Pitt over offers from Penn State, Rutgers, Syracuse and Wisconsin, and he also held offers from Boston College, Buffalo, Cincinnati, UConn, Indiana, Iowa, Maryland, Nevada and Temple.
In his season opener Friday night, Ollison ran for 195 yards and four touchdowns on 20 carries as Canisius beat McQuad Jesuit 42-15. Last season he rushed for 1,865 yards and 26 touchdowns.
"People consider me as a bruiser type of back, but I think of myself as an all-around kind of guy," he told Panther-Lair.com this spring. "I'm not always looking to lower the shoulder or run someone over. I see myself as a big back, a bigger back than usual. I'm not a scat back, but I'm not like a bruiser back either."
Ollison visited Pitt last Monday for the Panthers' 2013 season opener against Florida State.
"That was my first college game that I've been to, and to see so many people there, it was kind of surreal," Ollison told Panther-Lair.com after the visit. "It was a great experience for the first college game I've seen in person. It was cool."
After he received his offer from Pitt in the spring, Ollison talked to Panther-Lair.com about his interest in the Panthers.
"They're a really great school, and they run the kind of offense that I'd like to be in. So those are the things that really stood out to me. They have a past of really good running backs, and they run the kind of offense I want to play in."
And when he narrowed his list to five, Ollison said the surroundings were a major selling point for Pitt.
"Pittsburgh's a great city," he said. "My head coach speaks very highly of the city because he was born there. The thing that's really cool is they practice next to the Pittsburgh Steelers. They play at Heinz Field and share their facilities. That was a really cool thing I learned when I got there."