NCAA rule change shifts landscape of offers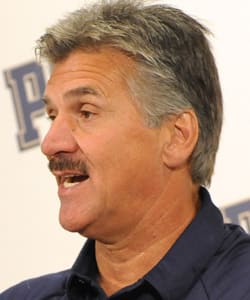 Noah Spence
has been looking forward to receiving his first written scholarship offer for quite some time.
After all, the sophomore defensive end from Harrisburg (Pa.) Bishop McDevitt has already picked up nearly a dozen verbal offers from Division I colleges, and his interaction with the college coaches had him excited for Sept. 1, the annual day when high school juniors can begin receiving formal written offers.


But for Spence and the rest of the Class of 2012 prospects, Sept. 1 is no longer a notable date. In the wake of legislation adopted by the NCAA this spring, the new date that the class of 2012 is looking forward to is Aug. 1 - of next year.


According to a new regulation that was passed by the NCAA in April, the first date that colleges can send out written scholarship offers - for any Division I sport - is Aug. 1 of the prospective student-athlete's senior year. Which means that, for thousands of high school juniors-to-be, the next 14 months will be full of verbal offers and nothing more.


"I was definitely looking forward to it on Sept. 1, but I guess I'll have to keep on getting verbals until I get the written ones," Spence said. "Hopefully they'll come in [on Aug. 1 of next year]."



A MATTER OF CONFUSION


The legislation - 2009-47-B - was originally proposed by the Ivy League and garnered affirmative votes from 20 conference representatives, including the ACC, Big East, Big Ten, and Pac-10.


"The rationale was to eliminate confusion for the prospective student-athletes," said Dave Hirsch, VP of communications for the Pac-10. "They are receiving letters from the beginning of their junior year, but can't sign a National Letter of Intent until February of their senior year. So this makes it a little more clear for them."


From the perspective of Rivals.com national recruiting analyst Mike Farrell, though, the situation is bound to get murkier.


"It's not going to change anything really. As it stands now, written offers and verbal offers can get very convoluted and that's probably only going to get worse. One thing I think it will allow is for a lot more deception from colleges."


Farrell, who has covered recruiting for 12 years, envisions a scenario where colleges "blanket-offer" - that is, extend verbal offers to large numbers of recruits - and allow the prospective student-athletes to believe they have legitimate offers up until Aug. 1, when a certain number of those recruits find out that their verbal offer has not translated into a written offer.


"Kids will get a verbal offer, think they know where they want to go and not look at any other schools, and then Aug. 1 rolls around and they won't get the written offer. And then they're stuck because they never really explored any other colleges.


"I think it's going to lead to a lot more kids getting stuck."



SLOWING THE PROCESS


In addition to the issue of "confusion" with regards to written and verbal offers, the NCAA passed proposal 2009-47-B with an eye toward curbing early commitments. When the proposal was presented to the NCAA in April, it carried the endorsement of the Faculty Athletics Representatives Association (FARA). In January, the FARA issued a recommendation that read, in part:


THE VOTING
Voted for the change
America East
Atlantic Coast

Atlantic Sun

Big East

Big Sky

Big Ten

Colonial Athletic Association

Horizon

Ivy League

Metro Atlantic Athletic Conference

Northeast

Ohio Valley

Pac-10

Patriot League

Southern Conference

Southland Conference

Southwest Athletic Conference

Sun Belt

West Coast

Western Athletic Conference
Voted against the change
Atlantic 10

Big 12

Big South

Big West

Conference USA

Mid-American Conference

Mid-Eastern Athletic Conference

Missouri Valley

Mountain West

SEC
"Overall, we feel it is important to reduce the growing problem of early commitments."


Pitt head football coach
Dave Wannstedt
hopes the new legislation will work toward a deceleration of the recruiting process.
"I am very much in favor of the new rule. This will slow down the process considerably, allowing coaches more evaluation time and lessen the commitment pressure some student-athletes may feel during their recruitment."


And while "commitment pressure" from coaches and early commitments have led to an increase in decommitments in recent years, Farrell wonders whether the new legislation will really curb the problem.


"I don't think it will affect early commitments one bit, and if that's their intention, they're going to fail miserably because nothing's going to change - kids are still going to commit early. But it will lead to even more problems if people are really worried about early commitments or decommitments."


As pre-Aug. 1 verbal offers increase, along with the inherent promise, either implicit or explicit, of a subsequent written offer, a certain segment of prospective student-athletes are likely to make a verbal commitment prior to receiving a written offer. At least some college coaches will be inclined to accept those commitments as a sort of insurance policy while they ascertain the likelihood of signing higher-priority targets.


And if those higher-priority targets accept the written scholarship offer, then the previously-committed recruit who has avoided the recruiting process since making his commitment will find himself without a scholarship offer and starting essentially from scratch with about six months remaining before Signing Day.



'YOU DON'T REALLY KNOW FOR SURE'
Of course, not all colleges will take that approach, and the fact remains that no scholarship offer, written or verbal, is binding until the Letter of Intent is signed. But the change in legislation does allow for more latitude in how much value is placed on the verbal offer.


It's worth noting that the NCAA's Recruiting Cabinet continues to evaluate various models for the recruiting calendar in Division I athletics, and the group is considering several alternative dates for the issuance of written scholarship offers.


"We recognized the issues and concerns associated with very early written offers of aid," said Rob Phillipi, Associate Commissioner for Compliance/Academics in Conference USA, which voted against the legislation. "However, our membership supported the NCAA Recruiting Cabinet's position of proposing a solution subsequent to their comprehensive examination of current recruiting models which included early offers of athletics aid."


For Spence and other top-flight 2012 prospects, it's a safe bet that the early verbal offers will turn into written scholarships on Aug. 1. But for a whole host of other prospective student-athletes, the period leading up to that date will be filled with a certain amount of anxiety as they wait to find out whether or not those early verbal offers will become coveted written scholarships.


Even Spence is at least a little apprehensive.


"You don't really know for sure about the offers until it's written, so I guess I'll just have to wait."




[rl]