Mason demoted in wake of weekend incident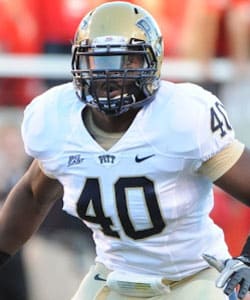 Mason was a passenger in Douglas's vehicle, but he was not charged in the incident; however, his involvement led to Wannstedt's disciplinary move.
"Dan has got to understand and learn to make better decisions as far as what he's doing, where he's at, who he's with, and as a result, I moved Dan to second-team middle linebacker," Wannstedt said at Pitt's South Side facility Wednesday morning.
Wannstedt declined further comment regarding the nature of Mason's involvement in the incident.
Mason started both games of the 2010 season at middle linebacker, and in 2009 he made two starts in the middle and one start at weak-side linebacker. He is currently Pitt's leading tackler, with 13 stops in two games.
He has not previously been publicly disciplined by the coaching staff, but Wannstedt seemed to indicate on Wednesday that the sophomore from Penn Hills has had prior off-field issues.
"As I told Dan and his mother this morning, this is for his good," Wannstedt said. "He needs to prove to me that he can do the right things and be accountable off the field, in the classroom, and on the football field. When he does that, he'll get his job back.
"This is not a football decision. This is a combination of accountability with academics and just being smart off the field. So he'll be evaluated day by day."
There is no timetable for how long Mason will stay on the second team, but Wannstedt said Wednesday that he expects Gruder to start Pitt's next game, a home contest against Miami next Thursday.
In the wake of Sunday's incident, Douglas was suspended from the team indefinitely, and it appears unlikely that he will return.
"He has been suspended indefinitely; we know that," Wannstedt said. "He has a hearing (Thursday), but the likelihood of him returning to this team is seriously in jeopardy. I'll have further statements as time goes on concerning him.
"You're jeopardizing your college career and your education, and it's very unfortunate for all parties involved."