In Ford, a needed firebrand can transform Pitt's culture
Pitt coaches, local trainers, and Steel Valley's head coach are in consensus: Rivals100 defensive back Paris Ford is an uncommon talent with uncommon dedication and the ability to utterly change the face of Pitt's defensive culture from day one. How much can Paris achieve? Neither Pat Narduzzi nor Paris Ford himself will set a limit on what to expect:
High school football in western Pennsylvania has cultivated a certain kind of image over decades, including nicknames like "Cradle of Quarterbacks." Celebration of Hall of Famers at the position like Dan Marino, Joe Montana, or Joe Namath often dot the region's football lore and oral histories. Yet if you speak with people on the ground in the Pittsburgh area about the fabric of their football culture, folks are hesitant to point towards play on offense.
Whether it's the tales told to children of the Steel Curtain defenses of yore or the ongoing near-religious belief in the blue-collar heart of the city of Pittsburgh, people around this town tend to take pride in defenses. Aaron Donald's dominant line play, Darrelle Revis' suffocating coverage, Jack Lambert's (a Yinzer by adoption, if not birth) gap-toothed grimace – these are the images that many locals tend to associate with football culture in the city. Toughness, aggression, and all of the other platitudes that belong to that kind of attitude are attached to that culture.
So when local boosters and fans – not to mention coaches and players – witnessed the severe struggles of Pitt's defense, a deep frustration arose. The unit finished 109th in scoring defense, 98th in total defense, and an abysmal second-to-last passing defense. They were often abused and lacking confidence, unable to get stops when needed or aid the prolific Panthers offense. Arguments raged as to the reason – talent, scheme, effort, coaching, sheer dumb luck, and divine intervention were all suggested – but the result was the same: the defense was poor.
To address the issue, Pitt head coach Pat Narduzzi and defensive coordinator Josh Conklin made an effort to fix things in perhaps the best way they could. They went into their own backyard, identified a potential superstar talent in Rivals100 defensive back Paris Ford of Steel Valley (Pa.), and brought him into the fold. Ford has earned a reputation among peers, coaches, and media as not just a dynamic field safety with incredible ability on the football field, but a firebrand and hard-nosed competitor.
"He's a talented guy and I think when you look at the mentality and the mental toughness and that kind of guy you want back there on the back end, that's exactly what you need. You've got to have a guy with some confidence," Pitt defensive coordinator Josh Conklin said of Ford. "He's got to have some swag, if you will, he's got to know he can make a play, and he has to love football. I think when he steps in the room, he'll immediately bring the level up. He's going to go into a room with Bricen Garner and Damar Hamlin and Therran Coleman – guys he's played with and been around – and he'll be at home. I think he'll take a leadership role immediately going into it."
There's an implication there that's a bit tremendous to see. Ford's future defensive coordinator and position coach, a man usually responsible for "de-recruiting" players and keeping them humble and grounded, believes a freshman can walk into the program and assume a leadership role among college-experienced players.
It's rare to see true freshmen come in and make genuine, legitimate contributions in their first year to competitive programs looking to contend for conference titles – and make no mistake, that will be Pitt's goal in 2017 – and even rarer to see them start. But for a player to come in and to have the expectation of being capable of taking a lead role in a position group from the moment he sets foot on campus is a bit eye-popping. It was a sentiment that was backed up, and arguably had the bar raised, by Pitt head coach Pat Narduzzi.
Article continues below image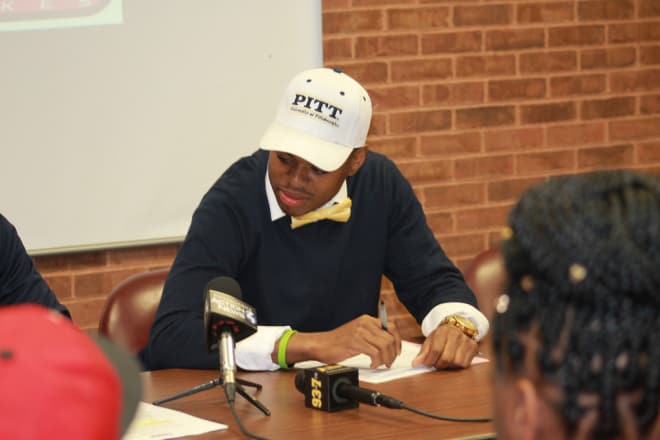 "I think you want [Ford's attitude] to permeate the program to be honest with you. I like those guys that have some stuff to them. You know, I've got a little stuff to me. I don't show you guys all the time, I try to keep that closed up.
"I want some guys that love the game and have emotion. You better play the game with emotion. I guess to say it best, he's a player that plays with emotion. I look for that on tape. You can see a guy run, but I want to see a guy that gets a sack and comes up and has some excitement to him. If I see a player that kind of makes a play and goes like this," Narduzzi said, trudging away from the podium and acting with a disinterested attitude. "Which player do you want to see? I've seen that before. I'm kind of glad he ain't here. The moper. Paris Ford is up here [gestures] and some guys are down here."
It's an attitude that people close to him have expected in Paris for years. The players that Conklin mentioned above – Hamlin, Coleman, Garner, and others – have all played with Ford on a seven-on-seven tournament team based out of Pittsburgh named Evolve for years. They've trained alongside him with the 2/10ths group in Pitt's South Side facilities for years, dating back to his years in youth ball and before he ever placed varsity. When you speak to a man that's known him since middle school in Dewayne Brown, the founder of 2/10ths, he echoes the sentiments of intensity and confidence that Pitt's coaches expect from Ford.
"The thing about Paris that he has, more so than anybody else I've worked with and including Aaron Donald, is that he elevates the guys around him so much. Having him on your team or in your program makes all of your guys better," Brown said. "Watch Steel Valley from last year to this year - they all played more like Paris and adopted his demeanor. He has that intensity and that dog in him and the guys around him follow that and raise their games."
That fiery element and the competitive streak is a necessity to be elite at the college level, especially at a position like defensive back. Conklin has seen that in his time across the college football landscape and specifically sought it out in his recruiting classes. Ford seems to be the personification of that expectation and that attitude that Pitt has desired.
"Yeah, you have to have that personality. Even my time spent at the SEC and some of those different defensive backs at so-called 'DBUs' - those guys, they have a confidence and they play with an edge. You're always on that line all the time of maybe being too confident, but you have to have that to make plays," Conklin explained. "We're always looking for that edge and for guys who have that. I think the class we had last year and the class that we have coming in potentially gives us that."
Article continues below image
Perhaps nobody in the country knows first-hand of the impact that Ford's addition can make a football team in the way that Steel Valley head coach Rod Steele does. Ford transferred to Steele's Ironmen team in January of 2016 to live with his father in Munhall (Pa.). Just a junior then, Ford quickly showed the difference than an elite player with the right mindset can make in elevating a program from good to great.
Steel Valley was never lacking in success or non-competitive before Ford's arrival; they were a 10-2 team in the 2015 season, falling to South Fayette (Pa.) twice, including in the Pennsylvania state playoffs. A respectable season, one that would be considered a success in almost any season. When measured to the results in 2016, however, the Ironmen pale in comparison.
As the Ironmen, in Brown's assertion, "adopted [Ford's] demeanor", they hit a different level. Steel Valley ran the table in 2016, posting an unequivocally dominant 15-0 record en route to a state championship at the 2A level. It wasn't simply that Steel Valley won though, it was how they won. With Ford and Duquesne running back signee Dewayne Murray leading the way, the Ironmen "mercy ruled" every single team on their schedule. For the first time in Pennsylvania's football history, a running clock was instituted in every game on the schedule for Steel Valley. Not a single team lost by fewer than 35 points to Ford and his group.
"We knew his skill set, but to work with him every day and see how he brings the best out of his teammates, that's what's special about him. He makes everyone else around him better because he's a very competitive athlete, he's a very competitive person and that just makes everybody else around him have to work harder," said Steele, Ford's head coach. "That's his own expectations and he's not going to have lesser expectations for his teammates."
Those expectations are shared not just by Ford, his family, and his high school head coach, but from Pitt coach Pat Narduzzi. Narduzzi landed Ford's commitment in October of his first year at Pitt, nearly 500 days ago, and his familiarity with Ford has only made him more excited for the future. The hope from Narduzzi at this point for Ford and for the Pitt program is for the freshman to come in and change the attitude and change the culture seen from the Panthers' defense.
"I think Paris is only, you know, I think the sky is the limit for him when he gets in the weight room and he's with us 24/7. You see a quick-twitch athlete that will snap on you," Narduzzi said. "He's physical and he loves the game. I don't know if we've got a guy back in the secondary right now that has the attitude that he does and it starts there. That guy loves the game. I think he brings a little bit different attitude to the back end. It's going to be fun to have him in those meetings. I think coach Hill and coach Conklin are going to be excited to have his personality in there and his desire to be great."
The desire to be great is universal among Pitt's coaching staff. With Ford on the roster, they feel they have a player who can push their roster and even carry it alongside him to reach that level of greatness. The program has directly expressed a desire to contend for conference championships – as soon as this coming season in a vulnerable ACC Coastal – and hopes that Ford can take them to that next level. Only time will tell if these tremendous expectations from Narduzzi and his staff will come to fruition, but the level of confidence from those around Ford simply could not be higher.