Howe finds the right fit at Pitt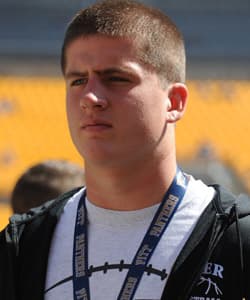 Kraig Howe
visited Pitt four times in the last year, with the most recent coming on Monday and Tuesday of this week. That makes sense, since his home in Ohio is only about four hours from Pittsburgh.
But it was an 1800-mile trip that ultimately planted the seed for the Kettering (Oh.) Archbishop Alter defensive tackle's final push toward committing to the Panthers, which he did on Tuesday.
"I went to Guatemala for a week with a group from my school," Howe told Panther-Lair.com. "It was a great experience. This was the second year I went, and last year was an eye-opener; it's hard to top the first time, but I really wanted to go back and I was glad I was able to. We did some manual labor around an orphanage and a school, but more importantly I felt like I built some great relationships with the kids there.
"I want to go into education and be a teacher, and I think I've always had a drive to help people. But after being there where people are living on a few dollars per day, I realized how blessed I truly am, especially with going through the recruiting process. It was really humbling.
"I had a point the first couple days where I just stopped thinking about college and recruiting, and that was nice. Then several days into it I started thinking about it again, and everything I thought about, when I thought about where I can see myself happy and successful, it all came back to Pittsburgh. So I came home and I had that thought in the back of my head that I knew where I wanted to be."
With that in mind, Howe put all plans for visits and camps on hold until he could get back to Pitt for a visit. He attended two games last fall and made another trip in the spring, and all of those visits gave him a very favorable impression of the Panthers. But he needed to be sure, so he spent Monday and Tuesday on Pitt's campus for a final look before pulling the trigger.
"In the recruiting process, I really wanted to take things kind of slowly; really I just wanted to do my homework and make sure I made the right decision," Howe said. "But when I went to Pitt, I felt it each and every time, and this visit was the icing on the cake. I wanted to make sure my feelings were real and I wanted to make sure I fit at Pitt. I believe I do. Actually, I don't believe I fit; I know I do. So I committed."
Part of Howe's decision to commit to Pitt was driven by what he experienced last fall. He attended Pitt's win over Notre Dame at Heinz Field, a comeback victory that saw the Panthers rally in the fourth quarter. To Howe, that win meant a lot in both the short and long terms.
"Anyone can see that the Notre Dame game should turn some heads for people," he said. "Some people write Pitt off and I don't know why; this staff is a successful staff and a stable staff. When they were at Wisconsin, they were really successful, and he's bringing that stuff to Pitt and I trust everybody on that staff. They're the best overall staff that I've come across. They have it and I'm excited to be a part of it."
While Howe has been at Pitt three times prior to this week and has taken just about every tour available, there was still something new for him to experience. On this visit, he had a chance to meet with new strength and conditioning coach Ross Kolodziej, which was an important piece of the puzzle for Howe.
"I hadn't met the strength coach yet, so I met him [Tuesday] morning and that was awesome; I really liked what I heard and what we talked about," Howe said. "That was a big thing for me, because as a football player, you spend a lot of time with the strength coach and I wanted to make sure I was getting myself into an environment that was competitive and where I feel like I can accomplish great things. That's how I felt with the strength staff and really all the coaches, so it was good to see that."
Howe added that he got an extra perspective on what Kolodziej is bringing to the program.
"I was talking to the players and they are excited about the new strength coach and what he brings to the table. They recognize that he's going to do some great stuff with them. That gets me fired up."
Of course, Howe spent time with more than just the strength coach. He had meetings with Pitt head coach
Paul Chryst
, offensive coordinator
Joe Rudolph
, who served as Howe's primary recruiter, and defensive line coach
Inoke Breckterfield
.
"I was with Coach 'Nokes a lot; he and my family and I talked for a while about how I fit with this defense and where he sees me doing well," Howe said. "I agreed 100% with what he said, and it was great to hear.
"He talked about me as a three-technique, and he didn't want to compare me to anybody but he did bring up Aaron Donald and the success that he had and what type of player he was. He said he sees my body type and ability and thinks that if I put in the work that I know I will, I can get upfield and be disruptive."
In fact, Howe enjoyed his conversation with Breckterfield so much that he decided the defensive tackles' office was the right place to make his announcement.
"I kind of came in thinking, 'This is it,'" he said. "We were talking to Coach 'Nokes in the room with my family and he was talking about how they're holding off other D-linemen, that they had some guys in camp that they were thinking about offering, but they talked about me and wanted to wait for me; that was an eye-opener.
"So we were in his office, just talking and going through all this stuff like where I fit and things like that, and it was one of those things where I didn't know when to do it or how I should do it. I thought, 'I have a meeting scheduled with Coach Chryst; maybe I'll do it then.' And then I thought, 'Coach Rudolph was my recruiter and I'm meeting with him later; maybe I'll do it then.' But we were talking to Coach 'Nokes and we were about to leave and I said, 'Coach, before we leave, I'm ready to commit.'
"I kid you not: my mom jumped out of her chair. She got air and started crying because she was so happy. And Coach 'Nokes was pumped. It was awesome."
Howe picked Pitt over offers from Boston College, Illinois, Iowa State, Minnesota, Northwestern, Bowling Green, Miami (OH) and Toledo. He was considering a few camps and visits, but with his commitment in place, he doesn't plan to look at any schools other than Pitt.
"I visited some schools early in the spring, but I can't remember when the last one was," Howe said. "I tried to not take any visits in the summer once I was pretty sure that Pitt was No. 1; I just wanted to lay low and wait until I could get back to Pitt
"I did have a couple visits I was thinking about, and I was thinking about going to Michigan State or Ohio State for camps, but I got to thinking about what I want out of my four or five years of college, and the answer was Pitt. So I decided to cancel those and just call it."

Click
Here
to view this Link.