How Pitt commit Thomas MacVittie stayed a Pitt commit
Thomas MacVittie is still committed to Pitt - here's what the last month and a half have been like for him since Jim Chaney left for Georgia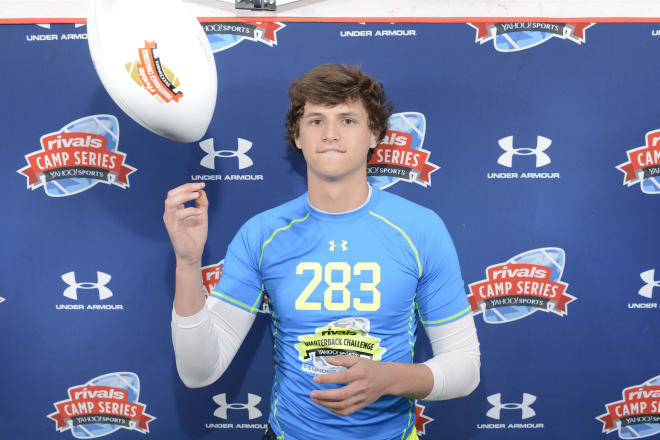 For Thomas MacVittie, there were three main phone calls that stand as markers in his recruitment.
Not his whole recruitment; just the last month and a half or so, when his commitment to Pitt took a blow with the departure of offensive coordinator Jim Chaney to Georgia. Since that happened, MacVittie experienced overtures from schools hoping to pounce on the void left by Chaney, pressure from fans hoping he would stick with the Panthers and constant contact with Pitt head coach Pat Narduzzi.
But all of that communication - and MacVittie's wavering on Pitt, even in the slightest - boiled down to three phone calls that lay out the timeline of how he got from Point A (being a Pitt commit) to Point B (still being a Pitt commit).
The first call came from Narduzzi.
Thursday, December 10, 2015
That Thursday morning, MacVittie was in the airport, waiting for a flight to Florida to visit his girlfriend. Chaney's decision to leave for Georgia wouldn't be made public for two more days; in fact, Chaney had just been at MacVittie's home for dinner three days earlier. So there was no way for MacVittie to expect the news that was coming.
And since he didn't have his phone set to vibrate as he sat in the airport, he also didn't notice the messages from Narduzzi.
"I happened to look at my phone and there were these messages from Coach Narduzzi saying, 'We need to talk, call me;' there were a couple of those," MacVittie told Panther-Lair.com this week. "So I was sitting there waiting to board and he called me and said 'Chaney's leaving, but you're still our guy and I'm going to find a perfect candidate.'
"I was like, wow, what am I going to do now? All along I had told my high school coach not to tell me what other schools were looking at me because they weren't going to change my decision, but now my mind started rolling."
Chaney had been a significant piece of MacVittie's commitment to Pitt. Chaney first heard about the Cincinnati (Oh.) Moeller quarterback prospect through a friend who served as MacVittie's trainer, and once the offer was extended, Chaney was MacVittie's lead recruiter.
Beyond the personal relationship, there was the "football fit." MacVittie liked Chaney's offense and wanted to play in the scheme he watched the Panthers use this season. Not only was he concerned about fitting with the new offensive coordinator personally, but he didn't know what kind of offense Pitt would be running.
And the Chaney move happened right before the start of a month-long dead period, which meant MacVittie could talk to other coaches, if he were so inclined, but he couldn't have any in-person contact.
Calls from other schools started coming in, and MacVittie noticed head coaches and offensive coordinators showing up in his Twitter notifications; they were new followers hoping that to get the "follow back" as a way of initiating some conversation. With uncertainty at Pitt, MacVittie followed a few of those coaches and had a few of those conversations.
But he also heard from a coach he has been following for the last year, as Narduzzi never went more than a day or two without reaching out to MacVittie, and the message was always the same:
You're our guy.
"I love Coach Narduzzi," MacVittie said. "He was reassuring me that I was his guy, not just Coach Chaney's, and that he was going to find someone better."
Chaney was formally introduced at Georgia on December 12, 2015. Two weeks later, Pitt was in Annapolis, Md., preparing for the Military Bowl against Navy - a game that MacVittie and his family traveled to attend - and no offensive coordinator had been hired.
Christmas came and went, as did New Year's Day, and the position was still vacant. But Narduzzi told MacVittie that resolution was coming, and it finally did when Pitt introduced former N.C. State offensive coordinator Matt Canada as the newest member of the Panthers' coaching staff on January 8.
One day earlier, MacVittie's phone rang with another significant phone call.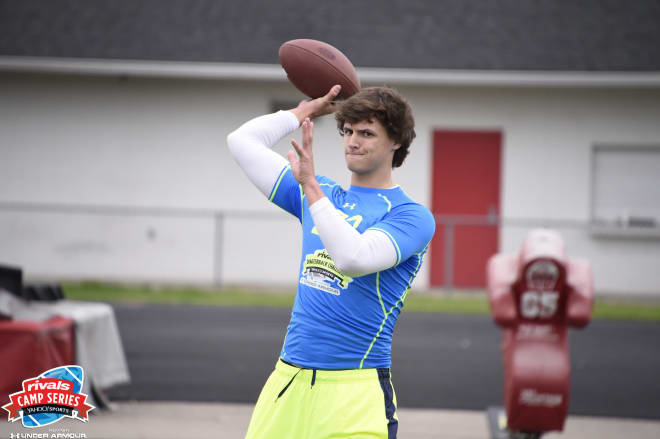 Thursday, January 7, 2016
MacVittie had a sense that something was about to happen. Throughout the first week of January, Narduzzi told his quarterback recruit that he had his eye on a candidate and a hire would be made soon.
Then he got the call.
"Coach Narduzzi called and said, 'Here's Coach Canada,'" MacVittie said. "It started off with introductions and we talked about our families and where he's been and the quarterbacks he has coached, that kind of thing. He said he had already seen my film and he didn't want to touch my form at all; he didn't want to do much with my form, just work on a little footwork. Then I looked him up online and looked at some highlight plays and that kind of thing."
That phone call was followed a week later with an in-home visit. MacVittie was Canada's first phone call as Pitt offensive coordinator, and he was Canada's first in-home visit as Pitt offensive coordinator.
"My family will tell you, I don't get nervous much, so I wasn't really nervous when he was coming but I was really excited to meet him," MacVittie said. "He was here for three hours and we talked about everything: football, life, everything.
"I was impressed with how smart he is and how easy his offense is going to be. He said he works with the strengths of the players and he will play to our strengths. And the style of offense he runs, it just has a lot of variations to a formation, a lot of motion and that kind of things. There are a lot of places where the receivers and tight ends and fullbacks can go. There are a lot of options in the offense.
"I think it's a good fit for me because he likes to use the quarterback and run with him. He doesn't want to do it all the time, but he'll have a counter, an option, a power-option, that kind of thing for a quarterback and I love that stuff."
That in-home visit was followed by MacVittie's official visit to Pitt.
"The official visit was amazing," he said. "I love being in Pittsburgh and being with the players and the students and the coaches and everybody.
"I didn't watch too much film with Coach Canada on the visit; we just went on the whiteboard and did some chalk-talk kind of stuff. He's just so smart; I'm going to learn so much from him."
Beyond the coaches and players - and recruits; MacVittie said he has been on linebacker target Elias Reynolds "like white on rice" - there was one more element of the Pitt visit that stood out to MacVittie, and it went a long way to re-securing his commitment.
"I wasn't thinking about other places too much, but other than all the love from the coaches and the players, the one thing that was a final touch was that the students were so open and into talking all weekend. They would just come up and ask me how I'm doing and ask me about myself. That was really special."
Canada, Narduzzi and receivers coach Kevin Sherman capped the official visit weekend with another in-home visit on Monday - which meant five consecutive days of MacVittie and Canada spending time together.
"It was so much fun to spend all that time with the Pitt coaches," MacVittie said. "The coaches are one of the biggest reasons I committed, and it's just fun being around them. We hang out and have a good time."
Monday, January 18, 2016
Unlike the first two phone calls that shaped MacVittie's recruitment for the last month and a half, the third significant call didn't come from Narduzzi.
It came from Les Miles.
After Chaney left, several schools reached out. Missouri "had a pretty good situation, quarterback-wise," MacVittie said, and the Tigers staff contacted him. But the strongest pursuit came from LSU, where Miles and offensive coordinator Cam Cameron are searching for a quarterback recruit in the class of 2016.
Dwayne Haskins was a top target for LSU, but the Tigers were hardly the only school in pursuit. So Miles and Cameron offered MacVittie a scholarship and worked to turn it into more.
"Throughout the whole thing, I was like, 'Listen, Pitt's my choice and there's a really low chance of anything changing there,'" MacVittie said. "They were always really respectful of Pitt and just said, 'Let's have a visit, come see your folks and get you down to Louisiana to check it out.' I actually used to live in Louisiana so that was kind of interesting, but I never decided if I would visit."
Narduzzi's persistence, Canada's hiring, the interactions MacVittie has had with Canada and his experience on the official visit led MacVittie to make the decision once and for all:
No in-home visits with any other schools and no official visits to any other schools.
Miles had to hear it himself.
"The Pitt coaches were here Monday night - Coach Narduzzi, Coach Canada and Coach (Kevin) Sherman - and Coach Miles called me about an hour after the Pitt coaches left," MacVittie said. "He said he just wanted to see how it was and how I was doing and what I was thinking, and I told him what I've told him every time: it's Pitt."
2015 was MacVittie's first year as the starting quarterback at Moeller, and he entered the season with a lot of anticipation. But on the first play of the second half of the season opener, he suffered a knee injury that caused him to miss the next two games.
After an intense rehabilitation, he threw 33 passes in a loss to national powerhouse Don Bosco Prep, but he threw two touchdowns in that game and one in each of the next two games - losses to Greater Catholic League South rivals St. Xavier and La Salle - before going on a tear to finish the season.
In the final four games this fall, MacVittie, 6'5" 219, threw for 1,232 yards - 308 yards per game - 16 touchdowns and just one interception. In the first game of that stretch - a 49-42 win at Elder - MacVittie threw for 222 yards and three touchdowns and ran for 112 yards and another score.
He finished the season with 1,896 yards, 22 touchdowns and just one interception in seven full games plus the first half of the opener.
"It was a lot of fun," MacVittie said. "I love all the players on our team and it was a blast. Regardless of our season went, I really had a great time."
In six months, he'll be at Pitt, where the Panthers return an incumbent starting quarterback in redshirt senior Nate Peterman.
"The coaches said it's going to be an open competition," MacVittie said. "Nate is the starter so he has the upper hand but it's a competition, and I'm going to compete and get better."