High-scoring affair highlights Monday night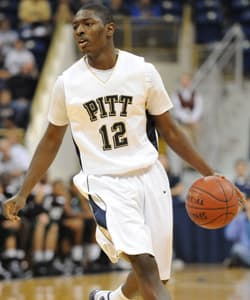 Monday night featured rematches of week-one's games, and two of three teams got revenge for opening-week losses. Here's the rundown of Monday night's games in the 2010 Pittsburgh Basketball Club Pro-Am Summer League at the Sportsplex in Greentree, which featured the summer's highest-scoring contest.
Center Court took a 20-9 lead six minutes into the game and never looked back in the highest scoring shootout of the summer.
Gibbs led Center Court with 30 points, seven rebounds and six assists, while Robert Morris guard Caron Williams had 22 points, including six-of-10 from beyond the arc. Gannon forward Kyle Goldcamp also chipped in 15 points and 15 boards in the win.
Center Court controlled the game by keeping a fast tempo from the beginning, and the closest P&W could get in the second half was 10 points with a 1:49 left.
After trailing by a point at halftime, PGT used a 13-2 run at the beginning of the second half to get a much needed victory.
SPK Law was hurt by 12 turnovers and poor shooting, going 22-of-66 from the field as a team. Brad Wannamaker had 14 points and seven rebounds, while Moore scored 13 points in his second game of the night.
"First week, we didn't really know each other as a team," McConnell said after the game, "but playing each week, we've gotten better chemistry, and we're playing pretty well."
McConnell has impressed this summer, drawing praise from teammates for his superb shooting, excellent passing and great instincts. He gives his teammates all the credit for his success for being able to spread the ball around.
The Lair scored the first nine points of the game and never trailed, leading by double digits for most of the game. Sixteen points was the closest UPMC got in the second half at the 3:45 mark.
Kyle Goldcamp - 15 rebounds
Kyle Goldcamp - 15 points, 15 rebounds
Caron Williams - 22 points
The Lair (Brown, Zanna) - 5-1
Center Court (Gibbs, Richardson) - 5-1
UPMC (Woodall, Taylor) - 4-2
SPK (Wanamaker, Robinson, Moore) - 2-4
PGT (McGhee, Patterson, Wright) - 2-4
P&W - 0-6