Greentree playoffs begin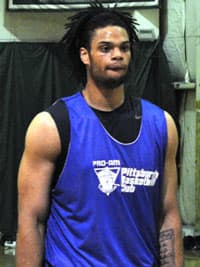 Monday marked the beginning of the 2010 Pittsburgh Basketball Club Pro-Am Summer League playoffs. Cameron Wright led his team to victory in the first game, and another team pulled off a first-round upset for their first win of the summer.
PGT 88, SPK 82
Pitt freshman guard
Cameron Wright
used a combination of attacking the basket and solid outside shooting to score 20 points, leading No. 4 seed PGT to a victory over No. 5 seed SPK.
"My mid-range game was on point, so [Lamar Patterson] just told me to keep going to it," Wright said. "That's what I kept doing, and it was falling so I kept shooting."
Duquense's B.J. Montiero scored 18 on 7-of-8 from the field, while Pitt center
Gary McGhee
dropped 17 and grabbed 11 boards in the win.
SPK was out-manned for the night, only having one substitute but got great performances out of their three Pitt players. Freshman
J.J. Moore
led with 25 points and 10 rebounds. Guard
Brad Wanamaker
scored 19 points, pulled down six boards and dished five assists, while forward
Nasir Robinson
added 16 and did a solid job of containing McGhee most of the night despite giving up five inches of height.
With the win, PGT will take on No. 1 seed Center Court on Tuesday. Wright's excited about playing the regular-season champion.
"I'm looking forward to a good game. Hopefully, I'll guard Ashton (Gibbs) and get the biggest challenge out of the gate," Wright said.
P&W 84, UPMC 82
After going 0-7 in the regular season, No. 6 seed P&W won their first game of the summer with an upset over No. 3 UPMC, who were without Pitt center
Dante Taylor
.
Robert Morris guard
Karon Abraham
lead P&W with 25 points on 12-of-21 shooting and six rebounds. Westminster's Ryan Murray dropped 23 and grabbed eight boards, while Sean Hawkins 10-point, 14-rebound night in the win.
Lamar Castille led UPMC with 23 points, while Robert Morris' Josiah Whitehead added a double-double with 19 points and 12 rebounds. Pitt guard
Travon Woodall
added 15 points with seven rebounds and seven assists.
P&W got off to a fast start with Murray scoring 8 points in the first five minutes, jumping out to a 17-6 lead. UPMC got as close as six at the 5:46-mark in the first half but trailed by 16 at the break.
UPMC would get back into the game, starting the half on a 25-6 run, and the teams went exchanged leads for the rest of the game. A Woodall basket put UPMC up 71-70 with 3:50 left in the second half, but Abraham scored six points in the last two minutes for P&W to pick up the victory.
P&W will now play No. 2 seed The Lair on Tuesday.
Monday's top scorer
J.J. Moore/Karon Abraham - 25 points
Monday's top rebounder
Sean Hawkins - 14 rebounds
Monday's top assists
Travon Woodall - 7 assists
Monday's stat standouts
Lamar Castille - 23 points, 4/8 3PT FG (50%)
Josiah Whitehead - 19 points, 12 rebounds
Karon Abraham - 25 points, 12/21 FG (57.1%)
Ryan Murray- 23 points, 5/10 3PT FG (50%)
Sean Hawkins - 10 points, 14 rebounds
Cameron Wright - 20 points, 9/16 FG (56.3%)
Gary McGhee - 17 points, 11 rebounds
J.J. Moore - 25 points, 10 rebounds
Brad Wanamaker - 19 points, 6 rebounds, 5 assists
Tuesday's semi-finals
No. 4 PGT vs. No. 1 Center Court
No. 6 P&W vs. No. 2 The Lair