Graham sees live contact for the first time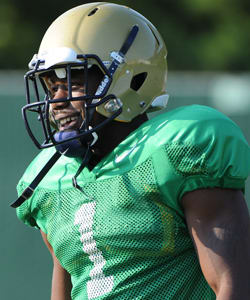 On the final day of training camp, Pitt running back
Ray Graham
did something he hasn't done since last fall.
He played live, full-contact football.
Graham, out since he tore the ACL in his right knee last October, hasn't practiced much while he goes through rehab. He didn't participate in spring camp and was only a limited participant in the first 16 days of training camp.
That meant Graham wore the green "no-contact" jersey usually reserved for quarterbacks. But on Wednesday afternoon, he had a blue jersey just like his offensive teammates.
"It felt good to see where I was at, putting a couple moves on people and even getting hit just to see what's going on, and it felt good," Graham said after practice.
The senior running back worked primarily on the first drive, recording 12 yards on four carries, including a four-yard run for a touchdown. He recorded two more carries later in the scrimmage and finished with 15 yards and a touchdown on six carries.
Graham's second appearance in the scrimmage was marked by the fact that he was wearing the green jersey again, but he said that he got what he wanted out of the full-contact period.
"They actually hit me. Nobody was cutting low or anything, but they still hit me and I need that. I've been hit in the knee plenty of times now, and that's out of the way. It's just a confidence thing and a mental thing, going out there and just playing and knowing that my knee's not going to buckle anymore and just trusting it."
Graham said last week that he took a blow to his knee and had immediate concern but was pleasantly surprised to find that the knee felt fine after the contact. So he is looking forward to getting more of that contact as he gets more comfortable with the play-to-play physicality of football.
"It's that confidence thing: until you get hit, you're still thinking about it," he said. "We worked hard, the trainers and the staff and everybody, and it's good, but until you get that hit, that's when you actually know what's real and what's not."
Of course, one issue with Graham's injury and his recovery is that it wasn't caused by contact. Early in Pitt's game against Connecticut at Heinz Field last season, he planted and the knee gave out. So while he is getting over the mental hump of taking contact on his knee, he also has to feel confident that he can still execute the moves that made him one of the best running backs in the country, and execute them without fear of further injury.
"It happens. That's what a lot of people have to understand: when you're playing this game, injuries are going to happen. When it happens to you, you can't be down on yourself.
"I'm a man that plays with no regrets and no fear; if it's going to happen, it's going to happen. I can't play all timid, because that's when you get hurt. So I like to go out there and just go 100% and give it my all when I'm out there."
When he suffered his injury, Graham had rushed for 958 yards and 9 touchdowns, and he was also Pitt's third-leading receiver with 39 catches, 493 receiving yards, and 4 receiving touchdown. He averaged 119.8 rushing yards per game, but that included 19 yards on two carries against Connecticut; in the previous seven games, Graham averaged more than 134 rushing yards per game, which ranked among the best in the country.
This year's Pitt football team under new head coach
Paul Chryst
could use Graham's playmaking ability on the field as soon as possible. The Panthers open the 2012 season on Saturday, Sept. 1, against Youngstown State at Heinz Field, and while Graham won't say for certain if he plans to play in the opener, he seems to be leaning in that direction.
"It's looking good; it's looking good," Graham said when asked about the outlook for an appearance on Sept. 1. "We have a week and some change before the game, and it's feeling good. I'm taking it one day at a time, and as the days go on, I'm feeling that much better and confident. So when September hits, we're going to take it and see from there."