For one year, Savage was a tough leader at Pitt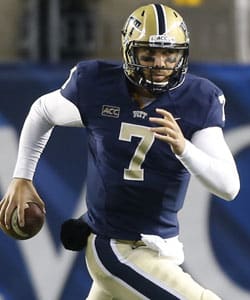 In the 18 months Tom Savage spent working with Paul Chryst, he came to believe that Pitt's head coach is molding the football program around one primary concept:
Toughness.
If that's the case, then Chryst may not find a more apt quarterback then the one he had in 2013. Savage led the Panthers to a 7-6 record during his lone season as Pitt's starter, but along the way he took enough shots - 43 sacks, to be exact - to last a career.
Not surprisingly, Savage's season-long injury report reflects those repeated blows. He slid at the end of a scramble in the win over Virginia and took a helmet-to-helmet hit that left him with "concussion-like symptoms" (no one, Savage included, has called it a concussion; just symptoms). He almost left the North Carolina game at halftime with a bone bruise on his knee, but that wasn't enough to keep him from returning for the start of the third quarter. The same went for the fractured ribs he suffered at Syracuse in the penultimate game of the regular season; they were painful, but he wasn't leaving the field.
Savage's offensive line mostly kept him upright in the regular-season finale against Miami - just one sack - and was doing a decent job of protecting him in the Little Caesar's Pizza Bowl until, just before halftime, he took a shot while throwing an incomplete pass. It was a hard hit and Savage was slow to get up, but after all the times he bounced back during the season, no one was counting out the redshirt senior quarterback.
And then…
"When you go into the locker room and urinate blood, that's a red flag," Savage told Panther-Lair.com this week. "I can play through bruised ribs, but that was scary. I couldn't play after that."
That's a forgivable concern, and certainly no one would fault Savage for not returning to the game after suffering a bruised kidney. But that didn't make it easier for him to stand on the sidelines.
"That was tough: you make it through the whole season and want to be there with the guys throughout the game," he said. "But we still won the game, and it was good to get Chad (Voytik) the experience as well."
Voytik was Savage's understudy who performed admirably in the second half of the 30-27 win over Bowling Green that night in Detroit and will likely be Pitt's starter this fall. Savage thinks Pitt will be in good hands with Voytik - "He's a great player, a smart guy and a good leader" - as the former Cardinal O'Hara star moves on to the next step in his career.
In a story that has been told many times over the last eight months, Savage had one eligible year to play at Pitt after a college career that drew him from four-star prospect to freshman starter to highly-publicized double-transfer to walk-on. The path led to Pitt in the summer of 2012 and, eventually, to Heinz Field on Sept. 2, 2013, as he led the Panthers against Florida State in the season opener.
"It was just a great learning experience for me," Savage said. "Coming out of high school being highly-recruited, it was humbling to have to call the coaches and walk on. It was humbling, but I learned to love the game again here at Pitt because they allow you to love it.
"You want to be around the facility as much as you can because it's family. You don't want to leave because all the coaches are tight and it's really a close group."
And Savage can see the program becoming what Chryst wants it to be. When asked this week to describe what the Pitt coaches are looking for in their players, Savage came back to one word: Toughness.
"I think that's what they're really trying to do here," he said. "That's the true definition of what they're trying to get: blue collar, put your head down and be loyal to the team. There's not enough time in the year to be crying or complaining; you just have to keep battling. That's what they want and that's what we were trying to do."
Savage's season at Pitt wasn't a perfect one. The Panthers' 7-6 record included at least a few losses that could be pinned on the offense, particularly the games at Virginia Tech, Navy and Georgia Tech, when Pitt's defense held the opponent to 24 points or less each game but the Panthers still lost. Not all of that was on Savage, who finished the season with 2,958 yards, 21 touchdowns and just nine interceptions, but just like he got back up after every one of those 43 sacks while maintaining that he had the "best damn line in the country" - as he said after the loss to Virginia Tech - he was always a leader and a teammate, always willing to take the blame on himself, whether it was merited or not.
Now Savage is on his way to the next level. With a big arm at 6'4" and 225 pounds, he is likely to get an opportunity in the NFL, and he participated in the NFL Scouting Combine last month and worked out at Pitt's Pro Timing Day on Monday.
"[The Combine] was good. It was definitely a long grind, and I wasn't expecting that; early mornings and late nights, but it was fun. I got to meet a lot of famous college football players, and that was a good confidence boost. You see those kids on ESPN, and then you go out and relate to them and throw the ball with them. It was a confidence boost that I belong there."

Click
Here
to view this Link.