Despite accolades, Donald is still the same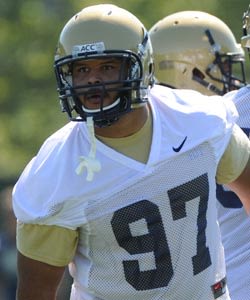 Aaron Donald participated in Pitt's Pro Timing Day at the team's facilities in the South Side on Monday but for the Penn Hills native, it didn't involve much timing.
After all, the outstanding senior defensive tackle was one of the biggest stories at the NFL Scouting Combine last month when he moved through the three-cone drill in 7.11 seconds (the fourth-best time among defensive linemen), put up 35 reps in the bench press (good for second most among defensive linemen) and ran an eye-popping 4.68 40-yard dash at 285 pounds.
With those kinds of numbers, Donald had no reason to go through the testing again at Pitt's Pro Timing Day.
"I retired my 40 cleats," he joked after the workout, during which he solely worked in position drills.
Donald heads toward the NFL Draft in May as one of the fastest-rising prospects. After collecting four major national defensive awards for his performance in 2013 - one of the best seasons for a defensive player in Pitt history - Donald went to the Senior Bowl in January and dominated. Following that performance with one as impressive as his showing at the Combine in Indianapolis moved him into legitimate discussion as a potential first-round draft pick but, true to form, Donald's approach hasn't changed much lately.
"I'm still the same person. I'm a humble guy. I still have a lot of work to do; I'm not satisfied with anything I've done yet. I'm still trying to get better and I'm still trying to become a better football player, so I'll feel comfortable when I'm done playing football.
"When I'm retired someday, when I'm done playing football, that's when I'll be relaxing and look back at some things. But right now I still have a lot of work to do."
That mentality is what drove Donald to his unbelievable senior season, when he anchored Pitt's defense as the unit's primary playmaker, recording 26.5 tackles for loss, 10 sacks, four forced fumbles and 16 quarterback hurries. And it has continued to drive him into the next step.
"Obviously he was a good player, but I think the results are a great example of the power of choice: he chose to be a great player. He did everything for it," Pitt head coach
Paul Chryst
said last week. "He attacked the Senior Bowl, he attacked the combine, and I think one of his strengths is that he's a great preparer; he was going to win at those. And he did."
"Hard work," Donald said Monday. "Hard work always paid off. Constantly grinding, working hard, doing what I have to do."
At this point, the biggest question surrounding Donald is where he'll play in the NFL. And that's not necessarily a question that is limited to which team will select him; questions have also been raised about his potential position.
"I have experience at every position," he said. "I played nose tackle, I played [three-technique defensive tackle], I played defensive end, I played in a 3-4 with Coach Todd Graham at a five-tech (in 2011), so I have experience at every position. I think that's a plus for me.
"A lot of teams talked about (how) when I ran that 4.6 (40-yard dash at the Combine), it opened up a lot of eyes as far as 'this guy might be able to do this or do that.' They're going to put me in position to make plays; you have to go out there and be productive, so wherever they pick me and whatever they're comfortable with, that's where they're going to play me."
Donald checked in at 6'1" and 287 pounds on Monday, but beyond his height and weight lies the production, and that should be a determining factor for NFL teams. Donald makes plays, and his best fit will be with a team that allows him to do that, most likely as a defensive tackle in a scheme like the 4-3 he worked in during most of his time at Pitt.
"A lot of teams just like the way I play the game," he said. "I'm a high-motor guy that's always playing 100 miles per hour, so it's good to be noticed for that. I'm going to constantly keep working at what I'm doing and try to become a better person and a better football player."
So now Donald is moving onto the next step of the draft process. After training for the Combine in Arizona, he'll be spending the next two months in western Pennsylvania, although if an NFL team calls and asks him to visit, he'll be back on the road. The physical elements of Donald's evaluation - his film, his testing and his performance in position drills - have impressed NFL scouts; now he's looking forward to more opportunities to impress the teams during interviews.
"I'm being myself," he said. "That's what they want to see: they want to get to know me. So I just go in there and I'm comfortable; anything they want to know, I tell them. I tell them about the knowledge I have of football and the way I learn and the way I play the game. I really am comfortable and I'm just being myself."
And if Donald keeps being who he was at Pitt, then chances are he'll have a long and successful professional career.

Click
Here
to view this Link.