Cornerback transferring from Pitt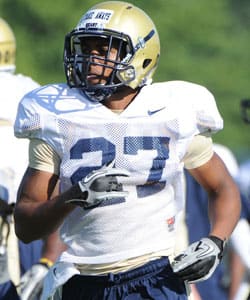 Carrington appeared in seven games as a true freshman last season and recorded two tackles. He worked as a second-team cornerback in spring camp and throughout training camp but was not present for the final practice of camp on Wednesday afternoon.
"It was a tough talk for me, because he's a guy that I've really, in a short time, come to like," Chryst said. "We wanted him here, but I also felt good that it was a well thought-out plan. He wanted to get back closer to home."
A native of Dallas, Texas, Carrington came to Pitt as part of the recruiting class of 2011, choosing the Panthers over offers from Baylor, Houston, Minnesota, Oklahoma State, Utah, Tulsa, Louisiana Tech, Louisiana-Monroe, Nevada, New Mexico, New Mexico State, North Texas, Texas State, and Utah State.
"He told me that one of the reasons that he came to Pittsburgh was that he wanted a new experience," Chryst said. "He said, 'I was able to do that, but I know that what I really want to do is be closer to home.' He's thinking straight, it's well thought-out, and those are the reasons I think you like him. You want nothing but the best for him."
Carrington is the fifth player to leave the Pitt football team this offseason, joining quarterback Mark Myers and receivers Justin Jackson, Salath Williams, and Darius Patton. Fullback Derrick Burns (medical) and linebacker Carl Fleming (disciplinary reasons) also left the team.