Clemmings moves from DE to OT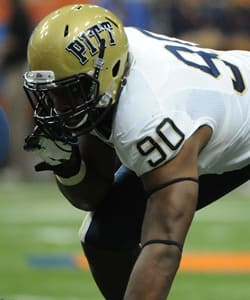 The redshirt sophomore has practiced with the offensive line during Pitt's bowl preparation, moving from his defensive end position. The move looks to be permanent and helps to shore up depth along the offensive line.
"Coach (Paul) Chryst asked me if it was something I wanted to do," Clemmings said Friday. "I didn't have to. He said it was no big deal. I went home, thought about it and thought I'd be pretty good at it, so I figured I'd give it a try. The team needed some help on the offensive side anyways, so I stepped in to try to help the guys out."
Clemmings, a four-star defensive end prospect from New Jersey in 2010, played some offensive line in high school. He said he played a little bit both right and left tackle, but he projected at defensive end.
"It feels a little more natural," he said. "The first time I went out there to do it, it didn't feel crazy to me or like I couldn't do it or it was too much. I felt like I did it before, but never have."
Clemmings finished the regular season with 20 tackles, one tackle for loss and three quarterback hurries.
Now, he gets to experience the other side of the ball. He said it's been different going against his former position group in practice, but he's embraced the experience.
"It was fun because I knew everything they were thinking. It was crazy though," he said.
Clemmings said he's currently playing at 285 pounds. He expects to add good weight during the off season and wants to play around 300.
Though it appeared to be an experimental move at first, Clemmings believes it will be permanent heading into next season. He said he's enjoyed playing the position so far and wants to continue improving.
"I'm going to say it's moving forward in the future," he said. "I would think my coaches think I was going to the future for it, but I'll probably stick with it because I'm liking it so far."