Clearinghouse claims Pitt freshman DT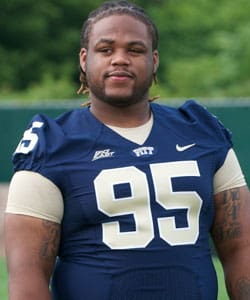 "As I said in the beginning of camp, we had two or three players who were working through some eligibility concerns, and K.K. Smith did not make it academically by the Clearinghouse," Wannstedt said. "He'll go home tonight, visit with his family, and decide what he's going to do from there."
Mosley-Smith, 6'2" 295, enrolled at Pitt this summer after graduating from Woodland Hills High School. On Thursday, WPXI in Pittsburgh reported that the NCAA was investigating the participation of several Woodland Hills students in Passkey, an online course program.
"They rejected the class, so if [Mosley-Smith and his family] appeal it, which I'm sure they will, that takes time," Wannstedt said. Classes for Pitt's fall term begin on Monday, August 30th.
Mosley-Smith took classes over the summer term at Pitt and practiced with the team through the first 13 days of training camp. Now he'll likely look to attend prep school for a year to complete the necessary coursework.
"He's got his options. He'll have to go home and visit with his mother and we'll talk tomorrow. Obviously we're going to stick by him and support him.
"It's really not any different than Todd Thomas and LeSean McCoy and Aundre Wright; every school has a couple kids like this every year, unfortunately."
Barring injury ahead of him on the depth chart, Mosley-Smith would have redshirted at Pitt this season.