Christian transferring from Michigan to Pitt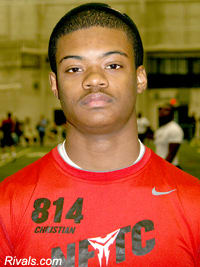 It remains to be seen how the new Pitt coaching staff will do on the recruiting trail, but
Todd Graham
and company have already landed a four-star cornerback. Former Penn Hills standout
Cullen Christian
is leaving Michigan and will transfer to Pitt.
"I have a final tomorrow and then I'm going home tomorrow," Christian told PantherLair.com Monday afternoon.
A four-star prospect in the class of 2010, Christian picked Michigan after compiling a double-digit list of scholarship offers. He narrowed his options to Michigan, Pitt, West Virginia, Ohio State, and UCLA, but committed to the Wolverines largely on the strength of his relationship with the coaching staff in Ann Arbor.
The key cog in that relationship was defensive backs coach
Tony Gibson
. But when head coach Rich Rodriguez was fired after the 2010 season and replaced with
Brady Hoke
, Gibson and the rest of the coaching staff were let go as well.
"I didn't come up here for the new coaching staff," Christian said Monday. "So when Coach Gibson left, it got crazy; I wanted to be with somebody who recruited me, somebody who knows me and knows what I'm about. That's why I picked Michigan in the first place, and it was a different coaching staff, I wouldn't have committed there.
"It's a good school with a big name and everything, and they reeled me in. The main thing was Coach Gibson; that was the big thing in getting me to Michigan."
When Christian got to Michigan, though, the coaching staff quickly became the only draw.
"I didn't really like it up here," Christian said. "I didn't like the campus, and really, I've miserable since I've been up here.
"I think it was just about me and what I'm used to being around; there's a difference between living in Pittsburgh and Ann Arbor. A big difference. A lot of kids like it here, and some don't. It just wasn't for me.
"So once the coaches left, there wasn't much holding me here. I was like, 'Why am I here? I don't know these coaches and they didn't recruit me.'
"I remember my dad asked me before I picked Michigan, he said, 'if the Michigan coaches were at Pitt, would you go there?' And I said I would. Now that's happening, and it's like a new beginning."
Christian, 6'1" 190, ranked among the nation's top 100 recruits in the class of 2010 and was the No. 8 cornerback prospect in addition to being ranked No. 2 overall in the state of Pennsylvania. He was also the first player in Penn Hills history to participate in the U.S. Army All-American, and he saw the field in 11 games as a true freshman at Michigan while working on special teams and as a reserve cornerback.
Due to NCAA transfer rules, he will have to sit out the 2011 season, after which he will have three years of eligibility at Pitt. The Panthers will graduate one starting corner after this season, opening an opportunity for Christian to contribute the first year he is eligible.
"It's cool to be going back home," he said. "When I decided to transfer, I was thinking about West Virginia, but then I figured I might as well go back home. My friends and family are there and I have people who haven't seen me play yet. It's good to have that support.
"At first, I was frustrated with all of this. It's not in the plans for you to commit somewhere and end up transferring. But after I thought about it, it was what I wanted to do. When I think about all the positives, with being back with the coaches I know and being back home, I'm looking forward to it. It was frustrating, but I feel better about it every day."
Christian is the second Michigan player to transfer to Pitt this spring. Safety
Ray Vinopal
, who also played as a true freshman in 2010, is also making the move from Ann Arbor to Pittsburgh.