New Pitt commit Bentley: 'Expect the most, expect a lot'
Pitt received its 14th commitment of the 2018 class on Monday afternoon when Ohio defensive tackle Tyler Bentley announced his pledge on Twitter. Bentley delivered the news to Pitt's coaches on Sunday night and caught up with Panther-Lair.com shortly after to discuss his decision. Pitt has Bentley dreaming of national championships, his NFL future, and more.
West Chester (Ohio) Lakota West defensive tackle Tyler Bentley took to Twitter on Monday afternoon to announce his commitment to Pitt, becoming the 14th prospect to join the Panthers' 2018 recruiting class. Not along ago, the three-star standout from Ohio had been committed to Kentucky. However, a December 1st official visit to Pittsburgh and his continually growing bonds with the Panthers' coaching staff led Bentley to call Pat Narduzzi on Sunday night to tell him that Pitt was it.
"I just felt like I needed to get my decision done, before signing day for sure. I sat down with my family and really weighed my options and felt like it had to be done, so I did it. I called the coaches and told them and let them know what was up. There were a couple yells and screams, but they were all very excited," Bentley laughed. "My family is very happy too. They're really excited about what Pitt can do for me and my family, education-wise and with the possibility of the NFL. Being coached by coach Partridge is a huge advantage and we're really happy about that."
Bentley's final decision in December came down to a group of three suitors – Pitt, Kentucky, and Louisville. The big lineman gathered a who's-who list of offers from programs like Alabama, Florida, LSU, Tennessee, Michigan State, and Wisconsin early in his recruitment, but as the early signing period grew closer, it was only those three schools that remained in contention. Bentley was committed to Kentucky from June 11th through December 4th and Louisville received a late official visit from the Cincinnati-area native, but neither of the programs in the Bluegrass State could top Pitt.
"The thing that made Pitt the choice is that they care about their players. I talked to several players and it seems like the coaches really do care about them. They're always trying to help you get better in life and in football. I felt like that was important because some places that I went, there wasn't that connection there," Bentley said. "With the connection, I knew for sure that I could be in a position where I could see myself succeeding. Really like the life after football, that was a big component as well. Seeing Pitt alumni do good around the world is great and that could be me one day. It's going to be me one day."
The academic and networking programs provided by Pitt to its student-athletes absolutely had a huge role in Bentley's decision to choose the Panthers, but equally influential his close relationship with well-respected defensive line coach Charlie Partridge. Partridge has molded a number of young defensive linemen into NFL prospects in his career, including Houston Texans superstar JJ Watt, and that combination of resumé and rapport was impossible for Bentley to overlook.
"I like how coach Partridge is very detail-oriented and he likes perfection. I feel like I can trust him that he can help me perfect my football skills and help me grow as a young man to be on my own and to know that I got it done the right way," Bentley laid out. "I think it's important that he's going to help me because he's guided multiple defensive linemen to the league. That he has multiple players in the NFL says a lot. I know he has a good track record. With him, anything can be possible."
Bentley will sign with Pitt during the December 20th early signing period and will join a strong group of defensive linemen in Pitt's 2018 class. The 6-foot-3, 298-pound defensive tackle will join defensive tackles Devin Danielson and David Green and defensive ends Noah Palmer and John Morgan as the fifth commitment in Charlie Partridge's position group. With five defensive line commits in a 14-man class, Bentley views him compatriots as the backbone of Pitt's 2018 commitments and has high expectations for the defensive line unit and incoming class as a whole.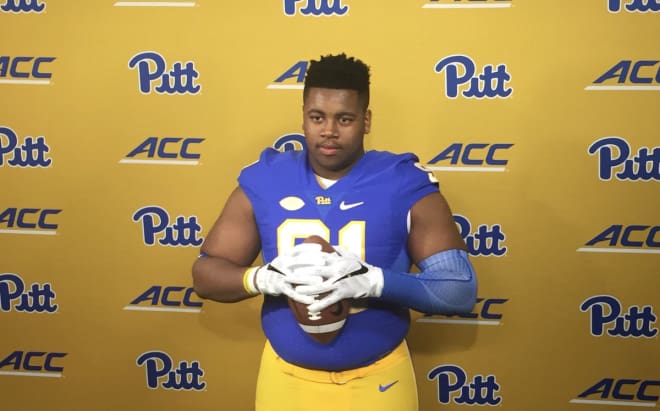 "As a unit coming in, I think it's important that we all come in with the mindset that we're all ready to change and that we're all ready to work to get better. Hopefully, one day we can help this program compete for a national title. That would be huge," Bentley said. "I think there's a lot to like about this program and hopefully we can help change it for the better and help it develop. I think that's something our class can do if we all work together."
While he's only just recently announced his commitment, Bentley's already working on bringing more talent into the fold. He reached out to Georgia wide receiver Jatavious Harris nearly immediately following his call to Pat Narduzzi and company. Harris is one of Pitt's top remaining targets in the class and is fresh off of an official visit. He'll be a priority of Bentley's.
"I talked to Jatavious Harris [on Sunday night] and I'm definitely going to help get him here, for sure," Bentley assured.
With just nine days to go until he can make his commitment to Pitt official when the ink dries on his National Letter of Intent, Bentley is already dreaming about the future at Pitt and what it will hold for him. He hopes Pitt fans have equally high expectations for what he can achieve in blue and gold.
"Expect the most, expect a lot. I will deliver a lot. I will bring might and I will be a force on the defense soon. Whether that be freshman year or sophomore year, I will for sure be on the field, lord willing without an injury," said Bentley. "And you know, hail to Pitt."