Bradley gets an opportunity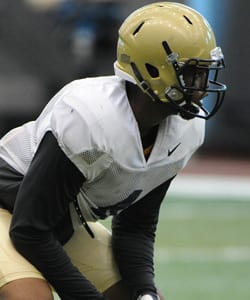 Although he didn't realize it at the time, Bradley said that sitting last year out was in his best interests. It allowed him to adjust to the game speed and tempo of college football, and he's now ready to make an impact.
"I'm really excited," Bradley said. "I've got family behind me that's backing me 100 percent. I've got a good support system. I'm kind of fearless right now. I'm going to take this thing head on and do the best I can this season."
He's already doing just that in training camp.
Bradley, a redshirt freshman linebacker, has worked several practices this week at the first-team strong-side linebacker. He's trying to take advantage of the opportunities he is getting, and he's ready to make an impact this fall.
"This is all you ever want is an opportunity," he said. "You don't ever want anything handed to you, you just work as hard as you can and when you get your opportunity you try to take advantage of it."
"We're kind of rotating guys around and we wanted to see him out there for a little bit and see how he'd work with some of the other guys," House said. "I mean this when I say this, other than Shane [Gordon], there isn't a true group [of starting linebackers.]"
Bradley, 6'2" 230, said he worked most on using his hands this off-season, utilizing them to deal with linemen, which he didn't have to do much of as a safety. He's also adjusting to splitting his time forward and backward. At safety, everything was in front of Bradley, but now at linebacker, he must be aware of things happening all over the field.
"It's harder than I thought it would be because I played downhill a lot as a safety in high school," Bradley said. "Playing linebacker is different when stuff is behind you. As a safety everything is in front of you, and you just see everything and you can read and react.
"But being a linebacker you have to turn around and look and read different things. It's a big difference and I'm still getting used to it. I still mess up sometimes, but I just try to mess up going 100 miles per hour."
Bradley doesn't know how the rumors started, but he's happy at Pitt.
"I'm always happy with a chance to play," he said. "I love my teammates, and I love the city of Pittsburgh. I don't know what the rumors were about or whatever, but I'm here."
Bradley is also happy with an opportunity to contribute in 2013. Nothing will be handed to him, but he's making a push for the starting strong-side linebacker and doing his best to seize the position.
"They're trying to find guys that fit well together and the guys that don't," Bradley said. Any rep I get, I take advantage of it. Even when I'm not repping, I try to take advantage of it mentally, so I'm just trying to get better every day."